Termite Exterminator In Apex, NC
Do you think you have termites in your home? Go-Forth Pest Control can now help in Apex to get control of your termite problem. Termites can get out of control fast and cause thousands of dollars in damage to your home. Our technicians will install green stations around your home to bait the termites away from it. The bait in the stations will be taken back to their colony of termites in hopes of eliminating all of them. Give us a call today or click to get a free quote on your termite control now.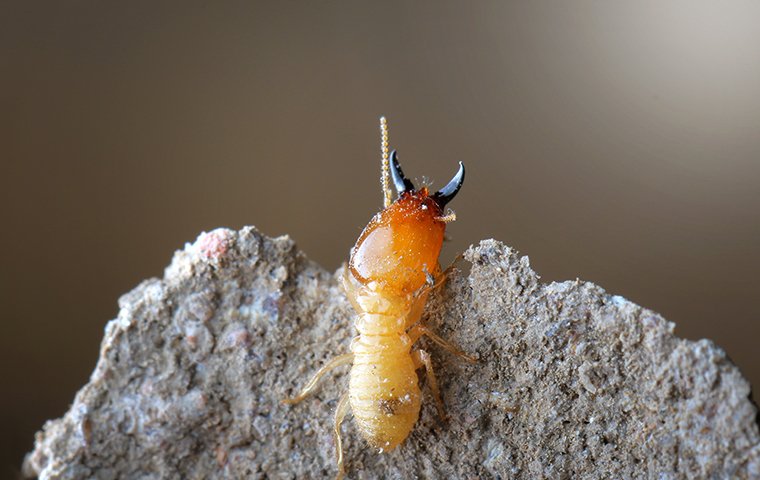 Termite Facts
Termites work nonstop which results in lots of damage to your home. Since they never take a break, they can chew through your home quickly. They reproduce fast and set up colonies to live and survive on your property. Other than seeing them, some signs that you may have termites are stuck windows, creaky floors, and rotting wood. If you have old wood in your backyard or on your property, this also invites termites into your home. They cannot be controlled on your own, so it is best to let a professional help with your termite control.
Termites love warm places which makes them active. Houses are ideal for them because of the warm environment it gives, especially when the winter season comes. They tend to cause more damage when they are active. When your home is too cozy for them, expect that they will nest in your property.
Termites only need small openings to infest a home. They can get inside your property no matter how small the hole, cracks, or gaps. Thus, you should always check your home whether it has cracks, openings, and holes and quickly seal it to prevent termites on entering. If you don't, expect that those pests will come inside and eat your wood which can weaken the foundation of your home.
One of the hardest pests to deal with are termites. They are tiny and can easily sneak inside your house to infest. When the case is already at its worst, don't wait for it to worsen. Hence, start hiring an exterminator from a professional and trusted pest control company. Bugs, insects, and other pests are also handled. You can find one in your local area and make sure satisfying services are offered.
How Do We Get Rid Of Termites?
Termites can be the reason behind losing your investment - your house. This pest chews on wood and can live on your home for a long time if not eliminated quickly. Dealing with termites is hard, especially when the infestation is already dug in. Here at Go-Forth, we know how to deal with termites effectively. With several years of experience in the industry, we know the methods that can kill termites, and we make sure that they will not come back to create more damages.
Our technicians are licensed and well-trained which makes our termite control a success. We follow the protocol and only make use of safe products and equipment to keep you and your family from danger. We assure you that we follow the right protocols for pest control to avoid any accidents during and after the treatment process. Also, we are meticulous in doing our work to avoid damaging your home as well.
Don't let termites eat what you have worked hard for, let a professional like Go-Forth do the termite extermination. We deliver high-quality pest control to meet your needs. Call us now!
Termite Company Near Me
We are a local termite company near you in Apex that provides effective and successful termite treatments. We don't only serve one area, but we are happy to serve even our customers in local areas. Do you want to find out why our customers love our pest control services? Call us today! Check out some of our reviews for the Raleigh area and see if Go-Forth can help with your termite control in Apex today.
Other Pest Control Services For Apex, NC