Professional Pest Control For Asheboro, NC Properties
Asheboro is a large city in Randolph County and is known as the center point of North Carolina. Though many people enjoy living in our area, it's important to understand that many pests also live here in Asheboro and are always searching for new ways to invade your property. The most effective way to protect your Asheboro home or business from common area pests is to work with the professionals from Go-Forth Pest Control to put into place an ongoing pest control plan.
For decades, we've worked hard to protect property owners in Asheboro and the surrounding areas from pests by providing excellent pest management solutions. If you're tired of dealing with rodents, insects, spiders, or other pests around your property, the professionals at Go-Forth Pest Control can help. Get in touch with us today for more details about all of our commercial and residential pest control options.
Go-Forth's Pest Control Services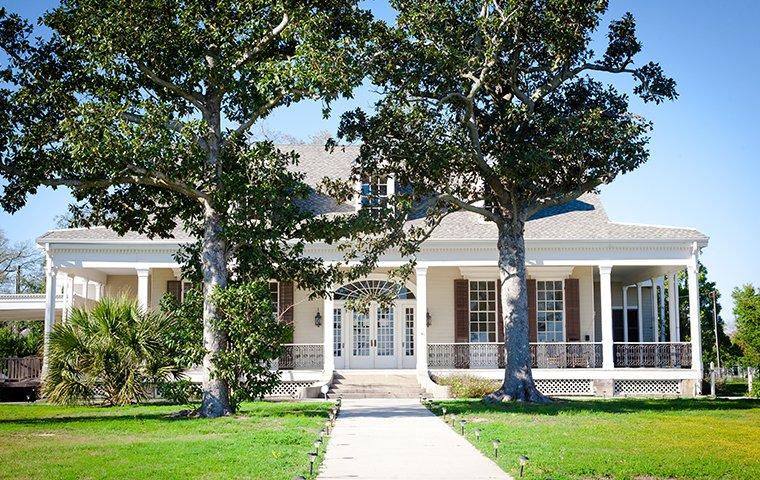 Are you looking for a pest control and lawn care company that regularly works with homeowners and business owners in the Asheboro area? Your search is over with Go-Forth Pest Control!
We are a local, family-owned and operated extermination company, that has more than 55 years of experience fighting off pests in the Piedmont Triad area of NC. Go-Forth Pest Control offers a wide range of residential services to customers in Asheboro, NC, so call us today about your pest control needs.
General Pest Control
Homeowners across the Triad area turn to Go-Forth Pest Control when they are looking for professional, effective, and affordable pest control services. Whether you need bed bug, termite, or flea treatment, our Asheboro pest control exterminators can get the job done right. In addition to our 55+ years of experience in this industry, we proudly offer homeowners same-day service, EPA-approved pest extermination methods, and much more.
Termite Control
For more than 55 years, Go-Forth has been Asheboro's choice for premier termite control services. If left untreated, termites can do serious, and sometimes irreversible damage to a home's infrastructure. Our Asheboro termite control technicians are committed to ridding your Triad-area home of termites quickly and efficiently. We also offer termite inspections for real estate homes.
Ant Control
Ants are often thought of as annoying pests that want your food, but did you know they can do more damage to a home than termites? Not to worry, the Asheboro ant control specialists at Go-Forth Pest Control are here to help! We have more than 55 years of experience getting rid of fire ants, house ants, carpenter ants, black ants, and more in homes all across the Triad area.
Mosquito Control
As carriers of the West Nile Virus and other dangerous diseases, mosquitoes are not only bothersome pests, but they can also be harmful to humans and pets. The Asheboro mosquito professionals at Go-Forth Pest Control are here for you, as we can drastically reduce the mosquito population surrounding your home with regular treatments.
Insect Control
At Go-Forth, we are experts in exterminating a wide array of stinging insects including wasps, yellow jackets, and hornets. If you are looking for a professional pest control company that can eliminate these pests from your Asheboro home, look no further than Go-Forth Pest Control.
Bed Bugs
Bed bugs are tiny creatures that no person welcomes into their home willingly; in fact most are unaware that they have them until the problem is wide-spread. If you are suspicious of a bed bug problem, professional help should be sought immediately. As these pests spread from your bed to your clothing, drawers, and other furniture, they can be hard to weed out and destroy. Count on Go-Forth to fully cure your bed bug problem today.
Flea Control
Fleas are pests that you are likely to encounter if you own pets. They may be minuscule, but they travel to 10 feet in distance, jumping to your pets, to your hair, to your clothing, and more. Their itchy, irritating bites are enough to drive you to want extermination, and Go-Forth is the team to call to get the job done quickly and effectively.
Commercial Services
Along with residential services, Go-Forth offers services including pest control and lawn care for a variety of commercial buildings in Asheboro, NC including HOAs, property management buildings, nursing homes, offices, and industrial complexes. From our customized lawn care options, to our pest control service plans, you will rest assured knowing that you are working with Asheboro's most extensive extermination and yard care company.
Home Pest Control In Asheboro, NC
You shouldn't have to deal with destructive and dangerous pests running around in your Asheboro home. Pest infestations spread diseases, damage property, contaminate food items, and threaten the structural integrity of your residential property. At Go-Forth Pest Control, we work hard to stop pests before they have the chance to cause problems for you and your family. By utilizing advanced treatments and proven methods of control, we protect homes and families from the area's toughest pests. No matter what type of pest problem you're facing, we have the skills and experience needed to eliminate it. Don't allow pests to take over your Asheboro home and threaten your peace of mind. Instead, reach out to Go-Forth Pest Control for solutions you can trust.
Commercial Pest Control In Asheboro, NC
When you own a business, it's your top priority to ensure your customers are satisfied. Unfortunately, when pests such as rodents and insects enter your commercial facility, they can disturb your customers and discourage them from returning in the future. To keep your business free of pests throughout the entire year, you need professional pest control services from Go-Forth Pest Control. We provide comprehensive commercial pest control plans designed to eliminate current pest threats and prevent future pest activity. Give your Asheboro business the complete protection it needs by turning to Go-Forth Pest Control for all of your commercial pest control needs.
How To Prevent Cockroaches In Asheboro
Cockroaches are disturbing creatures. Between their filthy, bacteria-filled diet and ability to live without their heads for weeks, cockroaches are not pests you want to find in or around your Asheboro property. These irritating pests are capable of causing serious problems when they infest your home or business. In addition to causing allergic reactions and asthma attacks in some individuals, cockroaches are capable of spreading a wide range of diseases, including typhoid fever, dysentery, salmonellosis, and diarrhea. To avoid dealing with cockroaches and the many problems they cause, implement the following cockroach prevention tips.
Keep your kitchen clean. Wipe down your counters regularly, sweep up crumbs, and clean food residue out from under heavy appliances.

Empty your garbage cans regularly. Store outdoor trash cans away from your exterior walls and equip them with tight-fitting lids.

Eliminate all possible entry points. Seal gaps in your foundation and around areas where utilities enter your home.

Minimize sources of excess moisture. Repair leaking pipes, seal dripping faucets, and clear debris out of your gutters.
When it comes to protecting your property from cockroaches, your best option is professional cockroach control services from Go-Forth Pest Control. We provide services to handle all kinds of common pests, including cockroaches. Reach out to us today for more information about our cockroach control and prevention services.
3 Reasons DIY Termite Control Won't Work For Asheboro Homeowners
Termites are responsible for causing billions of dollars worth of property damage each year. And to combat that, many Asheboro homeowners turn to DIY termite control options. However, it's important to understand that most DIY termite control solutions simply don't work, and here's why:
1. Termite infestations are difficult to identify. Termites prefer to avoid the light, which means most of the damage they cause is hidden from view. Unfortunately, this is why many termite infestations are only discovered after years' worth of damage has already been done.

2. Surface applications of pesticides are ineffective. Many DIY termite control options require you to apply chemicals to your floors and counter surfaces. While this method may eliminate a few termites, it won't eliminate an entire colony.

3. DIY termite control is time-consuming. DIY pest control methods require a lot of trial and error. However, many homeowners simply don't have the time or money to figure out the most effective way to eliminate termites.
Protect your Asheboro home from termites and many other pests when you partner with the skilled pest technicians here at Go-Forth Pest Control today.
Review From An Asheboro, NC Customer
"We were so pleased with the service we received that we went with Go-Forth even though we received a lower quote on our termite job from another company. Go-Forth did an awesome job explaining everything so that I could fully understand all the details of the service." – Jean L.