Asheboro, NC's Bed Bug Experts
In recent years, bed bugs have resurfaced in homes, businesses, and hotels across the U.S. - and in the Triad region. While these bugs aren't known to transmit diseases, they do bite and cause red marks, itching, swelling, irritation, and more.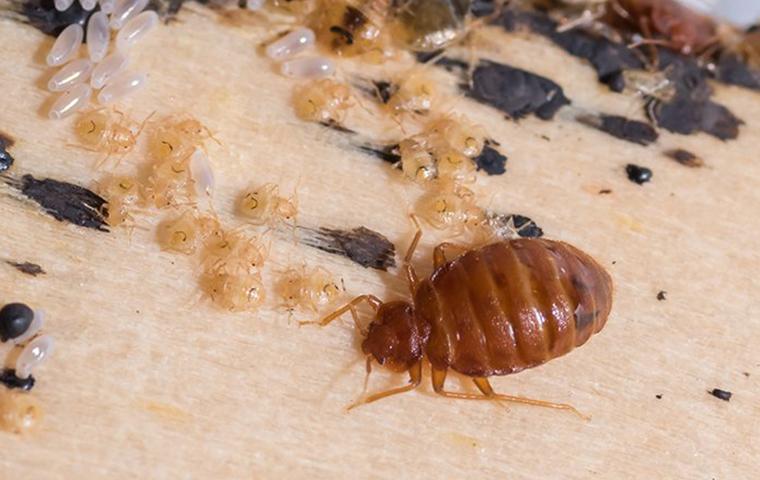 If you are a homeowner in Asheboro, there is a chance you may be experiencing a bed bug infestation. Unfortunately, these tiny bugs can be hard to detect, but there are tell-tale signs, which include:
Tiny, brownish-red bugs on your bedding furniture, carpeting, baseboards, curtains, and more

Eggs and egg casings

Blood and/or fecal stains on your mattress or sheets
Still unsure if you have a bed bug infestation? The Asheboro bed bug experts at Go-Forth Pest Control know how to recognize bed bugs in residential and commercial spaces, including finding them in even the smallest of spaces.
Additionally, we are trained to get rid of them using industry-leading extermination techniques. We also offer bed bug dog inspections - contact us to learn more about our canine bed bug services.
How We Get Rid Of Bed Bugs
Bed bugs are pests which don't only bother homeowners, but canines as well. Pests, insects, and bugs will not stop bothering your property as long as they have what they are looking for - food, shelter, and water. When bed bugs are becoming real problems to you and your dog, Go-Forth is the one you need to call. As your local exterminator, we can quickly get rid of those bed bugs, insects, and pests on your behalf.
As a pest control company, we make sure that your home and the commercial place is a safe and healthy dwelling place. Our services are catered not only to bed bugs, but also to other nuisances in your property like pests, insects, and bugs. As your trusted company, rest assured that only satisfying results are provided.
Go-Forth is a proud company when it comes to controlling pests because we have highly trained, licensed, and certified technicians who are competent in eliminating those bed bugs. We have the appropriate treatment for bed bugs which are guaranteed safe and effective. We assure that your home and commercial space will never experience any pest afterward. When bed bugs are pestering your humble abode or workplace, don't wait for it to worsen. Immediately call us, and we will be there to satisfy your pest control needs!
Bed Bug Company Near Me
Go-Forth is a local bed bug control company near you in Asheboro which can provide effective bed bug control for pets, home, and commercial spaces. We serve our customers in local areas as well. Call us today!
Bed Bug Inspections & Treatments In Asheboro
If you think your home, business, or hotel may have a bed bug infestation, call the Asheboro pest control experts at Go-Forth Pest Control at (336) 841-6111 to schedule an extermination appointment. We offer professional and safe treatments that eliminate bed bugs. With a variety of pest control service plans, we'll work with you to find the pest control solution that best fits your needs after we complete a thorough home inspection. We even offer bed bug dog inspections. Contact us today for more information.
Other Pest Control Services For Asheboro, NC