Asheboro, NC Lawn Care Services
At Go-Forth Pest Control, we've been treating lawns in Asheboro and throughout the Piedmont Triad region for more than 50 years - making our team of lawn care technicians among the most experienced in the area.
We offer a Premium Lawn & Turf Services plan that is an excellent way to treat and maintain your yard year-round. This plan includes a lawn evaluation, annual soil sampling, a seven-step treatment plan, and a bi-monthly treatment schedule. The seven-step plan includes pest elimination, fertilization, lime application, pre-emergents, weed control, ornamental bed pre-emergent weed control, and herbicidal edging.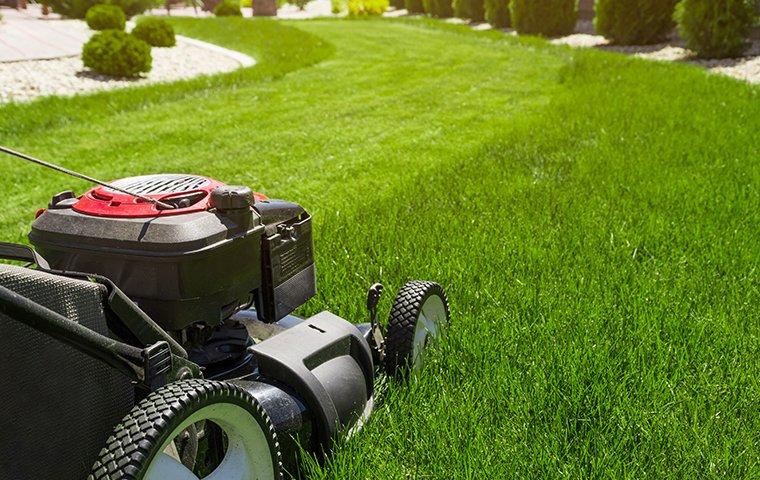 Our lawn care professionals can also help you design your own lawn treatment plan. We're truly nerds about lawns and enjoy learning what your specific lawn needs are, and customizing your services around that!
We'll custom-craft your lawn care treatments from the following services that we offer in Asheboro:
Aeration and Overseeding

pH Balancing

Bermuda Reduction

Fungicide

Pest Elimination

Lawn/Turf Dying

Herbicidal Edging

And Many More!
For a limited time, we're offering low, introductory pricing on all of our lawn and turf services!
How We Take Care Of Your Lawns
As your lawn caretakers, Go-Forth is here to make your lawns even beautiful and more conducive for enjoyment. Our lawn care technicians make use of equipment and products which ensure that everything will be treated properly and successfully.
Our lawn care treatment plans are customized according to the needs of your lawn. We guarantee that you will never be disappointed with our services. Not only we maintain the aesthetic of your lawns, but we also help in eliminating those pests, insects, and bugs that are contributing to the deterioration of your yard.
We have a local exterminator near you who can help in getting rid of those pests lurking and lingering in your backyard which can spread diseases and might lessen your fun moments. We assure you that only professionals will handle your lawn. Our company has certified, licensed, and highly trained lawn care technicians who are well-rounded when lawns are the matter. We use advanced technologies which are effective in treating those nuisances affecting your lawns.
When your lawns are losing their beauty because of pests and other reasons, don't worry! Go-Forth can handle it anytime and anywhere! With our lawn care expertise, you can experience a better, safer, and healthier backyard all year round! From aeration down to pest control, Go-Forth can handle them exceptionally! Call us today for a FREE quote!
Lawn Care Company Near Me
Go-Forth is a local lawn care company near you in Asheboro that you can rely on, not only for your backyard problems, but for pest control as well. We can keep your lawn beautiful and pest-free for a long period of time by using the right and effective treatments. We also serve our customers in local areas! Call us today!
Contact Us Today For Lawn Care Treatments In Asheboro
Call Go-Forth Pest Control today at (336) 841-6111 and schedule an appointment for a lawn inspection, evaluation, soil sampling, and more performed by our Asheboro lawn care experts. You can even request a FREE service quote using our form. Get started with us today to help your lawn look better than ever!
Other Pest Control Services For Asheboro, NC