Bi-Monthly Pest Control Schedule For Triad-Area Homes & Businesses
Will a quarterly pest control program just not cut it for your property? Whether you're a Greensboro homeowner with a pest problem on your hands, or a business owner whose property doesn't require the usual monthly commercial pest treatments, Go-Forth Pest Control has a solution for you. If Go-Forth Pest Control is unable to reach you to schedule your service, we will provide exterior preventative pest control treatment at full price in the month your service is due. Interior pest treatments can easily be scheduled for another time.
Unsure whether bi-monthly treatments are necessary to get rid of pest infestations on your property? Contact Go-Forth at (336) 841-6111 to learn about our monthly, quarterly, bi-monthly, and premier pest control programs or fill out our form. Our Greensboro-area service pros are happy to help you find the right plan for your needs.
Service Plan Details
Pests Included: Ants, spiders, crickets, mice & rats.

Pests Not Included: Does not include flying/stinging insects (hornets, wasps, yellow jackets), mosquitoes, German cockroaches, bed bugs, wood-destroying organisms/termites* or any other insects requiring special treatment materials, timing, or equipment.

Treatment Schedule: Bi-monthly treatment schedule with no-hassle automatic monthly or annual credit card billing.

Flexible Scheduling: Appointment scheduling at your convenience.

Satisfaction Guaranteed: Encounter a pest problem in-between normal service visits? Additional treatments for covered pests are included for no extra charge.
* Go-Forth Pest Control does offer termite service agreements upon request. Please visit our Termite Control page or contact us for more information.
12 Steps Performed Every Two Months
Go-Forth's Bi-Monthly Pest Control Plan includes pest treatments every other month and covers a range of common pests. With the help of our Greensboro pest control pros, you can count on your home or commercial property to be bug-free year-round - satisfaction guaranteed!
The Bi-Monthly Pest Control Plan is designed for:
Commercial customers whose property doesn't require monthly attention.

Residential customers who have greater needs than a quarterly service can accommodate, due to pest infestations, construction, etc.
Areas Covered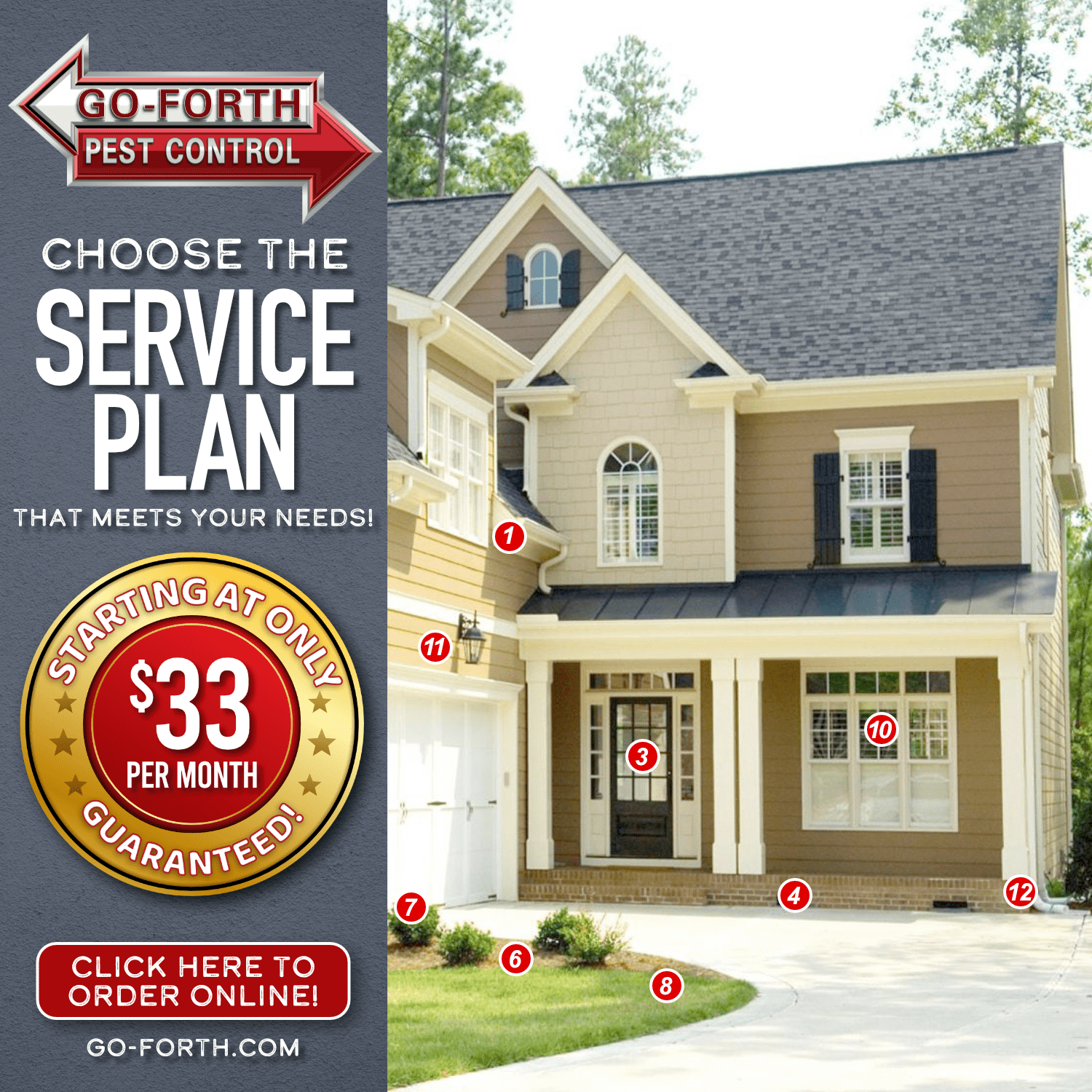 Other Service Plans From Go-Forth