Benefits Of Professional Christmas Light Installation In Columbia, SC
December 27, 2021
With the holiday season upon us, many property owners will navigate through attics, basements, crawlspaces, and other storage areas to retrieve seasonal decorations. Christmas is a time for traditions, including baking cookies, hanging stockings, and wreaths, putting up Christmas trees, and installing Christmas lights. It gets dark much earlier during the winter months, making your holiday lighting a great way to illuminate your property and brighten spirits.
Amid all the holiday excitement, it is easy to overlook the importance of safety. Each year, many owners of homes and businesses are seen climbing up ladders and maneuvering around eaves and rooftops to install Christmas lights. Many savvy do-it-yourselfers have discovered the benefits of having their Christmas lighting installed by experienced professionals.
At Go-Forth Pest Control, we have created a niche of offering professional Christmas light installation services to local home and business owners. Our installation team will position lighting throughout outdoor trees and shrubs, along rooflines, around the frames of windows, and more.
Some individuals might be using very old Christmas lights that fail to meet today's safety standards or purchase lights at tremendous discounts from online retailers that have circumvented the product safety rating and testing requirements that exist. Consumers should be aware that all lighting options should have a safety testing logo or label that indicates approval from the Underwriter's Laboratory (UL) or Intertek (ETL Semko).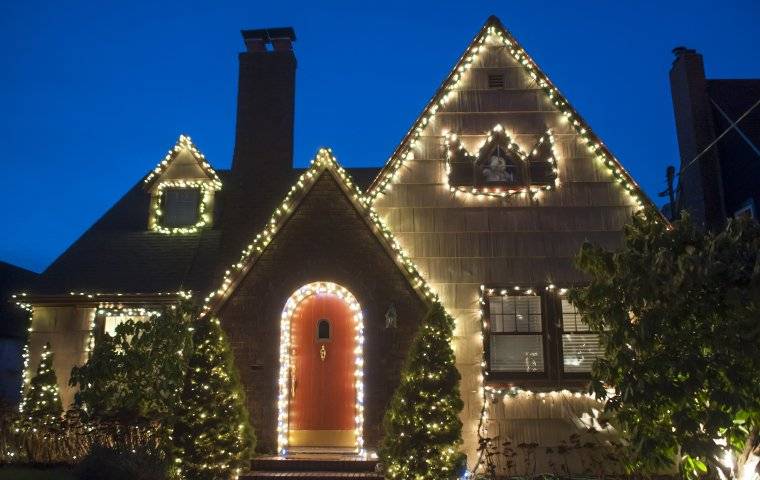 Professional Christmas Light Installation
Some property owners installing Christmas lights themselves might be mistakenly using products specified exclusively for indoor use in outdoor areas. Indoor lights often are vulnerable to cold or wet conditions or could pose a potential fire hazard when used in outdoor applications. Other do-it-yourself installers create potentially dangerous situations by plugging excessive numbers of lights into a single extension cord or using multiple extension cords in "daisy chains" that pose risks.
Other Benefits Of Professional Light Installation
Our staff of lighting installers has been properly trained regarding safety. We are fully insured for the protection of our team and to protect our customers from any financial liabilities associated with injury.
The Risks Of Putting Up Christmas Lights
Did you know that the holiday lighting experts with Go-Forth Pest Control now use some of the latest types of LED Christmas lights? Aside from looking great, the LED lights are incredibly energy-efficient, resulting in savings of up to 90% compared to traditional incandescent products.
The energy-efficient LED lights generally operate at lower voltages; therefore, they are not reliant on higher power supplies. LED lights will also not generate potentially harmful ultraviolet rays (UV) and operate at much lower temperatures than their incandescent counterparts, which are more likely to create fire risks.
During the holiday season each year, people arrive in hospital emergency rooms seeking treatment for injuries that could have been prevented. Many of these accidents involve falling off ladders or icy roofs while installing lights and other decorations. Among the most significant dangers are traumatic brain injuries, resulting in blurred vision, a loss of consciousness, cognitive impairment, or even death.
The Mission And Goals Of Go-Forth Pest Control
The leadership team with Go-Forth Pest Control has created a set of six goals that summarize the organization's mission as follows:
Aim For Delight: Involves a strong commitment to ensuring customer satisfaction.
Be Professional: Adhering to the fundamentals of professionalism, such as treating everyone we encounter with courtesy and respect.
Fight for Simplicity: Maintaining simplicity, transparency, and consistent quality.
Own It: Our team members know that individual accountability translates to cohesion and overall organizational success.
Show Grit: We are specialists that embrace challenges, overcome obstacles, and persevere to create positive solutions.
Grow: A commitment to personal growth that has proven to advance and expand our business.
Professional Christmas Light Installers In Columbia
Go-Forth Pest Control will eliminate the concerns involving Christmas light installation, removal, maintenance, and storage. We encourage you to contact our office today.
Previous
Next