Say Goodbye To Fleas: Effective Prevention And Control Techniques For Your Fredericksburg Home
September 27, 2023
Fleas are a common house pest that affects people and their pets in particular. They feed on warm-blooded animals, and their presence can cause a number of negative effects.
In this article, we'll talk about the basics of flea control in Fredericksburg. We'll start by discussing how to identify fleas. Then we'll cover some of the major health problems that fleas can cause. Next, we'll go over how Go-Forth Pest Control can help you get these pests out of your home for good. Finally, we'll give you some helpful tips to help you keep fleas away from your property in the future.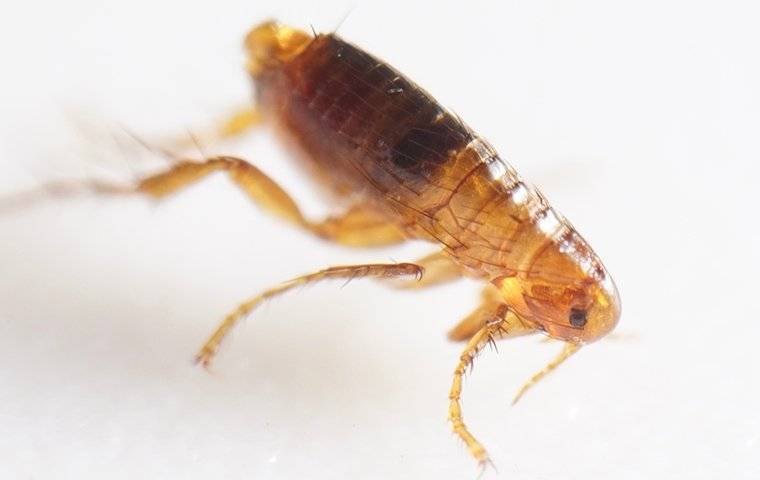 Flea Identification: What Do They Look Like?
The first step to controlling fleas in Fredericksburg is to know how to identify them correctly. Fleas are tiny insects typically ranging from 1/12 to 1/6 of an inch long. Their bodies are dark reddish-brown and flattened from side to side. Adult fleas have bristles on their bodies that face backward. These bristles help them move quickly through the fur, hair, and feathers of their various hosts. Fleas have six legs and two antennae. Fleas cannot fly, but they still manage to travel long distances by riding on their hosts. Fleas are also able to jump impressive distances. They can launch themselves as high as eight inches into the air, which is roughly 150 times their height.
By paying attention to the signs of fleas in the house, you can give yourself a head start when dealing with them. Fleas will often infest pets first, so keep an eye out for red bumps, hair loss, or excessive scratching.
Health Hazards Of Fleas: Dangers To People And Pets
Fleas are deceptively dangerous pests. Despite their tiny size, these insects are known carriers of diseases such as typhus and the bubonic plague. They can also carry tapeworms and cause anemia in pets. Fleas will infest pets; once the pets are in the house, they will move to the human occupants. Getting rid of fleas is also much more complicated than it might first appear. Female fleas can lay up to 50 eggs in a single day, and fleas live for around 100 days. If a flea infestation has established itself in your home, you might not be able to remove it without help.
Total Flea Elimination: Call The Pros Right Away!
If you discover a flea infestation in your Fredericksburg home, your best option is to contact a professional pest control company. Go-Forth Pest Control has been serving the Fredericksburg area since 1959. Customer service has always been our number one priority, and our technicians have the tools and expertise they need to deal with any flea problem. We focus on consistency, professionalism, and simplicity. Contact Go-Forth Pest Control today for more information.
Preventing Fleas From Coming Back: Proactive Tips And Tricks
Once you've gotten all the fleas out of your home, the final step to complete flea control is to make sure that these pests can't get back into your home again. Here are a few practical steps that you can take to keep fleas away:
Comb and bathe your pets regularly
Keep your pets on a leash when they are outside to minimize the chances of infestation
Clean and vacuum your home frequently
Keep your lawn well-groomed
Wash bed sheets often
These simple steps should help you reduce your risk for flea problems in Fredericksburg. If you ever need the help of a professional flea removal service, don't hesitate to contact Go-Forth Pest Control.
Previous
Next