Why Do I Have Bed Bugs In My Charlotte, NC Home?
November 22, 2021
It's a mere misconception, albeit a common one, that bed bugs are only found in homes that are dirty and disorderly. In reality, these pests can live in all sorts of conditions, including the cleanest and tidiest of homes. More often than not, bed bugs find their way into Charlotte homes on the items you bring inside. While out and about, especially in places that receive a lot of foot traffic, bed bugs can jump onto or into purses, backpacks, and other items left on the floor or even attach to clothing.
A common way that bed bugs are brought inside is by purchasing secondhand furniture, appliances, and electronics. If these items are purchased from a yard sale, for example, where the home has a bed bug infestation, then there's a possibility that live bed bugs and larvae may be transferred into your home from this used item.
Read more about bed bug hotspots or places where bed bugs are commonly picked up and what to look for when purchasing secondhand furniture.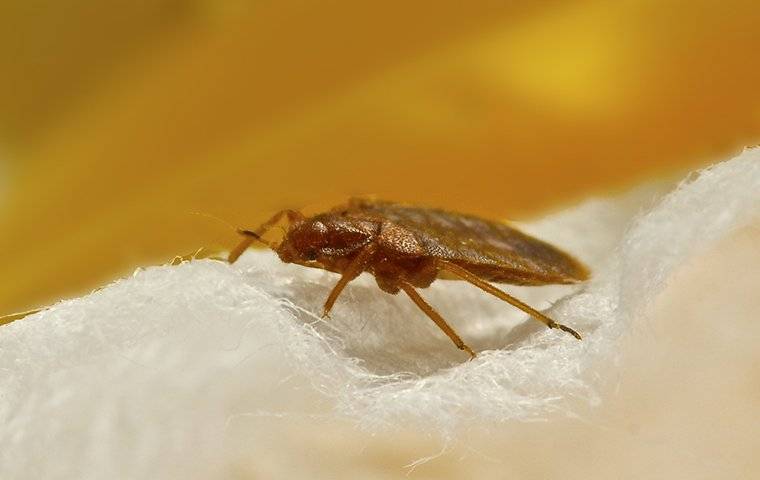 Bed Bug 'Hotspots' To Be Aware Of
Bed bugs are commonly transferred in places where there is a high amount of human foot traffic. This includes public transport and transportation hubs and places that people collect every day, such as office buildings, daycares, and schools.
In a 2018 survey, National Pest Management Association (NPMA), a national nonprofit representing the pest management and pest control industries, collected data from pest professionals nationwide regarding the treatment of bed bugs.
Below are places that bed bugs are commonly found, and the percentage of pest professionals who have treated bed bugs in these places:
Single-family homes, 91%

Apartments and condominiums, 89%

Hotels and motels, 68%

Nursing homes, 59%

Schools and daycares, 47%

Office buildings, 46%

College dorms, 45%

Doctors' offices and outpatient facilities, 39%

Hospitals, 36%

Public transportation, 19%

Retail stores, 16%

Movie theaters, 13%
Avoid picking up bed bugs in these places by being vigilant about where you put your belongings. Refrain from placing items on the floor, which includes luggage when traveling. Instead, always look to use a luggage rack. When you return home from traveling, be sure to place your luggage in a plastic garbage bag or wrap it in plastic wrap as a further precaution against transferring bed bugs—vacuum inside and around the luggage, and also regularly throughout the house to capture any fallen debris.
Bed Bugs & Secondhand Items
If you're determined to safeguard your home and family from bed bugs, then it's best not to purchase used furniture, appliances, or other items. Bed bugs are super small, measuring 1/4 inch long at most, and are not always easy to see, especially at night and in hard-to-reach places.
It's a distinct possibility that the beautiful, antique, Victorian-style sofa you purchased for a great price from your neighbor down the street to be ridden with bed bugs hidden inside its upholstery not visible by the naked eye. Unless you have an eagle eye for bed bug inspection, it's more likely for these bugs to go overlooked—and to find a new home in yours.
But if you are keen on keeping that one-of-a-kind, secondhand piece, be sure to inspect it thoroughly. For chairs, sofas, and couches, particularly, closely examine pleats and seams, around tags, and underneath the cushions. If you can, to err on the safe side, shy away from purchasing used furniture that's upholstered, as it's easier for bed bugs to be overlooked.
Guard Your Home - Call The Professionals
Because bed bugs can be accidentally carried into the home at any time, it's hard to guarantee prevention without professional help. If you suspect an infestation in your home, call the bed bug control professionals right away. Here at Go-Forth Pest Control, we have provided quality pest control services since 1959. Call us today; we can solve your pest issue now and with ongoing maintenance year-round.
Previous
Next