Why Lawn Care Is A Year-Round Task In Greensboro, NC
November 5, 2021
Keeping your yard green and lush can be a monumental task and, unfortunately, something you have to keep up with year-round in Greensboro. Ongoing professional care may be the solution for you if you want to effectively care for your garden and have less stress on your shoulders.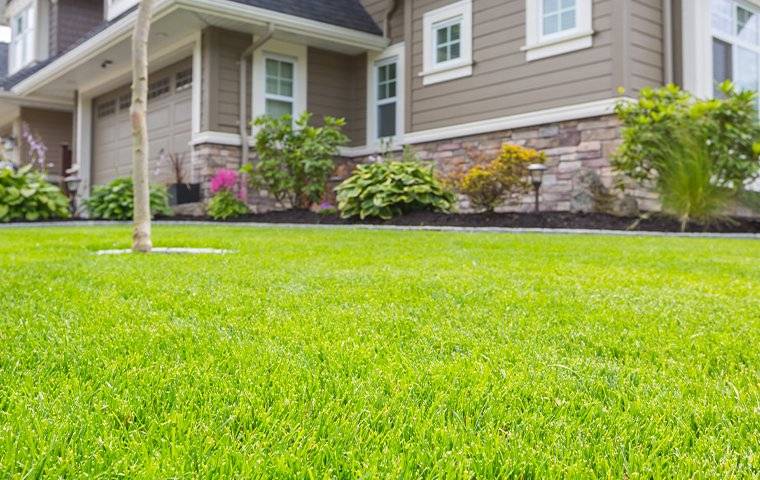 Keeping Your Yard Green
Ensuring your yard stays green is a year-round task, especially in Greensboro, where temperatures remain warm most of the time. However, staying on top of all regular maintenance, fighting off pests from your lawn, and making sure that your yard stays nourished and healthy can be a time-consuming and often stressful task.
While many individuals do choose to tackle the task of yard maintenance all by themselves, there are a few downsides to this approach.
Time – Keeping your yard green takes a significant amount of time. It can feel like the yard work never lets up between feeding, fertilizing, aerating, and other necessary maintenance; this can be a serious drawback to anyone who wants to spend their weekends and evenings on anything else other than yard work.
Money – Yard maintenance can be expensive, and if you are an individual trying to tackle every task by yourself, you may find that you spend a lot of money buying supplies and tools to keep your yard green. Even if you are just purchasing a few items here and there, it can add up to a significant amount spent on making sure your yard stays beautiful.
Ineffectiveness – Often, store-bought yard fertilizers and pest deterrents aren't that effective and can result in a malnourished lawn or pests taking over your yard and a lot of frustration on your part as you use trial and error with different products. These methods can also result in a lot of wasted time and money.
Professional Lawn Care Benefits
To save yourself the trouble and stress of year-round lawn care, you can develop an ongoing relationship with the professionals at Go-Forth Pest Control. With professional lawn care:
You can save money. Saving money is a major benefit, as working with professionals and paying a low monthly or service-based fee can save you a significant amount of cost when it comes to products, purchasing pest control items, and keeping up with the maintenance of your lawn.
You can save time. Obviously, if you hire a professional to complete your lawn care, you will not need to put as much of your own time and physical labor into keeping your yard green; this gives you more free time for other yard maintenance or personal hobbies.
You will receive consistent care. It can be difficult to keep the care of your yard consistent year-round, even though this is what's needed to maintain a lush, green lawn. The professionals at Go-Forth Pest Control will be able to provide you with consistent, effective yard care tailored to the seasons and your lawn's specific needs; this results in a yard that is beautiful and protected from pests year-round.
If you want to take the pressure off yourself for your yard care services, contact Go-Forth Pest Control today and learn how to get started. Our experts will provide you with a free, no-obligation lawn evaluation and targeted solutions to keep your yard in the best shape year-round.
Previous
Next