Professional Pest Control For Carrboro, NC Properties
Carrboro is a small, welcoming town known for its progressive atmosphere and friendly community. Our town is filled with indie music venues, craft galleries, artistic coffee shops, and organic grocery stores. To protect your Carrboro home or business from the wide range of destructive and dangerous pests that live in our area, the professionals from Go-Forth Pest Control are proud to provide excellent pest control services. With more than 50 years of experience in the pest control industry and a commitment to the communities we serve, Go-Forth Pest Control is the right choice for all of your pest control needs. Contact our licensed technicians today for commercial and residential pest control services you can depend on year-round.
Home Pest Control In Carrboro, NC
No one should have to share their home with pests. Unfortunately, pests such as rodents, insects, and spiders are always seeking out new opportunities to invade your Carrboro property. And once pests invade your home, they can cause many serious problems, such as spreading harmful diseases to your family, damaging your property, and contaminating your food. The best way to protect your Carrboro home and family from pests is with professional home pest control services from Go-Forth Pest Control. For years, we've been dedicated to helping homeowners keep their properties free of destructive and dangerous pests throughout the entire year. No matter what type of pest problem you're dealing with, you can count on the professionals at Go-Forth Pest Control to eliminate it. Give us a call today to get started on your first treatment.
Carrboro Homeowners Guide To Control Ants
Did you know that there are over 10,000 known species of ants found throughout the world? Thankfully, only 1,000 species are native to the United States, and even fewer species are common household pests. Here in Carrboro, some of the most common ant species include larger yellow ants, little black ants, and cornfield ants.
To prevent ants from taking over your Carrboro home or business, it's important to minimize factors that may attract them in the first place.
Reduce sources of excess moisture, such as leaking pipes and faucets.

Eliminate potential entry points by sealing gaps in your foundation and exterior walls.

Minimize food sources for ants by sweeping your floors, wiping down your counters, keeping eating areas clean, picking up pet food, and keeping your garbage cans sealed.
Although prevention tips are helpful, they aren't a replacement for professional ant control. Get in touch with the technicians here at Go-Forth Pest Control for immediate assistance with your ant control problems.
How To Eliminate Spiders In Carrboro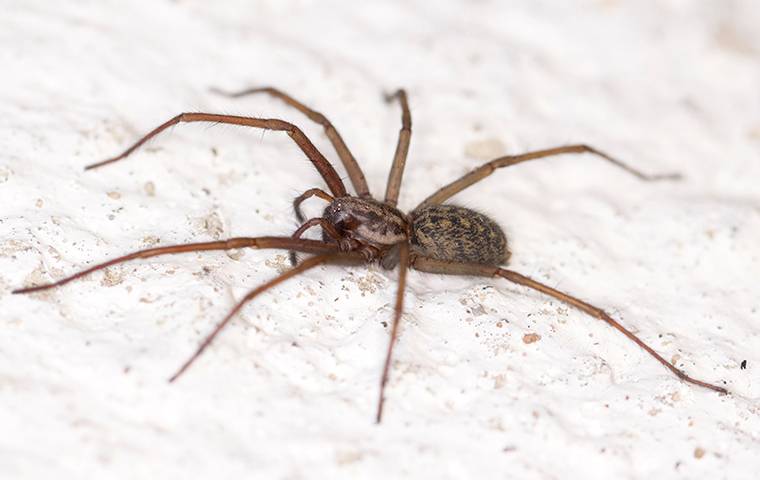 Spiders are both fascinating and frightening. They have eight legs, multiple eyes, and venomous fangs used to paralyze their insect prey. Spiders come in many different shapes, sizes, and colors, depending on their species.
Although spiders are beneficial to the ecosystem by keeping insect populations under control, you don't want them living in your home or business. These common pests typically invade Carrboro properties for one of two reasons: to find a mate or move closer to their prey. Unfortunately, if you're dealing with spiders in and around your property, it's likely that you have an existing insect problem going on as well.
One of the best things you can do to prevent spiders from invading your property is to reduce the factors that may attract them, such as clutter, insects, and easily accessible entry points. We also suggest you use a saline spray to discourage regular spider populations from getting out of hand.
The best way to eliminate spiders from your Carrboro property is with a little help from the professionals here at Go-Forth Pest Control. We work quickly to eliminate spiders using effective spider control solutions. If you're tired of dealing with spiders, insects, and other pests around your home or business, reach out to Go-Forth Pest Control today.
Commercial Pest Control In Carrboro, NC
Owning a successful business requires a lot of time, money, and dedication. But when pests invade your Carrboro commercial facility, they put all of your hard work to waste. Invading pests threaten your property, customers, employees, and reputation, which is why you need professional commercial pest control services from Go-Forth Pest Control. We have a deep understanding of area pests and how to stop them from taking over your commercial property. By utilizing the latest pest management techniques and prevention strategies, we eliminate pests before they have the opportunity to invade.
With our skilled pest technicians by your side, you can rest assured that your Carrboro business will remain pest-free throughout every season. Don't wait for nuisance and dangerous pests to invade your commercial property and cause a loss of revenue for your business. Instead, turn to Go-Forth Pest Control for excellent commercial pest control solutions you can trust to get the job done right.