Bed Bug Control In Chapel Hill, NC
If you have bed bugs you're not getting your sleep. Go-Forth Pest Control of Raleigh can help in the Chapel Hill area to exterminate your bed bugs. Our technicians will do a thorough search to make sure the bed bug issue is under control and we have eliminated the problem. Bed bugs can multiply fast so it is better to get a professional to help you right away rather than trying to handle it on your own.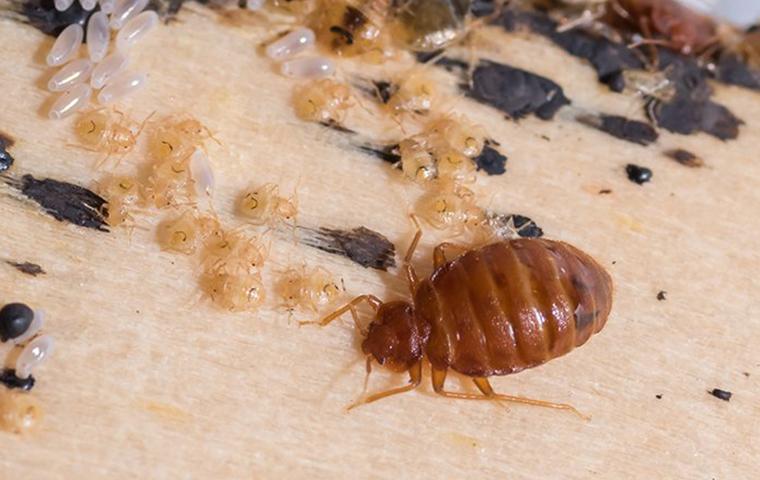 Bed Bug Facts
These pests are small and like to live in warm places, like your bed. They have been known to infest couches, carpet, and even car seats as well. If you start to notice small black things or blood on your sheets you probably have bed bugs.
They are nocturnal and feed on exposed skin like your arms and neck while you're sleeping. They are hard to terminate on your own because of how quick they reproduce and embed themselves in different areas. Get a professional to help so you can get your rest at night.
Bed bugs are not picky when it comes to their home. Whether you are living in a mansion, an apartment, or dorms, bed bugs will surely be present once they've found a cozy area in your home. They also live in hospitals, offices, and movie theaters. You might also encounter them in public transportation stations. Wherever you go, bed bugs might be present as they can settle anywhere.
Bed bugs are survivors. They can survive even without consuming any blood for months. But don't be overconfident. When they don't feast on your blood, they might be lingering in your suitcases, furniture, or bags before they find another host.
Since bed bugs can survive even the cold and freezing temperatures, performing pest control on your own might not be the best solution. For those bed bugs to get away from your home, you need a local exterminator whom you can trust when pest control services are needed.
How We Get Rid Of Bed Bugs
Getting bit by bed bugs can be itchy, and experiencing this every day might not be a good thing. It can cause skin reactions which may lead to some conditions. If you don't want to suffer anymore, Go-Forth Pest Control is here to save you. Here at Go-Forth, we provide high-quality bed bug, insect, and pest control services which are incomparable to other companies. As your pest control company since 1959, we only give services that exceed expectations and customer satisfaction.
Our local exterminator will see to it that the possible areas where bed bugs are hiding will be inspected and treated to remove them. We see to it that our treatment will drive away any pest and will prevent them from coming back for future damages. Don't wait for bed bugs to live in your mattress, let Go-Forth eliminate them now! Call us today!
Bed Bug Company Near Me
We are a local bed bug control company near you in Chapel Hill which will instantly come to you whenever you need us. We also serve our customers in local areas. Contact us today! If you're in the Chapel Hill area call Go-Forth Pest Control of Raleigh to help with your bed bug issue now.
Other Pest Control Services For Chapel Hill, NC