Termite Control In Chapel Hill, NC
Termites can cause a lot of damage, fast. Go-Forth Pest Control of Raleigh serves the Chapel Hill area and can help exterminate the problem. Put a stop to these pests today with our trained professionals who know how to target the right areas and get the termites away.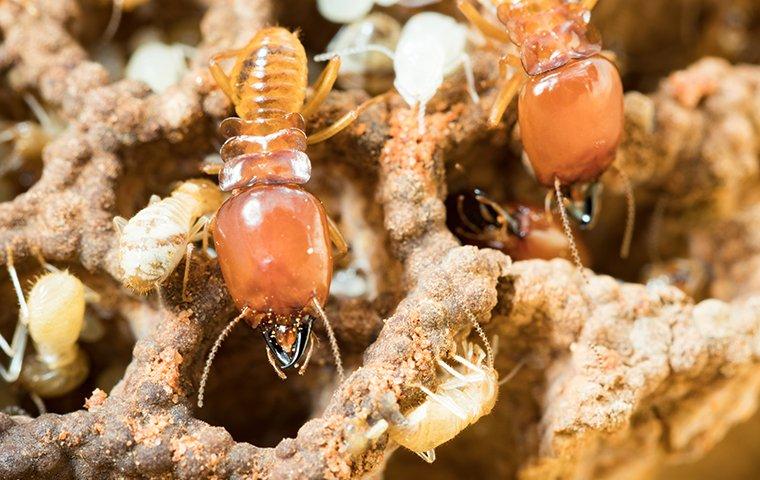 Termite Facts
Termites can eat right through wood and cause costly damage. Once a termite has infested the wood of your home or property, it is damaged. Most of the time you have to replace it, and those numbers can quickly add up. Termites reproduce quickly and make it even more difficult to exterminate on your own. Their tiny bodies make them difficult to see but their damage is what makes them visible in your home or place of business.
Termites love warm places, and your home is an ideal place. They are active whenever their environment is warm since it triggers them to get and stock food before the cold season comes. But, places that have warm weather all year round are in danger since termites can infest their homes non-stop.
Termites don't infest your home without giving you any notice. They will leave signs such as damaged wood, cracked paint, or mud tubes on your walls. When these signs are visible, you better call an exterminator near your area which you can entrust your pest control issues.
Termite populations increase rapidly due to the fast reproduction of the queen termite. Every 15 seconds, the queen lays one egg, and within the day almost 30,000 eggs are laid. With this kind of reproduction, the infestation will definitely become big, and your house might lose its strong structure. Don't wait for termites to eat the structure of your home. Once you see them infesting your humble abode, immediately call a pest exterminator who can provide you excellent services to prevent termites from infesting more. A local pest company is the best option for you.
How We Get Rid Of Termites
Your home in Chapel Hill can be your greatest lifetime investment. But as time passes, your house will not be the same again, especially if you let pests like termites stay. Once this pest begins to infiltrate your home, expect that your investment might crumble in the end. Go-Forth can help in maintaining your lifetime asset. Our company provides excellent termite control which you cannot experience from others. We have a local technician near you which you can call anytime and will serve your needs on the same day.
Here at Go-Forth, termites, insects, bugs, and other pests are no problem. We can handle those professionally and effectively using proper protocols and safe equipment to ensure that you and your family are in good hands. Our services are excellent, and we assure that you will only receive satisfying results. Don't let those termites be the reason for losing your lifetime investment, let Go-Forth handle the job for you! Call us now!
Termite Company Near Me
We are a local termite control company near you in Chapel Hill that you can call whenever you need to eliminate termites in your home. We are always glad to serve our customers even in local areas! Call us today! Go-Forth Pest Control of Raleigh can help with your termite problem today in the Chapel Hill, NC area!
Other Pest Control Services For Chapel Hill, NC