Charlotte, NC Mosquito Exterminators
Offering mosquito control in Charlotte, NC, our local exterminators carry decades of experience in ridding of mosquitoes and other pests in Charlotte, Mint Hill, and Mathews. Mosquitoes are disease-carrying insects that must be diminished around your home. If you are currently having a mosquito problem, call us to talk to one of our local Charlotte mosquito control experts today! Carrying diseases like malaria, the West Nile virus, and other dangerous viruses, it is imperative to take control of your backyard this summer and call our Charlotte, NC mosquito exterminators today.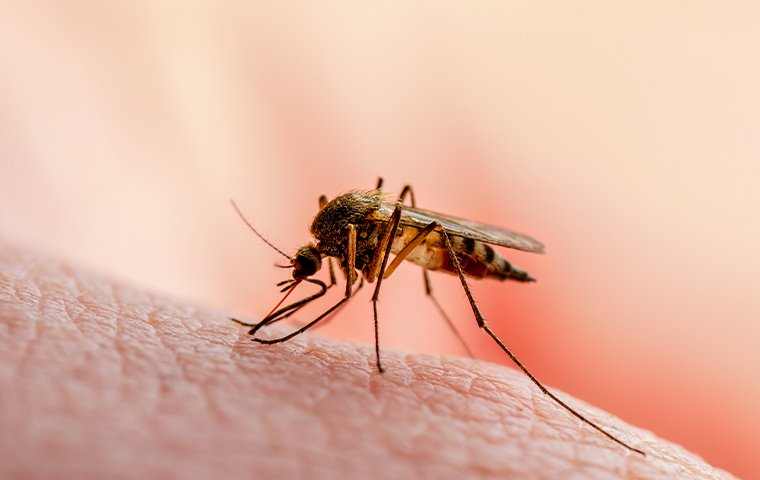 Our Proven Charlotte Mosquito Control Process
How do we reduce the mosquito population at your home? At Go-Forth, we focus on eliminating breeding and resting sites for mosquitoes, following a strict mosquito elimination process that includes treating:
Landscaping around your property and your home's foundation with residual adulticide

Any existing mosquito breeding sites in order to prevent mosquito larvae from growing into adults
Well-Reviewed Local Mosquito Exterminators
Feel at ease with your mosquito problem because we're well-reviewed, local mosquito exterminators. Skim our Google reviews and see for yourself. We are proud of our highly revered company, and as such we will always do our best in every pest-related situation! Don't live with bugs any longer, call our mosquito exterminators today.
Learn About Mosquitoes & Mosquito Extermination
Mosquitoes are annoying tiny creatures that can cause damage to your home and your health if you do not have appropriate measures to control them. From their troublesome buzz and nasty bites, to the spreading of life-threatening and sometimes neurological diseases, mosquitoes are a danger to your loved ones, and you must exterminate these pesky insects as soon as possible. Moreover, they can inflict your dog with heartworms and bring harm to household pets and livestock, which can be spread to humans.
However, you can win this battle; you can get rid of these annoying insects from your outdoor space by learning about them, such as how they breed, habitats, factors that encourage their breeding, and times of the year they are prevalent. All these will help you prevent a mosquito infestation.
For instance, you need to remove stagnant water from your surroundings; mosquitoes breed on stagnant water. Mosquitoes breed rapidly; it takes 10-14 days for mosquito larvae to grow fully, and then start reproducing in the next two days. If you remove their nesting ground (stagnant water), you have succeeded in preventing more mosquitoes from entering your house.
The next thing to do is to check your lawn; tend your lawn regularly to prevent mosquitoes from turning it into a habitat. They multiply more during hot or humid weather conditions, which explains why mosquitoes are prevalent during summer. Mosquitoes have a short life-cycle span which is why they multiply faster, making it difficult to exterminate without the help of a professional pest exterminator. Furthermore, there are short and long-term solutions for eradicating mosquitoes.
Air Fans
Air fans can serve as one of the short-term mosquito repellents. Mosquitoes do not thrive well in windy conditions, which fan nozzles generate. If you are having a summer party and you do not want mosquitoes to ruin the day, use this method. Mosquitoes prefer steady wind; they will leave your place and seek refuge in a more steady wind environment.
Bug Zappers
Another short-term solution is Bug zappers; they electrocute insects, but only bugs that are attracted to light. The bad news is mosquitoes are not attracted to light, but you will get a satisfactory result when you use it with citronella.
Mosquito Dunks
Mosquito dunks contain larvicide, which kills mosquito larvae. The good thing about this product is that it does not harm birds, pets, wildlife, or fish. It is a short-term solution that exterminates larvae for 30 days. To use mosquito dunks, you need to place one dunk in any stagnant water around you to prevent larvae from turning into adult mosquitoes.
Furthermore, short-term solutions will only provide temporary satisfaction. To completely exterminate mosquitoes from your home and environment it is necessary to use both long-term and short-term solutions. Your local pest operator will give you the best strategy needed to solve your pest problems.
Every home or environment has a specific solution, and it takes a professional mosquito exterminator to know what will work best for you. Just because one method works for someone does not necessarily mean the same technique will work for you. Trust us to give you the best services. We are equipped with the best tools, and the best staff to provide you with nothing but the best.
Get Rid Of Mosquitoes Today!
Although we cannot fully eliminate all mosquitoes from your home's lawn, we assure our customers that we will drastically reduce the amount around your Charlotte property. Are you ready to enjoy a summer free of mosquito bites? Contact Go-Forth Pest Control today at 704-870-PEST (7378). Our Charlotte exterminators are happy to give you a free quote on any of our services or help you schedule a mosquito inspection. We look forward to working with you!
Other Pest Control Services For Charlotte, NC