Termite Extermination Company Serving Charlotte, NC
Termites are hard to spot, and if they aren't found in time, they can cause thousands of dollars in damage to your home's infrastructure. Exterminate them before it's too late with the help of the pest control company that has been serving Charlotte homeowners since 1959 - Go-Forth Pest Control of Charlotte.
How do we ensure total termite elimination? At Go-Forth, our Charlotte termite control experts are accredited WDIR termite inspectors who scour homes to find the root of the termite problem. Once the source of the termite infestation is found, we use the most advanced and environmentally safe termite extermination techniques to eliminate these invading pests. Contact us today to get started!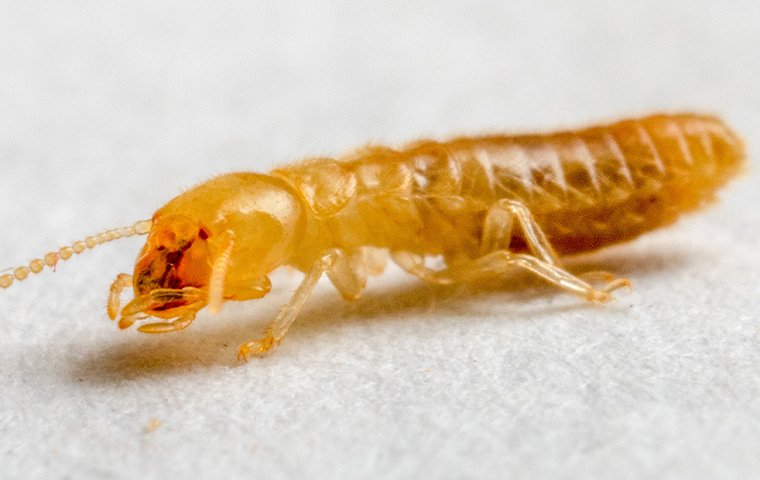 Benefits Of Working With Our Charlotte Exterminators
There are many reasons to choose Go-Forth Pest Control as your solution to your pest infestation. Customers across Charlotte turn to us because we offer:
Free price quotes

Discounts for regular service agreements

Same-day service

EPA-approved, environmentally safe pest extermination methods

Pest treatments that are safe for children and pets

Pre-construction treatments
As a family owned and operated company, we want to provide our customers with the best service possible. Not only are our termite treatments effective, but our Charlotte exterminators will always arrive on time and treat your home as if it were their own. At Go-Forth Pest Control, we believe that to be the best, you have to hire the best.
Are you ready to schedule a termite appointment for a pest inspection? Have questions about our Charlotte extermination services? Contact Go-Forth Pest Control today at 704-870-PEST (7378).
Learn About Termites, Termite Extermination & Control
In preventing an invasion of termites or handling a termite invasion, it is important to note their biology and behavioral patterns. Like every pest, termites have features that enable them to adapt to changing conditions and environments. Some of them are highlighted below.
Termites Feed On Wood
This is a matter that cannot be overemphasized. The fact that termites feed on wood makes them of very high economic importance. They destroy the construct integrity of residential and commercial buildings and other wooden structures. Termite infestations in the U.S. results in billions of dollars in damage yearly. When feeding on wood, they create tunnels and destroy the essential components of wood.
There Are Different Types Of Termites
There are over 45 types of termites in the U.S. The most common types are drywood, subterranean, and dampwood termites. For each type of termite, there are specific methods of control. The subterranean termites live in soil, and their control is heavily focused on identifying their tunnels and killing them as they nest in the soil. For drywood and dampwood termites, the control and prevention methods are aimed at destroying termites in wooden structures, since they breed and live in wood. Local termite control companies are usually familiar with the types of termites in a specific area.
Termites Can Tunnel Through The Soil
Termites create tunnels through soil in short distances to access food sources. This is a major reason why proper storage and disposal of dead wood around your home is emphasized in termite prevention. Stumps of dead wood and other debris should be stored in locations far from homes and buildings. This also applies to firewood storage.
Termites Are Not Easily Identified
Because of their affinity to moisture and tendency to travel through tunnels, termites cannot be easily identified. Many times, termite invasions are noticed due to the consequences on wooden structures during repairs or construction. Also, termites can be mistaken for ants, and this makes their identification difficult.
The similarity of ants and termites is evident in their body structures, because the front wings on ants are longer than the hind wings, while the front and hind wings are roughly equal in size for termites. The antennae of ants and termites is also a differentiating feature. The antennae of ants are bent, while the antennae of termites are straight.
Large-scale termite control requires the services of experienced termite exterminators. However, simple practices can reduce the likelihood of termite invasion and prevent re-invasion after eradication. The biology and behavioral patterns highlighted should be considered in industrial and residential termite control.
The damage caused by termites can be avoided with practices that discourage their breeding and survival. Since termites feed on wood, efforts made should be focused on getting them as far from wooden structures as possible. Wood which could act as a home for colonies of termites should also be properly stored.
Schedule Your Charlotte Termite Inspection Today!
Are you ready to begin working with a pest control company in Charlotte, NC that values professionalism, expertise, and superior customer service? When you need help getting rid of the termites eating away at your home from the inside out, there is no better company for the job than Go-Forth Pest Control.
Reach out to our exterminators today at 704-870-PEST (7378). We would be happy to schedule an appointment for you, or answer any questions you may have about our Charlotte termite treatments. Go-Forth Pest Control looks forward to working with you!
Other Pest Control Services For Charlotte, NC