Light Installation & Holiday Decoration Service For Businesses
We're happy to offer commercial Christmas light installation & holiday decoration services to all Greensboro/Winston-Salem area businesses. Our commercial Xmas light hangers have been hanging lights and decorating buildings for quite some time now, so we are always ready to get your ideas so that your Christmas light decoration this year is a success.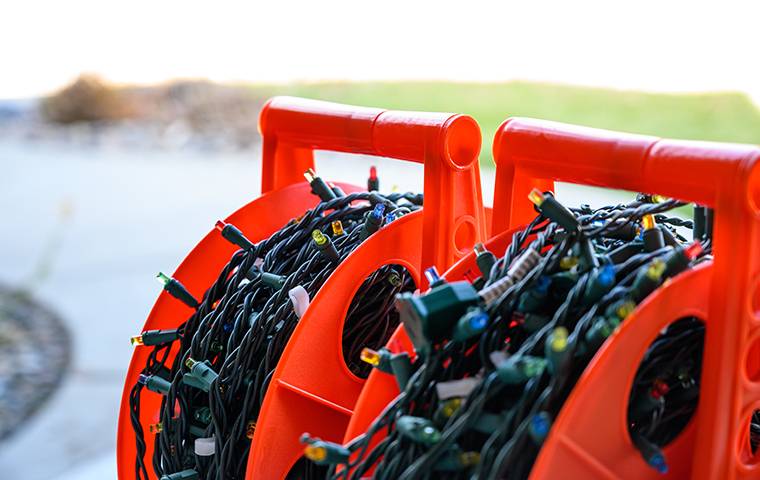 Professional Light Hanging Service
Our team of Xmas light installers are fully trained at making your business building look amazing and inviting. We will make sure your holiday decorations are perfect and enhance the look of your building and transmit that happy holiday spirit.
We install Christmas lights for the following:
Outdoor Trees

Greenery

Rooflines

Windows

Grounds

Specialty Decorations
Servicing Greensboro, NC, High Point, NC, and Winston-Salem, NC, our professional Christmas light installation services from Go-Forth make it easy to create a sparkling winter wonderland on the exterior of your business.
New Christmas LED Lights Save You Money
Our new LED Christmas lights not only look amazing, they also save energy. Our low-energy consumption lights will not hurt your wallet this holiday season. Make your holiday light installation a success this holiday season.
Well-Reviewed Local Christmas Light Installer
Our local Christmas light installer company is very well reviewed on google and other websites. Feel secure you're doing business with a competent company that will not disappoint you and that will deliver results at an affordable price.
Local Outdoor Holiday Lighting Company Since 1959
We're local to the Triad area, our business is a family-owned business, and we have been providing services to the local area since 1959. At Go-Forth Pest Control, we understand how important appearances are to your commercial business, especially during the busy holiday season. Whether you're a local restaurant owner or the manager of a large retail shopping center in the Triad area, you know that the right holiday decorations can go a long way in drawing in new customers.
Examples Of Our Christmas Lights - Real Go-Forth Customers. Real North Carolina Businesses.
The Triad's Choice For Professional Holiday Lighting Installation
Interested in a FREE service quote on outdoor holiday lighting installation for your business in Greensboro, Winston-Salem, and surrounding areas? Please give Go-Forth Pest Control a call at (336) 841-6111, or contact us via the form at the bottom of the page. We will be in touch with you shortly to provide you with a quote and schedule a consultation with our professional Christmas light installers. In addition to commercial facilities, Go-Forth provides Christmas lighting installation services for homeowners in the Piedmont Triad region.
Also Serving The Lake Norman Area
Commercial Christmas Light Installation In The Mooresville Area
We're also happy to serve the Lake Norman area with all our commercial Christmas light installation services. Our local Mooresville light installers will be happy to provide services in the areas of Lake Norman, Mooresville, Cornelius, Davidson, Denver, Huntersville, Statesville, and Troutman. Our light hanging service can be performed by your desired specs - if you would like to, we're happy to implement your own ideas. Our main main concern is to offer the best customer service and making sure you're building transmits that holiday spirit to bring you more customers.
Residential Christmas Light Installations In The Mooresville Area
We not only offer commercial installations, but residential Christmas light installations as well. If you live near the Mooresville area, feel free to contact us for your home holiday lighting and decoration needs.