Quality Pest Control In Fauquier County, VA
Fauquier County represents a diverse community of Virginians who all live on the outskirts of Washington D.C. This proximity makes the towns of Fauquier County ideal for working professionals as well as families who seek quiet and nature but who want the city within reach. But even quiet places like Warrenton, Delaplane, and Sumerduck see pest problems throughout the year.

At Go-Forth Pest Control, we have over 60 years of experience delivering quality pest control in Fauquier County. Now in our third generation of family ownership, there's nothing more important to us than our customers. That is precisely why we hold ourselves accountable to the highest standards of service and professionalism, and why we always put your safety first. In addition to the honest experience we know you'll receive, you will also benefit from innovative, safe approaches to long term relief from pests. For more information on our services, please call us today.
Residential Pest Control In Fauquier County
At Go-Forth Pest Control, we have been committed to superior pest control in Fauquier County for over 60 years. Today, we continue to be an industry innovator and are always finding the safest solutions to your pest problems. When you partner with us, you will always receive child and pet-safe treatments, same-day service, and free estimates. Some of our ongoing treatments plans include the following:
The Basic. Our entry level program takes a proactive stance against pests with quarterly exterior services. We'll provide interior services as you request them at no additional charge. Some of the pests we address with this plan include silverfish, crickets, ants, and spiders.

My Elite. To increase coverage, our My Elite plan increases to bi-monthly services that include the inside and outside of your home. You'll also receive coverage for a broader scope of pests and priority scheduling.

My Elite Plus. If you're looking for the most comprehensive pest control program. This is it. With the My Elite Plus plan, you'll also receive year-round coverage to include mosquitoes, ticks, fleas, fire ants, and ornamental pests.
We also offer specialized services for pests like stinging insects, bed bugs, and termites, as well as lawn care. For more information on how residential pest control can provide you peace of mind, call us today.
How To Detect Termites On Your Fauquier County Property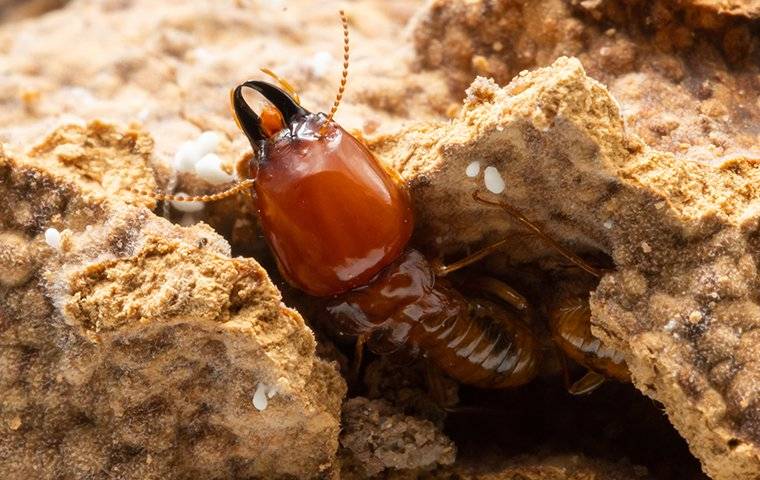 Termites can be tough to detect on your Fauquier County property because they usually hide out in places that you wouldn't normally visit. That said, here are some of the signs that might indicate a problem for your property:
Scratching noises coming from within walls

Uneven or peeling floors

Blistered or shredded wood

Walls that sound hollow

Windows that can't close fully

Seeing termite swarmers, which are winged members that leave colonies and start their own

Sinking ceilings

Either mud tubes or mazes

Piles of discarded wings

Swollen flooring

Tiny pinholes in wood
Accumulation of frass, which is termite excrement that looks like pellets
Rather than let a termite infestation grow, contact Go-Forth Pest Control today for more information on our guaranteed termite control services.
Are The Silverfish In Fauquier County Dangerous?
The silverfish in Fauquier County may look intimidating, with their big antennae and startling, fish-like movements, but they are primarily a nuisance pest. Silverfish usually end up inside homes because they are searching for moisture and warm conditions. It's very likely that people will see silverfish in yards amidst discarded branches and hedge trimmings, but if they locate cracks and crevices, it won't be long before they invade. While silverfish are not linked with any serious illnesses, they can cause damage to property like books, clothing, furniture, carpets, fabrics, and upholstery.

Residents should be aware that pests like spiders, centipedes, and earwigs all eat silverfish, so secondary infestations could possibly develop. For more information on silverfish control, call Go-Forth Pest Control today.
Commercial Pest Control In Fauquier County
Protecting your property from pests is a necessary part of running a business; however, it can be a futile task if you don't have the right assistance. At Go-Forth Pest Control, we have been providing unshakable Fauquier County pest control services for more than 60 years. But when you have so many choices for professional pest control, why choose Go-Forth Pest Control? In addition to our decades of excellence, we are very well-versed in the intricacies and requirements of many types of industries. We put this knowledge to the test when we customize a program for your property.

Customers also love working with us because we provide honest and open communication, offer fair pricing, use top-shelf products and innovative methods, and guarantee a pest-free environment for you. In addition to our general pest control services, we also provide Christmas light installation so that you can enjoy the seasonal festivities without the hassle. To learn more about our commercial pest control offerings and how they can make your business safer, please call us today.