Flea Extermination In Fort Mill, SC
Is your pet starting to itch more than usual? It may have fleas and Go-Forth Pest Control in Fort Mill, SC can help solve the problem. This team of experts can make sure the flea infestation is taken care of in your home. Pets are known to bring these pests into your home and cause problems right away. The technicians use the best products that are kid and pet-friendly to exterminate the fleas. They make sure they target the specific areas they believe the fleas have infested to make sure the problem is solved efficiently. So call Go-Forth Pest Control in Fort Mill, SC today to help!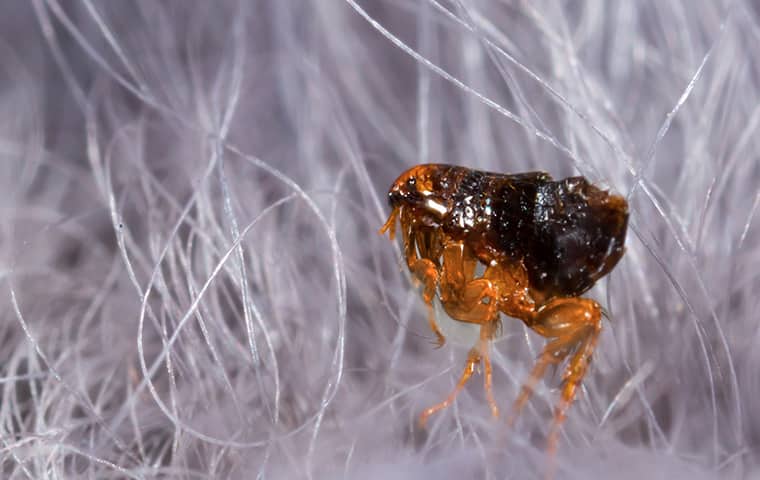 Problem With Fleas
Fleas can attach to their hosts and use them as a place to live and breed. They are mostly found on pets but can transfer to your furniture or carpet. They can cause itchy red bites that can develop into rashes. It is essential to get your pet to the vet to get their fleas taken care of with the right medication.
After you have learned your pet has fleas make sure you call Go-Forth in Fort Mill, SC to make sure your home is not infested as well. It is better to take care of the issue before it gets out of control. Fleas can carry disease to your pet and be harmful to their health.
Fleas will find a host and feed on them. Even though they can survive for months without food, they can still infest pets and humans. Female fleas can feed on blood 15-times their bodyweight which makes them greedy sometimes.
Fleas will not only feed on dogs and cats, but they can also get food in birds, reptiles, mammals, or worse, humans. They can cling onto their hosts easily as they jump can 8 feet high. On the other hand, fleas can also cause health risks to pets. Too much itchiness can lead to infections, respiratory illnesses, and other complications that hosts can suffer. Don't be confident that those fleas will only stick with your pets, because they can also infest you and your family. To avoid any problems, have them eliminated by a trusted exterminator.
How We Get Rid Of Fleas
Fleas can be bothersome as they will not only feed on animals, but they can also cause a burden to humans if not removed instantly. Therefore, Go-Forth is the only way to get rid of them. With several decades of experience in the industry, our company knows how to get rid of fleas. We can also eliminate insects, bugs, and other pests. Just name it, we have the right solution.
Our exterminator will visit your property for inspection, and your pets will be checked too for us to know whether they are infested or not. Once we've inspected everything, we will immediately apply the appropriate treatment which can remove those pests for good. Here with us, you can have the peace of mind you need because we can give it to you by eliminating those fleas, insects, pests, and bugs. Rest assured that you will have a pest-free home afterward. Give us a call, and we will come to you right away!
Flea Company Near Me
Go-Forth is a local flea control company near you in Fort Mill. We offer high-quality services at cheap rates which you cannot find from others. Our customers in local areas can also avail our services. Call us today!
Our Customer Reviews
Our customers are important to us and we value their time to write a review. Check out our reviews and decide if you want Go-Forth Pest Control to help control your flea issue today!
Other Pest Control Services For Fort Mill, SC