Bed Bug Exterminator In Garner, NC
Do you wake up with bites? You may have bed bugs, and Go-Forth Pest Control in Garner can help exterminate them for you. Despite their name, bed bugs have been found in other places besides your bed like couches, luggage, and even bedside tables. Our technicians will make sure they check any possible places for these pets to hide and exterminate them from your home. Go-Forth has been in business since 1959, so we have some experience with this type of problem. Call Go-Forth today or click to get your free quote on bed bug extermination today.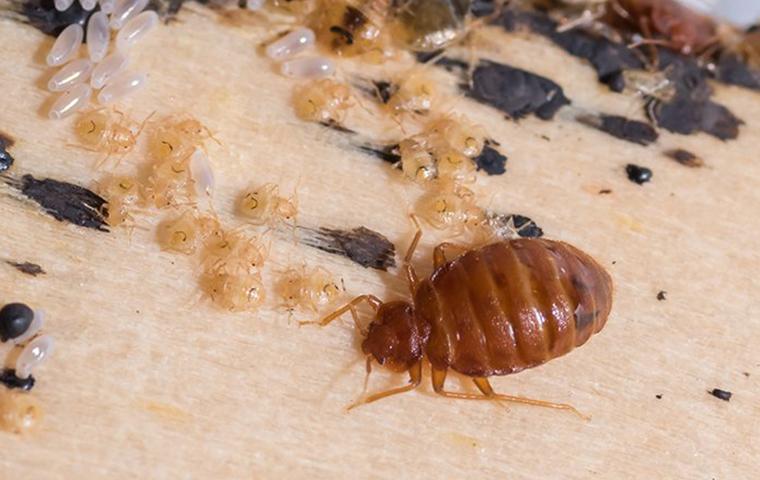 Bed Bug Facts
Bed bugs love to hide in warm places like your couch or mattress. They are nocturnal, which is why you get bitten in your sleep. They like to feed on exposed skin like your neck, hands, and arms. They can even travel to your pets and cause them to get bites just like you.
If you have just returned from a trip it is important you check your luggage and clothes before you unpack to make sure you aren't bringing home some bed bugs with you. Household remedies can't get rid of these bugs all together so it is important to reach out to a pest control company quickly to help with the extermination process.
Bed bugs don't only live in dirty and poor homes, but even clean and wealthy homes are ideal shelters for them. If you don't want them to stay inside your house, remove the clutter which is one of their favorite hiding places.
When bed bugs are infesting your home, don't wait for it to become uncontrollable. Immediately seek the help of an exterminator near you who is capable of getting rid of those bed bugs, insects, and other pests in your home.
Signs Of Bed Bugs
One sign of bed bugs is having bed bug bites when you wake up. Since this pest loves to hide under your bedsheet and mattress, expect that you might get bitten while you are sleeping. They feed on bare skin, so don't be surprised to see some red bites on your skin.
When your towel, bedsheet, clothes, or mattress has an unpleasant odor, then it might be a sign of a bed bug infestation. They release a strong pheromone which causes a strong smell, especially when a great number of them are present.
These two are common signs of bed bugs in your home. When you see these signs, call your pest exterminator quickly to eliminate those bed bugs bothering your sleep.
How We Eliminate Bed Bugs
Bed bugs are tiny and getting rid of them on your own is a problem. That will never be a problem for us at Go-Forth. With our company, bed bugs will be eliminated, and we will not leave any trace of them. Here with us, our local technician provides exceptional pest control services that are successful in removing those bed bugs, insects, and other pests in your home. We guarantee that your home will be free from bed bugs after we apply our high-quality treatments.
Our company is dedicated to giving you a healthy environment which you can enjoy all year round. From open spaces down to the corners of your home, we ensure that everything will be inspected and treated to give you a comfortable sleep afterward. When bed bugs are bothering you, call us, and we will come to you any time of the day!
Bed Bug Company Near Me
We are a local bed bug control company near you in Garner. We offer a high level of pest control services which help in eradicating pests, insects, and bugs pestering your humble abode. Customers in local areas don't have to worry because our services are also available for you! Call us today!
Our Reviews
Read our reviews and see if Go-Forth can help with your bed bug control in Garner today.
Other Pest Control Services For Garner, NC