Flea Control In Garner, NC
Do your pets have fleas in your home in Garner? Go-Forth Pest Control of Raleigh can help get the fleas out before they spread. Fleas can spread disease and cause itchy bites so it is important to get a professional's help when exterminating them. We have trained our technicians to target areas where fleas like to hide in your home. We will make sure we cover any areas where you're experiencing fleas, and ones that we might suspect. Call Go-Forth today or click to get a free quote on your flea extermination now.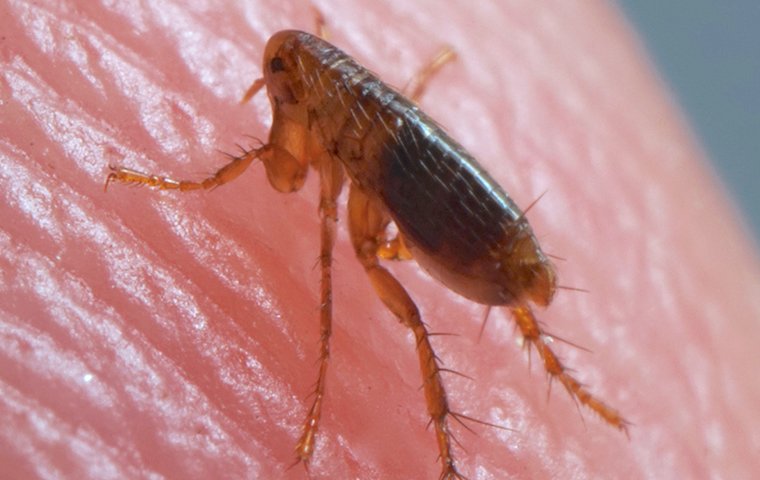 Flea Facts
Fleas love to jump from pets to furniture, and even to you. They attach to their hosts and leave itchy bites when they are done the feeding. They can spread diseases like Heartworm to your pets, so it is important to get rid of them from your home after your pet has been treated. After your pet's treatment, they could attach to them again if they are still found in your home. They have been known to hide in carpet and furniture around your home once they have fallen or jumped off of your pets.
Your pets can get fleas from their surroundings like the parks, a neighbor's house, and from your garden. Fleas are not picky when it comes to their shelter; as long as they find a good host, they will jump to them and infest. When your pets are showing signs of fleas, call an exterminator and eliminate them before they feed on you.
Fleas come in varieties. In the United States, 200 types of fleas are found, and around the world, 2,000 of them are present. When these types of fleas work together, expect that the infestation will be huge and will be hard to resolve. When your pets keep on scratching and are becoming uncomfortable, fleas are probably pestering them. A local exterminator can perform flea control and other services intended for pests, insects, and bugs which will help in eradicating them successfully.
How We Eliminate Fleas
Go-Forth never fails in providing high quality and exceptional pest control services which you cannot experience from others. We know how to eliminate fleas, insects, bugs, and other pests without causing danger to you and your family. Name the pest, and our company has the appropriate treatment for them! From inspection down to the treatment process, we are very hands-on to ensure that we will give you satisfying results. Our technicians are always ready to come to your home whenever you need our services.
Make your home pest-free not only for you and your family but for your pets as well. When pest control services are what you are looking for, call Go-Forth, and we will be there to serve you. Call us now!
Flea Company Near Me
We are a local flea control company near you in Garner which is truly reliable when pest control services are needed. We don't only work in one area, but we are serving local areas as well! Call us today, and we will provide you quality service on the same day!
Our Reviews
Check out some of our reviews from past customers to see if Go-Forth can help with your flea extermination in Garner today.
Other Pest Control Services For Garner, NC