Get Rid Of Fleas In Your Greensboro Home
Does your pet have fleas? These pests can cause painful, itchy bites and rashes, but they also can carry and transmit diseases like typhus and tapeworm. Keep your pets and your family safe from these small, but problematic pests by choosing Go-Forth Pest Control of Greensboro for effective flea control in Greensboro. We use state-of-the-art extermination equipment and only the safest pest control methods.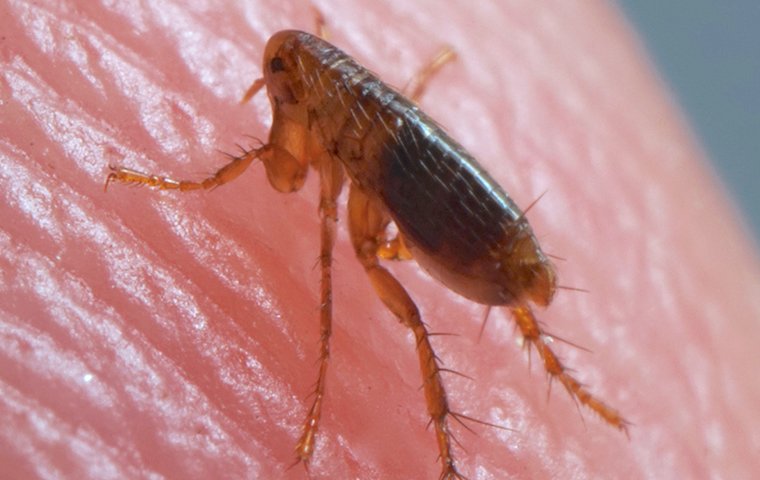 Our NC exterminator will treat and eliminate the flea population both in your home and in your yard. Many pets pick up these biting pests from the yard outside, so having both the house and yard treated is often necessary for eliminating the problem.
Since 1959, we've successfully eliminated fleas and other pests from homes across Greensboro and the Triad region, which means that we know how to properly eliminate fleas and other pests while keeping you and your family safe. Learn more about our My Elite and My Elite Plus services, which offer year-round flea coverage should you develop an infestation of fleas. We provide some of the best flea service protection in the Triad area!
Don't wait for those fleas to take control of your property and your pets, have them eliminated before the infestation becomes severe. Once you see signs of fleas, insects, bugs, and pest infestations on your property, never ignore them. Instead, call us, and we will help you get rid of those fleas, insects, pests, and bugs successfully!
Schedule A Flea Control Appointment In Greensboro Today
Schedule a flea control appointment with Go-Forth Pest Control of Greensboro today. Contact us at (336) 841-6111 or request a free service quote by filling out our form. Our Greensboro pest control experts will help you determine whether you need a one-time treatment or a routine pest control service plan. Ultimately, we'll help you find the services that fit your needs and budget. Don't let your pets or family suffer from fleas any longer - call today!
Our flea control will never disappointment as it is performed by a reliable exterminator who can come to you anytime in Greensboro. We make sure that every customer acquiring our services will be satisfied in the end and will have a cleaner, healthier, and pest-free home. Our company is dedicated to giving you and your pets a cozy home by eliminating those fleas successfully. Once you schedule an appointment with us, you will never regret it because we offer a free quotation and afterward, our well-rounded, licensed, and certified technicians perform your needed services.
Don't let those fleas to bother your home and pets, better call us instantly before those fleas get you. We will visit your home for thorough inspections to check where those fleas are hiding and apply treatments which will are not risky for you, your pets, and property. Once you call us, we will definitely come to you on the same day you need our services!
Go-Forth Pest Control of Greensboro is an upscale extermination and lawn care business serving residential and commercial customers in Greensboro, offering quality, affordable flea control services since 1959.
Flea Company Near Me
Go-Forth is a local flea control company near you in Greensboro. We help in eliminating those fleas which keep on bothering your home, most especially your pets. We assure you that you will have peace of mind and a comfortable home once those fleas are removed. We also happily serve our customers in local areas. Call us today!
Other Pest Control Services For Greensboro, NC