Get Rid Of Fleas In Your High Point Home
When your dog or cat has fleas, both you and your pet suffer. Bites from these tiny pests cause painful, itchy bites and rashes. Even worse, they can make your pets sick as they carry and transmit diseases such as typhus or tapeworms. Go-Forth Pest Control offers quality flea control in High Point and beyond, using cutting-edge pest control methods and equipment. Our team of High Point exterminators has been getting rid of fleas in homes and yards since 1959, meaning we'll effectively and safely treat your property to eliminate the fleas. Treating your home for fleas in a manner that is safe for you, your family, and your pets is our number-one priority.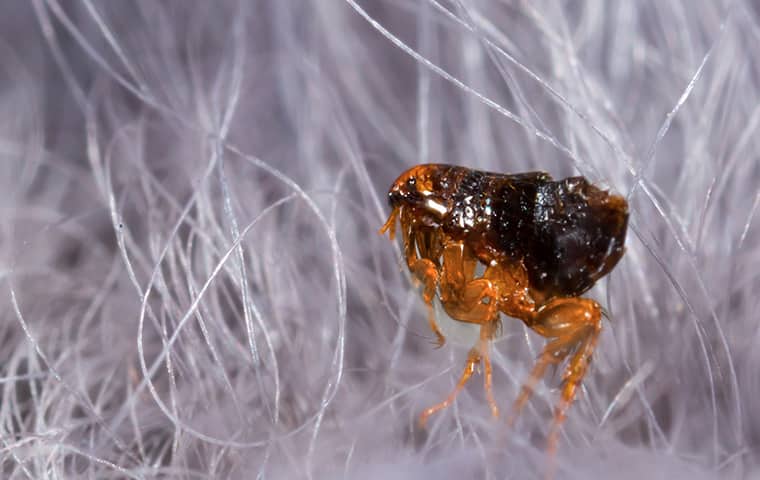 With decades of experience in performing pest control, our company sees to it that you will receive the highest level of satisfaction which you cannot experience from others. Our exterminators in High Point follow the right protocols in controlling pests, bugs, and insects which continuously bother your home. We make sure that our services will exceed your expectations and will not make you spend lots of money.
Here at Go-Forth, fleas are never a problem as we know how to eliminate them without causing damages to you, your family, pets, and property. We guarantee that a highly trained, certified, and licensed exterminator will perform our flea, insect, bug, and pest control in your High Point home.
Rest assured that once we put our hearts into our craft, a flea-free home is what you will get. Once we eliminate all those fleas, insects, pests, and bugs, your pets can also enjoy the comfort of your home. Whenever you have fleas inside your home or your pets are experiencing flea infestation, call Go-Forth instantly. We will help you get rid of those fleas for good!
For top-of-the-line flea extermination in High Point, rely on Go-Forth Pest Control. With a variety of pest control service plans, we can take care of you whether you require a single treatment or more routine pest control. We'll work with you to find the services that meet your needs and fit your budget. Ultimately, we'll eliminate the fleas that are making you and your pets itchy and uncomfortable. Check out the My Elite and My Elite Plus service plans if you have a concern about fleas in your home and/or yard.
Don't let fleas interfere with your life any longer, give us a call today at (336) 841-6111 or request a FREE service quote using our form. We look forward to hearing from you!
Flea Company Near Me
Go-Forth is a local flea control company near you in High Point. We offer affordable yet high-quality flea control services which you can acquire even on the same day. We can also control insects, bugs, and other pests which keep on bothering your home. We are also serving customers in local areas. Call us today and enjoy our same-day service!
Other Pest Control Services For High Point, NC