The founder, Frank Goforth, was born May 30, 1917 and was a World War II veteran. He wanted to start his own pest control company that was family owned and local to its customers.
In 1959, Frank and his wife Johnie created Go-Forth Pest Management in High Point, NC. He was an active member in the North Carolina Pest Management Association and assisted in the creation and passage of the by-laws and constitution for the organization. He was the president in 1966 and is part of the NC Pest Management Association Hall of Fame.
Frank was an avid fisherman and hunter, and was actively involved in his community through different civic and church organizations. He retired in 1996 and was married to his wife Johnie for 60 years before her death in 2000. Frank has 20 descendants that have worked or are actively working in the pest control industry. Since Frank's passing in 2003, the Go-Forth company has grown and remains family-owned and operated.
For over 60 years, Go-Forth Pest Control has been dedicated to providing quality, affordable pest control services to the Piedmont Triad area.
Over the past few decades, Go-Forth has changed its name (we're now Go-Forth Pest Control), its service offerings (check out our lawn care department!) and more, but we remain committed to providing reliable service to each and every one of our customers.
In 2011 Go-Forth Pest Control merged with another, exceptional local pest control company, Lake Norman Pest Control. With its location in Mooresville, Go-Forth Pest Control continues to expand its service offerings to customers in Mooresville, Statesville, Lake Norman and the surrounding areas!
Go-Forth Pest Control: Truly A Family Company
Give Us A Call For Friendly Staff & Exceptional Service In Greensboro, NC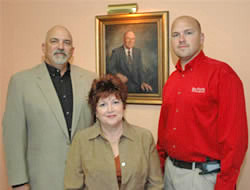 At Go-Forth Pest Control, our past and current staff includes Frank's daughter, Suzanne Hazelwood; Frank's son-in-law, Chuck Hazelwood; Chuck and Suzanne's son, Chase Hazelwood; and Chase's wife, Leah Hazelwood. Go-Forth Pest Control truly is a family-owned and operated business!
Go-Forth Pest Control wants all of our customers to feel confident that they're receiving only the very best in pest control and lawn care service. We take pride in our team's professionalism and expertise, and we know you'll enjoy working with Go-Forth Pest Control to resolve all your pest management and lawn maintenance issues.
Call us today at (336) 841-6111 to schedule a service appointment with one of our professional Greensboro, NC extermination or lawn care specialists!