Pest Control Services In Jamestown, NC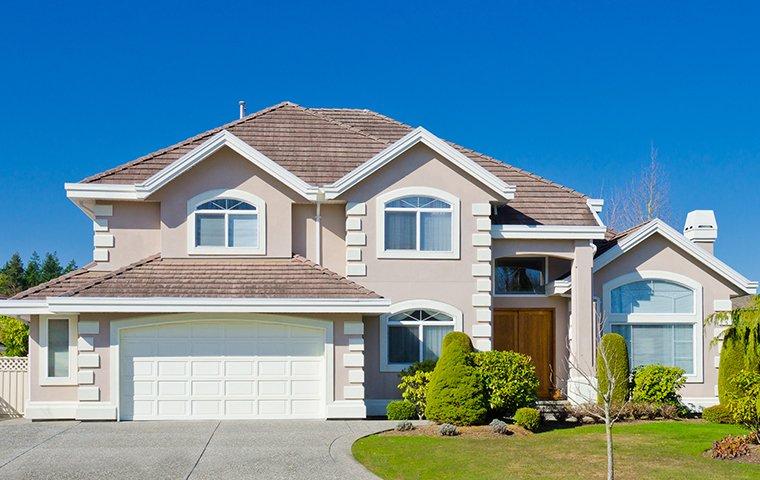 We proudly serve Jamestown, NC for all your pest control and termite control needs. If you're experiencing bed bugs, mosquitoes, fleas, cockroaches, mice, or any other unwanted insects in your home or business, don't hesitate to give us call to speak with one of our expert customer service representatives.
We offer reliable, same-day service in Jamestown, NC utilizing the most effective extermination and lawn care techniques available.
Since 1959, Go-Forth Pest Control of Greensboro has helped thousands of commercial and residential clients in the local Jamestown, NC area find solutions to their unique pest control, termite control, and lawn care problems.
Our company has the best customer reviews in the area, plus we offer very affordable plans for all your pest control needs.
General Pest Control
Experiencing a pest infestation in Jamestown, NC? From termite control, to bed bug removal, to flea treatments, you can rely on the team of our Jamestown pest control technicians at Go-Forth Pest Control of Jamestown for a job well done. We are proud to provide Triad-area homeowners with same-day pest removal service, EPA-approved pest extermination methods, free estimates, and much more. Say goodbye to pest problems today!
Termite Control
Termites can do serious damage to your home's foundation, and it is important to catch them before it is too late. We also offer termite inspections for real estate homes in North Carolina. The Jamestown termite control technicians at Go-Forth Pest have more than 55 years of experience providing homeowners across the Triad area with premier termite inspection and pest management services. If you have a termite problem let us help you before your termite infestation worsens.
Ant Control
Ants can be extremely destructive, so it's important to get rid of them before they seriously damage your home. Our ant control plan will get rid of your ant problem today, as we use the latest technology with pet and kid-friendly products that will destroy their colony for good. Ask about our affordable pest treatment plan today and live ant-free!
Mosquito Control
Are you experiencing a mosquito problem in your home's backyard or lawn? We have more than 55 years of expertise in getting rid of mosquitoes in backyards, gardens, and inside homes. We understand that mosquitoes are not only annoying pests, but they can also carry diseases that may be dangerous to humans. It is important to eliminate them as quickly as possible, which is why our mosquito extermination plan will eliminate them for good and you can enjoy a pest-free household.
Insect Control
Are insects taking over your home? Let Go-Forth Pest Control help you with exterminating them! Stinging insects can be very problematic, dangerous, and aggressive, so let us help you get rid of them today.
Commercial Services
We also serve commercial locations and public buildings in the Jamestown, NC area. With our 50+ years of pest prevention and extermination services, we have the experience you need to get rid of all types of pests in commercial buildings. We also service HOAs, offices, industrial complexes, property management buildings, and small businesses in all The Triad area. Call and say good bye to all of your pest problems today!
Jamestown Pest Control & Termite Exterminators
We're the premier choice for bed bug and termite exterminators and overall pests. Call us today and ask about our ongoing pest removal coupons for the Jamestown-Greensboro area. We also serve Clemmons, High Point, Burlington, Winston-Salem, Trinity, Thomasville, and the rest of The Triad, Triangle and Charlotte area. Feel free to call us for all your exterminator, termite, and bed bug control needs and live pest-free!
Well-Reviewed Pest Control Company
We're a well-reviewed pest control company in the area. With decades of service you will not see a bad review on the Better Business Bureau, Google Reviews, or Facebook. Feel confident we will exterminate all your pests and provide you with excellent customers service by both our customer service team and on field pest exterminators.
Real Testimonials From Jamestown Customers
Review #1:
"We are very pleased with Go-Forth and our lawn and elite plus service. Our account manager Don is very friendly and efficient! He's here whenever we need him! In the office I talk to Brittany and she is very knowledgeable, sweet and is always there to help! Thanks so much for great service!" - Kelly Cook
Review #2:
"We have been very satisfied with Go-Forth. They are always efficient and very friendly. Today, Justin came and did an excellent job for us. All of the technicians appear highly trained. I would not hesitate to recommend Go-Forth!" - Linda Dietzen
Review #3:
"My technician did an excellent job helping rid us of our rodent problem. Thanks a lot!" - Pat G
Review #4:
"Justin did a wonderful job, was very polite and because of his hard work, I now want Go-Forth's lawn service!" - Dale T