Pest Control Services In Kernersville, NC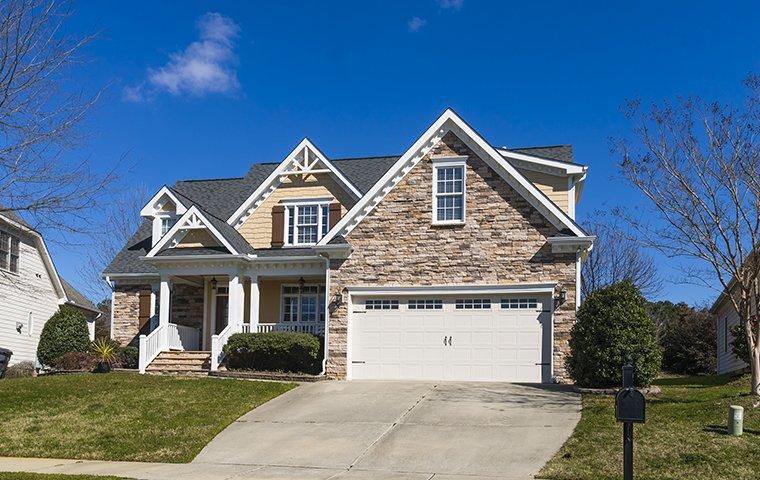 Founded in 1959, Go-Forth Pest Control has been providing Kernersville, NC and other Triad-area cities with quality pest control and lawn care service. For more than half a century our Kernersville exterminators have helped get rid of pests like mosquitoes, rodents, fleas, roaches, spiders, bed bugs, and many other crawling and flying pests.
Despite our growth over the years, we remain dedicated to providing our residential and commercial clients alike with a level of honest, reliable service you won't find anywhere else. Whether you're getting your lawn aerated or your foundation inspected for termites, we know you'll be completely satisfied with your service from Go-Forth Pest Control.
General Pest Control
Are you looking for general pest control services to treat your home for pests in Kernersville, NC? There is no better company for the job than Go-Forth Pest Control. Whether you need a termite inspection or bed bug treatment, our Kernersville pest control technicians are committed to making your home pest-free. Homeowners across the Triad area turn to us because we offer same-day service, EPA-approved pest extermination methods, free estimates, and much more.
Termite Control
Go-Forth Pest Control has more than 55 years of experience providing homeowners across the Triad area with top-of-the-line termite control services. Termites can do extensive damage to your home's foundation if you don't catch them in time. Our Kernersville termite experts can help. We are also available to conduct termite inspections in real estate homes.
Ant Control
If not properly treated, ants can do as much, if not more, damage to a home's infrastructure than termites. Our Kernersville ant control technicians are here to help! With more than 55 years of experience in ant control, combined with state-of-the-art extermination equipment, we can rid your home of fire ants, house ants, carpenter ants, black ants, and more safely and effectively. Call us today!
Bed Bug Control
Bed bugs are hard to eliminate yourself, and often go too long unnoticed, spreading from your bed to your furniture, clothing, drawers, etc. Go-Forth Pest Control's professionally trained and equipped bed bug control experts can help you eliminate any and all bed bugs, from one corner to the other of your property. Call Go-Forth today, before your bed bug problem worsens.
Mosquito Control
Mosquitoes are both invasive and disease-carrying pests that can present a threat to humans. Get help exterminating the mosquitoes infesting your home's lawn with our Kernersville mosquito control experts. With more than 53 years of experience eliminating mosquitoes in homes across the Triad area, there is no better company for the job than Go-Forth Pest Control.
Insect Control
Have you spotted wasps, hornets, yellow jackets, or other stinging insects in your home's lawn? Eliminate these pests from your home with the help of the Kernersville insect control experts at Go-Forth Pest Control. Stinging insects are both aggressive and have the potential to deliver life-threatening stings to humans - get help today!
Rodent Control
Rodents can bring all kinds of diseases to your home, contaminate and soil your food, and can bring fleas to your home and pets. Get rid of them fast with our rodent control plan today and live rat/mice/rodent-free, as our professional rodent exterminators guarantee effective treatment and prevention of future infestation.
Commercial Services
In addition to homes and residential properties, our Kernersville pest control technicians are able to provide premier pest control to commercial buildings in the Triad area, including HOAs, property management buildings, nursing homes, offices, and industrial complexes.
Flea Control
Fleas are pests that you are likely to encounter if you own pets. They may be minuscule, but they travel to 10 feet in distance, jumping your pets, to your hair, to your clothing, and more. Their itchy, irritating bites are enough to want extermination, and Go-Forth is the team to call to get the job done quickly and effectively.
Cockroach Control
When you spot a cockroach in your home or business, it is highly likely that there are many more close by. These pests are resilient and harmful in many ways, such as contaminating your food. Count on Go-Forth Pest Control's professional cockroach exterminators to provide you with the most effective services, to rid your property of cockroaches and prevent their return in the future.
Your Local Kernersville Exterminator
Go-Forth Pest Control's selection of service plans help you get the coverage you need to effectively eliminate the pests in your home and maintain an envy-worthy lawn - visit our Service Plans page to learn more! We serve all the Kernersville area, and our Winston-Salem branch also serves: Bethania, Clemmons, Lewisville NC, Rural Hall, Tobaccoville, and Walkertown.
Call Go-Forth Pest Control For Kernersville Lawn Care & Extermination Service
If you're ready to get started with Go-Forth Pest Control's many pest control and yard maintenance services, please contact us today at (336) 841-6111! To request a FREE quote for service, simply fill out the form on our contact page - we'll be in touch with you shortly to schedule an appointment with one of our Kernersville extermination or lawn care professionals.