Lawn Care Service To Maintain A Healthy Lawn
Keeping your lawn healthy, lush, and beautiful is not an easy task. Staying on top of regular maintenance, uncooperative weather, pests, fungi, and many other factors can all conspire to cause problems for the health of your lawn. If you don't have the time, skill, or desire to put in the necessary work to keep your Greensboro lawn healthy, you don't have to give up on it and let it die. Go-Forth Pest Control offers full-service lawn care to solve the problems your lawn is facing. Providing a wide variety of service options, we will customize our service to meet your lawn's particular needs.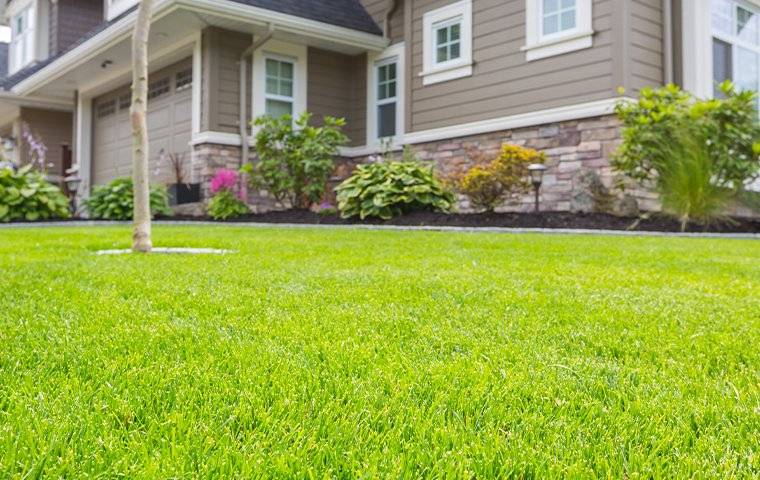 Lawn Care Services From Go-Forth Pest Control
We serve the Triad and surrounding areas and we will make a lawn maintenance plan based on your pest problems, soil content, grass type, number and types of ornamentals, climate, and more. We know no two lawns or gardens are the same, so why should your lawn care treatment plan be?
Service Plan Details
Free, no-obligation lawn evaluation

Satisfaction guaranteed!

Minimum service agreement period of 12 months


Free Lawn Evaluation
Understanding the pressures your lawn is under and what issues are causing it to struggle is paramount in tailoring a treatment plan to your lawn's specific needs. We'll provide you with a no-obligation, free evaluation before performing any service.
Pest Elimination
We will make sure your lawn is pest-free. A lawn free of pests is a happy lawn, plus you will be able to enjoy your backyard and garden without worrying about being bothered by spiders, ants, wasps, and many other insects.
Fertilize, Feed, Or Treat A Lawn
No lawn or yard is complete without being fertilized. We will make sure the soil has the necessary nutrients to grow green and healthy. Treating your lawn will keep it happy and green - if your lawn is looking sad, let us help you treat it.
Lawn Aeration
Let your lawn breathe. We will aerate a lawn so that water, air, and nutrients get inside and it's not so compact. This helps the roots grow and produce a greener lawn, giving you a very healthy lawn.
Seed A Lawn
Is your lawn brown or patchy? We will fix bare spots - let us seed your lawn and make it great again. First we will identify the grass type and soil type your lawn has, since most turfgrasses prefer neutral soils. Turfgrasses are either cool-season grasses or warm-season grasses; we will determine the exact type based on your location.
Our 3 Lawn Care Plans To Choose From
The Basic Turf $35/Mo.

Take Care Of The Basics
This plan is designed for the homeowner to take responsibility for their yard's appearance.
Includes 4 visits per year and 3 springtime trips (Feb-June).
Broadleaf weed app

Pre-emergent app

Fertilization
1 trip for:
Aeration and seeding in fall (Aug-Oct)
Includes ONLY the following weeds in the turfgrass (no mulchbeds):
Plantain

Chickweed

Clover

Dandelion

Dogfennel

False Dandelion

Field Bindweed

Ground Ivy

Henbit

Mouseear

Chickweed

Dollarweed

Ragweed

Spurge

Wild Garlic

Wild Onion
All weeds, pests, or diseases requiring special materials or equipment are excluded, including but not limited to:
Crabgrass

Wild Strawberry

Bare Spots

Yellow Nutsedge

Jones Grass

Wild Violet

Virginia

Buttonweed

Moss

Fungus

Bermudagrass

Rye (poana or other)

Poison Ivy
The Basic will not help "bare spots". It may create bare spots by eliminating weeds.
2nd Level Turf $55/Mo.

The 2nd Level Turf plan includes the same terms as Basic Turf, but adds these 3 additional trips:
1 additional springtime weed & fertilization app

1 additional weed removal app prior to aeration & overseeding

1 aeration booster & follow-up
Elite Lawn & Turf $93.50/Mo.

Our Best Lawn Plan
This plan includes 10 trips per year. All the apps included in the 2nd-Level Turf plus
the following:
2 Fungicide applications

1 Extra aeration follow-up

1 Winter Booster & weed app

1 Summer water-smart app

Year round Mulch bed weed coverage

Year-Round Bare Spot Re-Seeds

pH test & balance

Post emergent Crabgrass Control

Yellow-Nutsedge Control

50% additional in Seed with A & O

Hardscape Weed Control

Grub Control

Aphid Control

Fire-Ant coverage

Ornamental plant fertilization

Virginia Buttonweed coverage

Wild Violet coverage

Poison Ivy coverage
This plan includes the common components we find in the Carolinas to develop and maintain an elite lawn. This plan excludes rye grass (inc. poana) and Bermuda grass elimination and any other special weed, disease, or pest requiring special equipment or
materials.
A Healthy, Thriving Lawn Is Within Your Grasp
If you've been having trouble keeping your lawn healthy, you are not alone. Because so many factors go into maintaining a thriving lawn, it can be extremely difficult to keep it healthy. Let Go-Forth Pest Control do the hard work for you. We design our customized services to meet your lawn's unique needs. Contact us today to schedule a free lawn evaluation.
Other Service Plans From Go-Forth