Reliable Pest Management For Leland, NC Properties
Leland is a small town in Brunswick County and is a part of the Myrtle Beach Metropolitan Statistical Area. Protect your Leland home or business from the area's toughest pests when you partner with the local pest control experts here at Go-Forth Pest Control. We have a deep understanding of area pests and how to stop them before they invade your property. Our goal is to provide excellent pest control services that get the job done right. If you're looking for an affordable, effective way to keep your Leland property free of pests throughout the entire year, look no further than Go-Forth Pest Control.
Home Pest Control In Leland, NC
Your home is no place for pests. It's supposed to be somewhere you can relax, unwind, and spend time with your family after a long day of work. However, when insects, rodents, and spiders are around, your home doesn't feel like a comfortable place to live. To protect your Leland home from annoying, dangerous, and destructive pests, invest in an ongoing pest control plan from Go-Forth Pest Control. Our general pest control options are designed to cover a wide range of invasive pests, including cockroaches, ants, spiders, centipedes, and more. Give us a call today to learn more about our comprehensive residential pest control plans or to schedule your first service visit.
Does Do It Yourself Bed Bug Control Work In Leland Homes?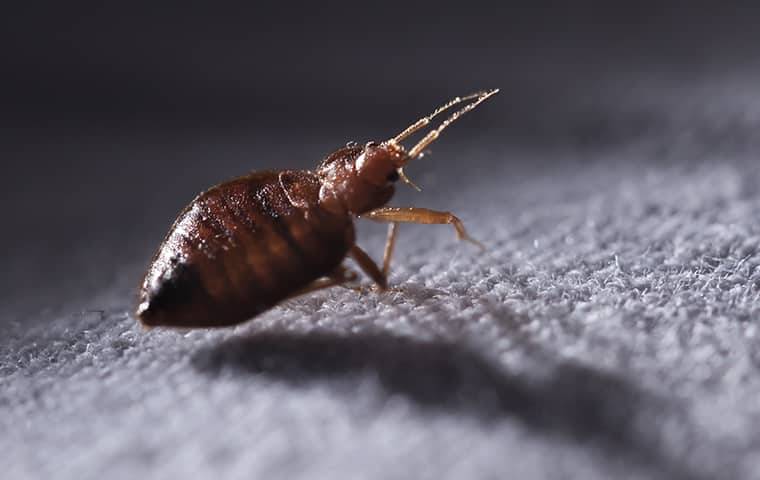 Bed bugs cause you to lose sleep in two different ways. The first is being bitten by these pests when you're trying to sleep. The second is trying to eliminate bed bugs using do-it-yourself bed bug control strategies. Unlike many other pests in Leland, bed bugs are resistant to most forms of over-the-counter pesticide and are great at hiding in hard-to-reach places.
If that weren't bad enough, bed bugs can live over six months without a blood meal. Unfortunately, this is why DIY bed bug control solutions just don't cut it. DIY bed bug control methods often result in a waste of time, money, and effort. Although DIY bed bug treatments may eliminate a few bed bugs, they rarely eliminate your bed bug infestation entirely.
To avoid the frustration of handling a bed bug infestation on your own, contact the experts at Go-Forth Pest Control. Our team of pest management professionals has the equipment, experience, and skills needed to eliminate your bed bug infestation at its source. Don't hesitate to reach out to us today for more information about our bed bug control process.
How To Keep Rodents Away From Your Leland Property
Rodents are one of the most common pests found in and around Leland properties. They are most common during fall and winter as the weather grows cooler, but invade properties throughout the rest of the year as well. Rodents are known for spreading diseases, contaminating food items, and causing property damage.
To reduce your chances of a rodent infestation, implement the following rodent prevention tips:
Address moisture issues around your property by repairing broken gutters and fixing leaky pipes and fixtures.

Clean your home or business once a week and do your best to keep up with food messes and drink spills.

Use a caulking gun or steel wool to seal cracks, gaps, and crevices in your foundation and around window/door frames.

Install door sweeps on all exterior doors.

Repair damaged window and door screens.

Remove clutter and debris from your yard and keep up with your landscaping.

Avoid feeding your pets outdoors and clean out their food and water bowls after every meal.

Store leftovers in airtight containers or the refrigerator.
To protect your Leland home or business from rodents, don't hesitate to contact Go-Forth Pest Control today. Our team of professionals understands the problems rodents cause and how to keep them away from your property throughout the entire year. Reach out to our skilled pest management professionals today to learn more about all of our pest control options and find a rodent control plan that fits your specific needs.
Commercial Pest Control In Leland, NC
Owning a business isn't always an easy task. As a business owner, you have many responsibilities, such as providing high-quality products and services, maintaining a clean work environment, and budgeting out your business expenses. With all of your other responsibilities, you simply don't have enough time to deal with pests. That's why the professionals at Go-Forth Pest Control are proud to provide comprehensive commercial pest control solutions. If you're dealing with rodents, insects, spiders, or any other pests, you can count on us to get rid of them in no time at all. We are committed to protecting your Leland business from pests throughout the entire year. If you're ready to say goodbye to commercial pest problems, Go-Forth Pest Control has you covered. Get in touch with our skilled pests technicians today for more details about our commercial pest control services.