Termite Protection In Lewisville, NC
If you have or think you have termites you need to call an exterminator immediately. Go-Forth Pest Control can help in Lewisville, NC to help get rid of them. Termites can cause thousands of dollars in damage and need to be controlled as soon as possible. At Go-Forth, we use the Sentricon system to lure the termites out of the home with bait. With this system it will also make the termites take the bait to the queen termite in hopes of eliminating the colony. Call today or click to get a free quote on your termite service now.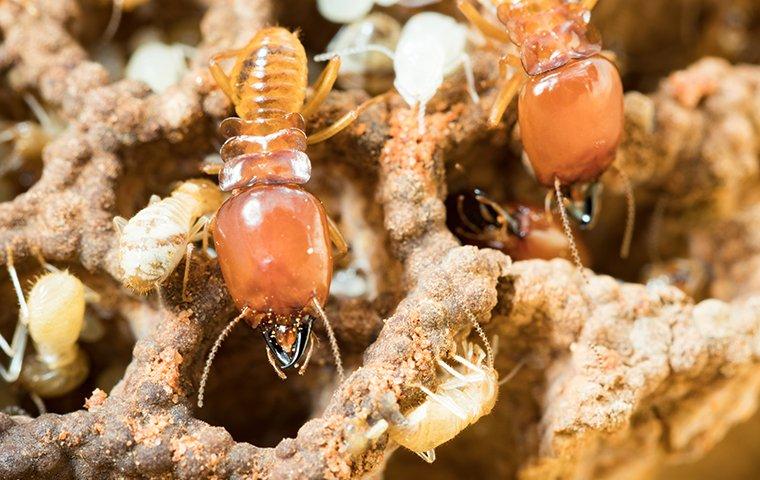 Termite Facts
Termites like to chew through any wood they can find. Even though you don't have termites and your neighbors do, you can still be at risk. Termites can travel fast to find their new home, and your home could be next.
Some signs that you may have termites are squeaky floors, rotting wood, and stuck windows. Termites can cause a home or property thousands of dollars in damages.
Termites can build firm and strong mounds. It is most likely made out of their feces, saliva, wood ingested, mud, and soil. They sometimes build their mounds upward which can be as tall as a two-story house. Because of this, removing the piles are hard, thus an exterminator is needed. The mounds of termites can accommodate three million termites which makes it hard for them to get rid of when the time comes. When piles are present in a house, expect that millions of termites are living and infesting the property.
If there's a pest that can work the whole day and night entirely, termites are the ones. They don't sleep! They keep on eating wood for 24/7 which makes them one hardworking pest. They don't get tired of chewing their food. Termites are not fond of light, which is why they tend to stay in dark places. That's why homeowners will usually find them in attics, roofs, or basements. In the United States, 40 species of termites are present, and more than 2,700 species of them are found around the world! Don't wait for termites to eat the structure of your home entirely. Call an exterminator near you who can help in eliminating those annoying termites for good.
How We Get Rid Of Termites
Homeowners will never be friends with termites as these pests cause properties to lose the structure and aesthetic. When termites infest, they are unstoppable. Here at Go-Forth, termites, pests, insects, and bugs will never be a problem. We provide an exceptional and unique termite treatment that cannot be found from others. We are excellent when it comes to pest control.
We have our exterminators who can work with you when termites are the matter. We use appropriate and safe treatments which are useful in eliminating termites. Rest assured that our trusted technicians will give satisfying results. Before termites get you, get them first by calling Go-Forth!
Termite Company Near Me
Go-Forth is a local termite control company near you in Lewisville. We deliver fast and exceptional pest control services which you can get on the same day. Our exterminators can come to our customers in local areas. Call us today! Get Go-Forth to help with your termite control in Lewisville today.
Other Pest Control Services For Lewisville, NC