Termite Exterminator In Lexington, NC
Have you spotted a termite in your home? Go-Forth Pest Control can help in Lexington control and prevent termites from taking over your house. Termites can cost thousands of dollars every year to a home or office. At Go-Forth, we use the Sentricon green stations for your home or office. These are placed around your home to lure the termites away from your property. The stations are filled with bait that hopefully the termites will take back to the queen termite to eliminate the colony. Call us today or click to get a free quote now on your termite control or protection.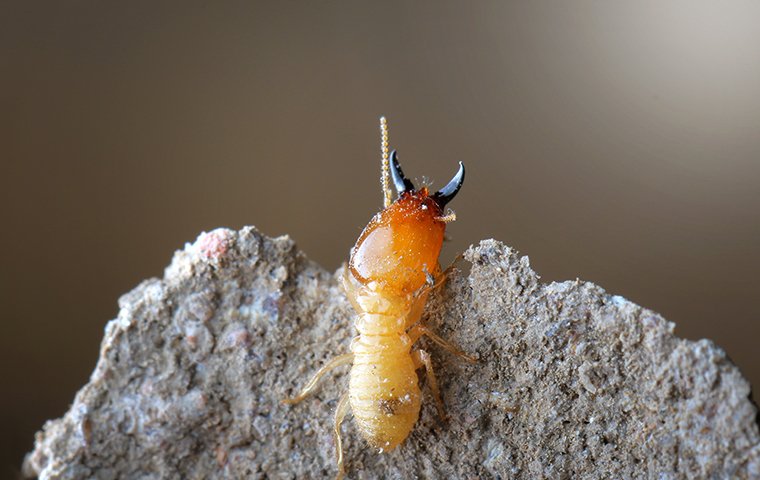 Termite Facts
Termites never take a break from feeding on the wood in your home or office. This is why they are such a problem and can cause property damage instantly. Even if your neighbors have termites, you are at risk of having them because they travel through the ground to other homes. Even if you have a slight crack in your foundation, they can enter it and cause a lot of damage in a short amount of time.
Some signs that you have termites, besides seeing them, are stuck windows, squeaky floors, and a sawdust-like material on walls of your home.
Termites like a warm environment. That's why they are more active when the temperature is hot. They will chew and eat through wood non-stop before the cold season comes. But, for places that are experiencing warm weather all year round, termites are destructive as they will infest the area without stopping.
The houses of termites are called mounds. It is made of termite feces, saliva, soil, digested wood, and mud. They can build their home as tall as a two-story house. Once they build their nest, it is hard for them to be removed. This is where an exterminator is needed.
Worker and soldier termites are almost blind since they have been living in the dark for all their lives. But, the queen and king termites aren't blind since they need to look for a partner for mating. Queen termites can lay one egg for every 15 seconds and can live for 15 to 25 years! Termites will continue to reproduce as long as their queen is present. If you want to stop them from infesting, call an exterminator now.
How We Get Rid Of Termites
Here at Go-Forth, termites are easy to deal, and it will not take long to get rid of them. Our company uses high-quality and advanced technologies which are useful in eliminating termites, pests, insects, and bugs. Our exterminator is an expert in performing termite control. Rest assured that those termites and even insects, bugs, and pests bothering your home or business will say goodbye and will not come back for further damages.
As your pest control company with decades of experience in the industry, we assure you that you will not be disappointed. Our services are satisfying and exceed customer expectations. We guarantee that our treatments and processes are safe and follow protocols. Your home will be free from termites, insects, bugs, and other pests when we do the work. Once signs of infestation shows, call us right away!
Termite Company Near Me
Go-Forth, a local termite control company near you in Lexington is always ready to provide fast and reliable pest control services which you cannot find from others. Our customers in local areas can also get our services. Call us today and experience our same-day service! With our experience and knowledge in termite control, let Go-Forth help with your situation in Lexington today.
Other Pest Control Services For Lexington, NC