Reliable Pest Control In Lowell, NC
The small town of Lowell is known for its friendly nature and a good dose of Southern charm. With the ability to be in Charlotte in a matter of minutes, Lowell is also ideal for working professionals who commute but who also seek a suburban day-to-day life. But with the benefits of a temperate yearly climate and dozens of local businesses come the possibility of pest problems.
At Go-Forth Pest Control, we have been protecting local homes and businesses from pest problems since 1959. Now in our third generation of family ownership, we hold ourselves accountable to the highest standards of professionalism and service with each interaction. All of our services are customized to the clients we work with and no matter the situation, you can always rely on us for a timely response. We take pride in everything we do, and we know that you'll benefit from this fact. To learn more about reliable pest control in Gaston County, please give us a call today.
Residential Pest Control In Lowell
As a third-generation pest control company, it's our mission at Go-Forth Pest Control to provide your home with pest control services that actually work. We promise an honest and straightforward experience with each encounter we have, and with a satisfaction guarantee so that you don't have to worry about pests again. The residential service programs we offer are:
The Basic. With quarterly preventive treatments focused on the outside of your home, you will be protected from ants, spiders, and other basic insects.

My Elite. In this plan, we increase services to bi-monthly, treat both the inside and outside of your home, offer priority appointments, and include pests like rodents and stinging insects.

My Elite Plus. Our most comprehensive program includes yearly coverage to include mosquitoes, ticks, fleas, and fire ants.
All of the aforementioned services use only the safest EPA-approved products that are suited for people and their pets and come with a satisfaction guarantee. To learn more about our residential pest control, contact us today.
How You May Be Underestimating Fleas In Lowell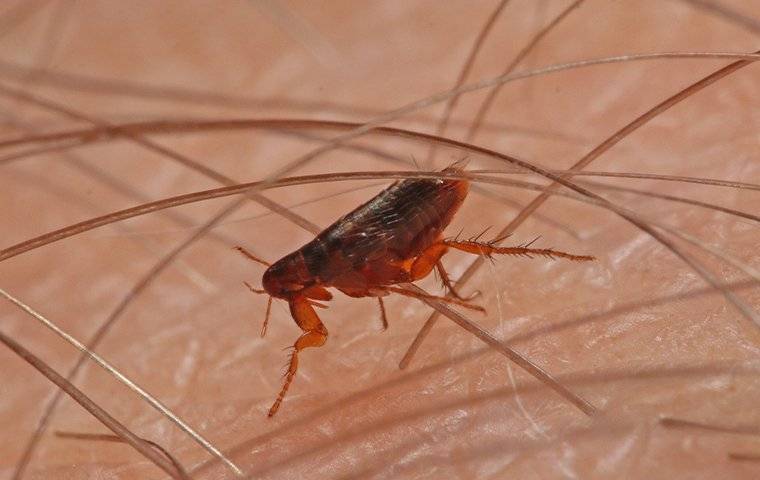 Fleas are a common parasitic pest for homes in Lowell, but it's very possible that homeowners like yourself are underestimating these pests. For example, it's a common thought that pets are the only way that households develop fleas; however, they can actually spread in numerous ways. You can bring fleas to your home after spending time in the park, having a rodent problem, living in an apartment complex where a neighbor has fleas, or by getting a secondhand mattress. Additionally, fleas are almost nearly impossible to see without the help of a magnifying glass and because they leave their egg sacs in upholstered items like rugs and pet beds, you might never see them.
At Go-Forth Pest Control, we work with homeowners regardless of how a flea infestation developed. Using state-of-the-art technology, our expert technicians treat both the inside and outside of your home for the presence of fleas and these services are always guaranteed. For more information on professional flea removal, contact us today.
Is Professional Mosquito Treatment Right For My Lowell Home?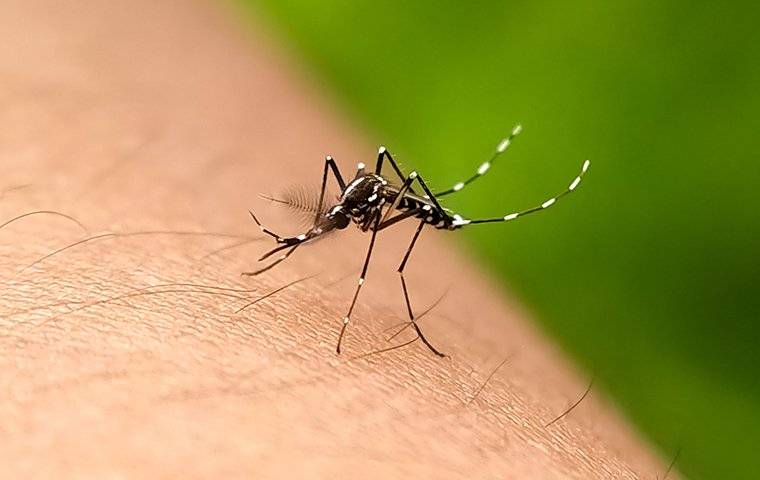 For almost half of the year, your Lowell property may suffer the consequences of an exploding mosquito population. They loiter around homes in search of ideal living conditions as well as the human blood that the female requires in order to reproduce. In order to address mosquitoes on your own, you would need to meticulously tend to your yard and limit enticing human presence, which can make for a very lonely summertime and still not address the root cause of your problems. In the face of mosquitoes, the most reliable answer is professional assistance.
When you partner with Go-Forth Pest Control for your mosquito needs, you'll be able to enjoy your property throughout the season without the constant annoyance that these pests pose. Our process addresses both resting and breeding sites of mosquitoes and works to stop the entire life cycle, from larvae to adults. By treating your landscaping on a monthly basis during peak mosquito season, you will see a drastic reduction in populations, which is simply unachievable with DIY methods. To learn more about mosquito prevention, contact us today.
Commercial Pest Control In Lowell
At Go-Forth Pest Control, we know that the key to creating a thriving business is maintaining a safe work environment through comprehensive pest control. This has been our mission for the last six decades and it's one that we're committed to in the present day. Everything that we do is guided by the belief that straightforward, honest service will always benefit the customer and that your needs are the priority. When you entrust the well-being of your business to us, you will always benefit from thorough treatments that are customized to your exact needs, and you can rest assured that we're using the safest, EPA-registered products available. With regards to customer support, we promise to always be reachable, whether by phone, email, or online chat, and that our responses will always be timely, because we value your time. No matter what services you enlist our help for, they always come with a 100% pest-free guarantee. For more information on the benefits of commercial pest control, contact us today.