Flea Exterminator In Matthews, NC
Does your pet have fleas? That means your home does too. Go-Forth Pest Control can now help in Matthews to get rid of them. Fleas are not only annoying but can be harmful to your pets and kids. We have been in business since 1959 and know how to handle a flea infestation. Our technicians will make sure they target the areas of concern and protect your home from fleas invading ever again. Give us a call today or click to get a free quote on your flea control now.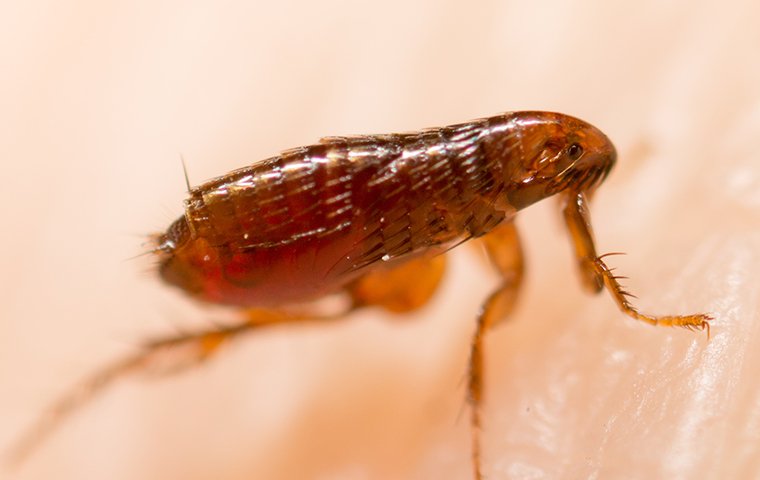 Flea Facts
Fleas usually travel into your home on your pets, but they also like to attach to humans. They can jump easily and will most likely be found in your carpet and furniture. They feed off of their hosts and even reproduce on them. Fleas reproduce quickly so it's hard to stop an infestation by yourself. Fleas are also important to exterminate because they can give your cat or dog heartworm. Heartworm can make them extremely sick and even can result in death.
Fleas are great jumpers. They can jump for 30,000 times, and they are unstoppable. That's why it is easy for them to move from one place to another. They can easily cling into their hosts whether it is on animals or humans.
Female fleas will never let their population decrease because they can lay 1,500 legs in their lifetime. They will keep on giving birth to eggs until they die. So, it only shows that the population will continue to grow as time goes on. Also, the larvae of fleas are not usually found on pets, but they are hiding in carpets, furniture, rugs, and beds.
Fleas can trigger skin allergies, especially to pets like cats and dogs. They are the reason behind the flea allergy dermatitis which is an allergy that causes itchiness for a more extended period if the fleas are not removed. Pets that are always indoors are also susceptible to fleas because there are some areas where fleas can be infesting like yards, path walks, and the house itself.
Fleas are tiny and can also measure from 1mm to 3mm. The females are much larger than the males as they can measure to 2mm long. Because of their small size, it is difficult to spot them; that's why letting an exterminator do the pest control is the best idea.
How We Get Rid Of Fleas
Fleas are dangerous, not only to pets but to humans as well. Not eliminating them as quickly as possible may lead to worsening of dogs' and cats' conditions. This is where Go-Forth enters. As a pest control company for several years, we have performed excellent pest control services which are intended to eliminated fleas, insects, bugs, and other pests around. We use treatments and methods that are appropriate in eliminating fleas once and for all.
We guarantee that we always follow the right protocols to ensure your safety while we do our work. Rest assured that only a highly trained, certified, and licensed exterminator will handle your problems and will resolve it right away. When fleas are unstoppable, get rid of them by calling Go-Forth.
Flea Company Near Me
Go-Forth is a local flea control company near you in Matthews. We offer exceptional services which customers in local areas can also enjoy. Call us today! Check out our reviews from the Charlotte area and see if Go-Forth can help with your flea control in Matthews today.
Other Pest Control Services For Matthews, NC