Reduce The Mosquito Population On Your Charlotte Property
For many homeowners in the Triad area, dealing with mosquitoes and mosquito bites during the summer months is just a way of life. At Go-Forth Pest Control, we don't think that has to be the case. Mosquitoes are certainly an annoyance, but they're also dangerous, spreading serious illnesses such as West Nile virus, chikungunya, encephalitis, dengue, malaria, and canine heartworm. No one should have to worry about contracting a disease every time they step outside their Charlotte door. Go-Forth Pest Control's proactive approach to mosquito control will allow you to get back outside and enjoy your yard.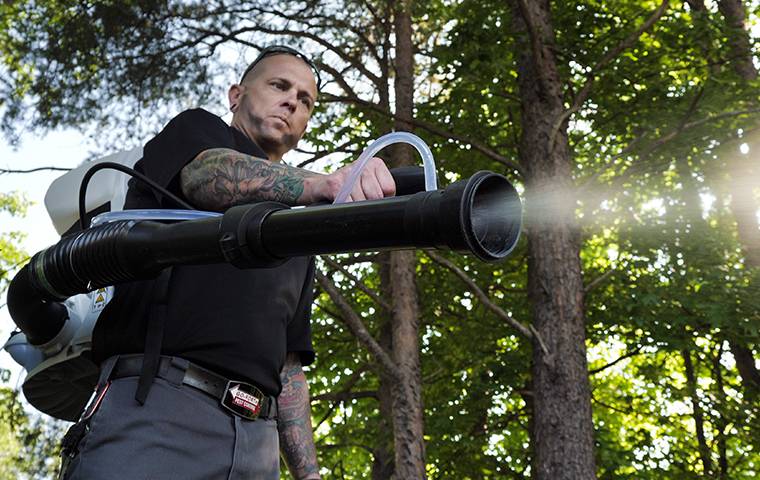 Mosquito Control From Go-Forth Pest Control
Although our Greensboro and Charlotte pest control experts cannot completely eliminate mosquito populations on your property, we will do our best to reduce them drastically.
Our approach to mosquito control focuses on eliminating the breeding and resting sites of mosquitoes. By targeting both adult and larval mosquitoes, we can immediately lower the number on your property and keep it low for several weeks.
We'll treat the landscaping around your property and your home's foundation with a residual adulticide. Then if necessary, we'll treat mosquito-breeding sites to prevent mosquito larvae from developing into adults.
Mosquito control requires regular treatments to keep the population low in your yard. Because of this, our mosquito control service is a seasonal service that includes monthly treatments. We'll keep the mosquito population on your property down during the months of the year that mosquitoes are most active.
Our mosquito control service does not include a warranty unless you enroll in our Elite Plus Service. Contact us for more information about this service or to schedule a mosquito control service.
Getting Back Outside Starts With Go-Forth Pest Control
If you've been staying inside your house and avoiding your yard because there are too many mosquitoes outside, it's time to do something about it. Go-Forth Pest Control's mosquito control services will dramatically reduce the number of mosquitoes on your property so that you can enjoy your yard without the worry of getting bitten or contracting an illness. Contact us today to schedule your first treatment.