Quality Pest Control In Olin, NC
The unincorporated community of Olin is a primarily residential one; however, there are also many working farms as well. The area is particularly known for its equine training and facilities. And because this is a rural area, residents enjoy peace and quiet with distance from their neighbors. Olin also has the benefit of being located miles from Winston-Salem as well. But even though this community is small, it still sees its share of pest problems.

At Go-Forth Pest Control, we have been dedicated to quality pest control in Olin for three generations. We are focused on delivering five-star service with each visit and want you to have a seamless experience no matter what treatment we're providing. Whether you're a resident or a business owner, we can find a solution for your concerns. We provide detailed treatments that are safe and effective so that you don't have to worry about pests. For more information on our services and to receive your free quote, please call us today.
Residential Pest Control In Olin
At Go-Forth Pest Control, we provide pest control in Olin that will keep your home safe and pest-free throughout the year. We are a family-owned team that puts safety and satisfaction first with EPA-approved products and a satisfaction guarantee. Our technicians take the time to understand your needs and provide the treatments necessary to address them. Some of our ongoing programs are:
The Basic: This plan allows us to treat common invaders from the outside on a quarterly basis. Our no-hassle service will protect you from rodents, spiders, centipedes, and more.
My Elite: With bi-monthly services and treatments that also cover the interior of your home, we'll be able to provide protection from a wider variety of pests. You'll also benefit from priority scheduling.
My Elite Plus: Our most comprehensive plan offers year-round coverage that includes pests like mosquitoes and ticks as well.
In addition to these programs, we also provide the option of pest-specific services for termites, fleas, mosquitoes, bed bugs, and more. To learn more about our residential pest control offerings and to receive your free quote, please call us today.
The Best Way To Protect Your Olin Property From Termites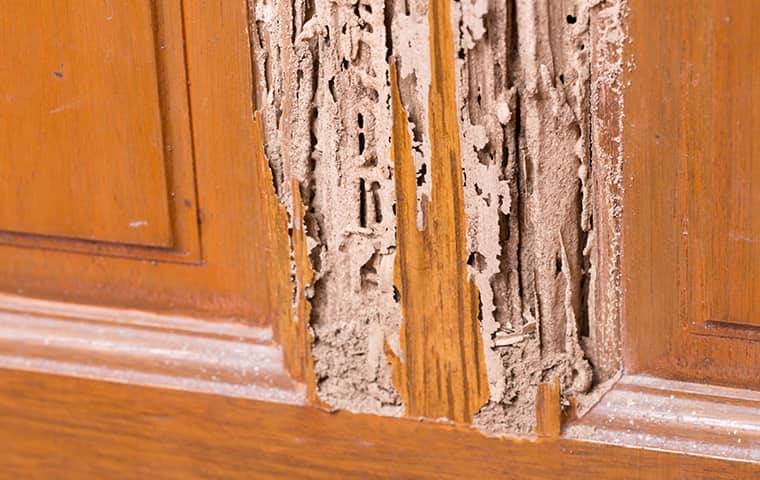 Each year, termites are responsible for bringing approximately five billion dollars of damage to homes across the United States. You shouldn't have to be one of them. When it comes to the best way to deal with termites, there is no substitution for professional services. At Go-Forth Pest Control, we bring more than 60 years of experience to the work that we do.

Our Olin termite control always begins with a free inspection and estimate so that we can locate termite activity and determine the species that are present on your property. The treatment that we use is The Sentricon® System with Always Active™. This is a highly effective method that is not only capable of getting rid of termites but can also keep new termites from getting inside your home in the future. We also provide Wood-Destroying Insect Reports to help new homebuyers understand the role of termites on a property. These services are also backed by a warranty. For more information on our termite control offerings, please call us today.
Expert Advice On Ant Prevention For Your Olin Home
When it comes to keeping ants from being an issue in your home, there are a few tips that you ought to follow. Here are a few options to try:
Seal off entry points: It's important to try to keep ants outside. In order to accomplish this, apply weatherstripping around doors and windows.
Properly store food: Use airtight containers instead of the original packaging for snacks, baking mixes, and grains.
Clean often: Ants will eat anything that they can find, so try to be diligent about trash storage and removal. You'll also want to clean counters to remove any residue or crumbs.
Look for leaks: Another thing that ants like is water, so make sure that all pipes are free from leaks and that downspouts are working well.
Ask for help: The services that a pest expert can provide you with are invaluable.
Consider ant prevention in Olin from a trusted company.
For more information on ant control for your home, call Go-Forth Pest Control today.
Commercial Pest Control In Olin
At Go-Forth Pest Control, we help business owners find peace of mind with pest control in Olin that is completely customizable. Our company is now in our third generation of family ownership, so we take our work seriously.
When you partner with us, you can expect an honest experience that is designed for your satisfaction. We pride ourselves on always being transparent and given our 60 years of experience, we are ready to work with a variety of businesses, from housing authorities to restaurants. Our technicians use only EPA-approved products when we treat your property, and you'll also receive a customized treatment protocol that we can customize as required. More importantly, when you work with us, you can expect fairness and a partner in your corner. For more information on our commercial pest control services, please call us today.