Flea Control In Cary, NC
Did you just find out your pet has fleas? Go-Forth Pest Control of Raleigh can help in the Cary area get rid of these pests quickly. Fleas can be a nuisance to your pets and family, and can even spread different diseases. You can try home remedies, but the most efficient way to get rid of them is through a professional pest control company. At Go-Forth, we have trained our technicians to inspect certain areas of the home that fleas like to inhabit. Even though they were found on your pet, they can travel to your furniture and even you. Call Go-Forth today to help or click to get a free quote on flea extermination now.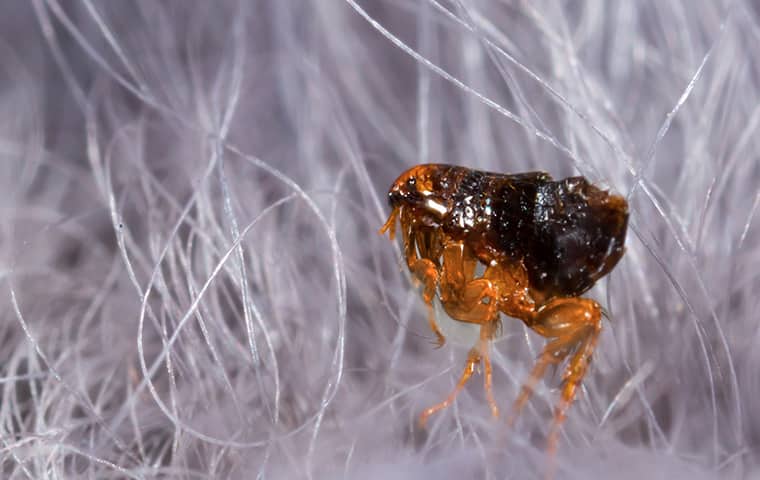 Flea Facts
Fleas can jump and crawl on any surface and attach to their hosts. Pets and different animals usually carry them into their homes, but they can attach to you or your furniture for their new homes. They have also been known to live in carpet. They bite and cause itchy rashes on people and animals. They can even give deadly diseases to your pets, like heartworm. Even if your pet is being treated for fleas, it can get them again if they are not properly removed from your home.
Adult fleas usually stay on dogs to prepare themselves for egg laying as they need fresh blood. With this, your dog might be infected and start to itch or might have a flea allergy. To protect your dogs from fleas, better give them a bath regularly as it can help in lessening fleas.
Fleas don't only feast on pets, but they also bite humans for blood. They are not picky eaters. Once you are bitten, it can be itchy which will be inconvenient. Don't let this pest begin to infest your body, find an exterminator near you who can fight bugs, pests, and insects.
Fleas are hard to locate because of their size, and they keep on jumping from one place to another to find a host. When they start to exist in your pets or house, order pest control services near you to help in getting rid of your problem.
How We Eliminate Fleas
Fleas are not easy to eliminate. That is why you need an exterminator to do the work for you. Go-Forth is the company you can trust when pests, bugs, or insects are your problem. We are the local exterminator near you that you can call any time when you see fleas infesting your pets and home.
As your exterminator, we use products and treatments that are pet-friendly and safe for you, your family, and the environment. Our company will instantly heed your call and will create a proper and effective plan which can get rid of fleas and keep them from returning. With us, bugs, insects, and other pests in Cary will be gone for good as we work in local areas to satisfy our customers' needs.
Flea Company Near Me
Say goodbye to fleas since we are a local flea control company near you in Cary which you can run to when the infestation begins to worsen. Don't wait for fleas to ruin the lives of your pets, immediately take action once your pets or your home show signs of fleas. Call us today and experience our same-day service! Go-Forth Pest Control takes good care of their customers, and are happy to serve you wherever you are in Cary! Get Go-Forth Pest Control to help with your flea extermination in Cary today. We have a money-back guarantee if you are not happy with our service.
Other Pest Control Services For Cary, NC