Termite Control In Cary, NC
Think you may have termites? Go-Forth Pest Control of Raleigh can help the Cary area determine if you do before the damage gets out of control. Termite damage becomes expensive fast, and can sometimes condemn homes. If you think you have termites or have spotted some, get a pest control company out to your property immediately. At Go-Forth, we use the Sentricon system to get termites out of homes. The green stations are put in the ground that ultimately attract the termites to them. Once the termites have gone to the stations they are exterminated. Our technicians will check on these stations a couple times a year to refill and make sure they are working. Call Go-Forth today or click to get a free quote on your termite control now.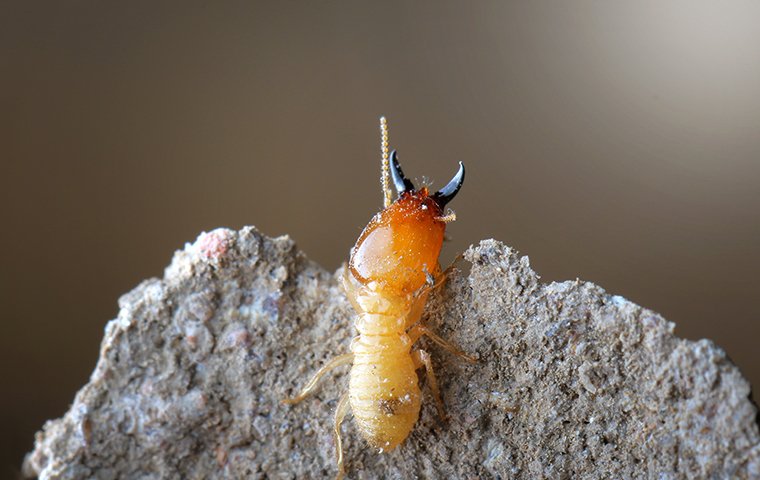 Termite Facts
These pests are small and travel fast through any home or building. Even if your neighbor has termites you are at risk to get them in your home. They travel through the ground and are attracted to eating any type of wood. Once they eat through the wood, that can make it unusable because of the damage they have caused. These pests multiply fast and are hard to locate on your own because of their size and color.
Termites come in different types. One is the drywood type that eats soft and dry woods. Subterranean is another type of termite where millions of termites live in colonies and even live underground. This type is hard to find and can be risky so a professional exterminator should do the work. Lastly, the dampwood type is bigger and chews on rotting and soggy wood. No matter what type of termites you have inside your home, quickly eliminate them by hiring an exterminator to avoid bigger damages to occur.
Termites don't sleep. The only thing they do is chew or eat for 24 hours. This means that even when you are sleeping, termites are busy binging on your wood which can become vulnerable after some time. Since they don't sleep, this pest can be destructive. If you don't want your house to lose all its wood, better seek a reliable company that can provide you with effective pest control services.
Termites don't chew on wood quickly. It takes months before they infest a house. They only eat a small portion of wood every day, but in tunnels which makes the structure of your house defenseless, and might get ruined when the infestation worsens. Call an exterminator to get rid of termites, insects, bugs, and other pests inside your home.
How We Get Rid Of Termites
Having termites in your property is disturbing as it can cause severe damages to your home if not given immediate attention. You don't want to lose the beauty of your home because of termites, right? Here at Go-Forth, we help the residents of Cary, NC with their termite problems by providing a high level of services and treatment which will meet their satisfaction.
As your pest control company, we will give the right solution which will successfully eliminate those termites eating the structure of your humble abode. Our local exterminator knows how to handle termites, no matter how big or small the colonies are. We use proper equipment and products to ensure that you and your family are safe while we do our work.
Go-Forth offers a low-cost pest control service for termites which will be budget-friendly to your pockets. By utilizing the right method and treatment, your house will be free from termites in no time, and we only give successful results. With us, your termite and other pest problems will be resolved instantly. Call us today and experience our same-day service!
Termite Company Near Me
We are a local termite company near you in Cary. Your termite issues will be resolved by professional and skilled technicians whose work excels in customer satisfaction. Go-Forth provides pest control services to our customers in local areas. Call us today! Get Go-Forth Pest Control in Cary to take care of your termite extermination today before it costs you thousands of dollars in damage repairs.
Other Pest Control Services For Cary, NC