Bed Bug Exterminator In Columbia, SC
If you suspect there are bed bugs in your Columbia, SC home, call Go-Forth Pest Control of Columbia, SC to treat the problem. Bed bugs prefer to live in warm houses and most commonly your actual bed. These pests survive off human blood and can cause physical harm if not removed from your home effectively. Instead of waiting for side effects from the bed bugs before you make a call, get your home treated by Go-Forth before the situation and infestation worsens over time. Our trained staff knows the proper extermination of this pest so it will no longer be a nuisance in your home.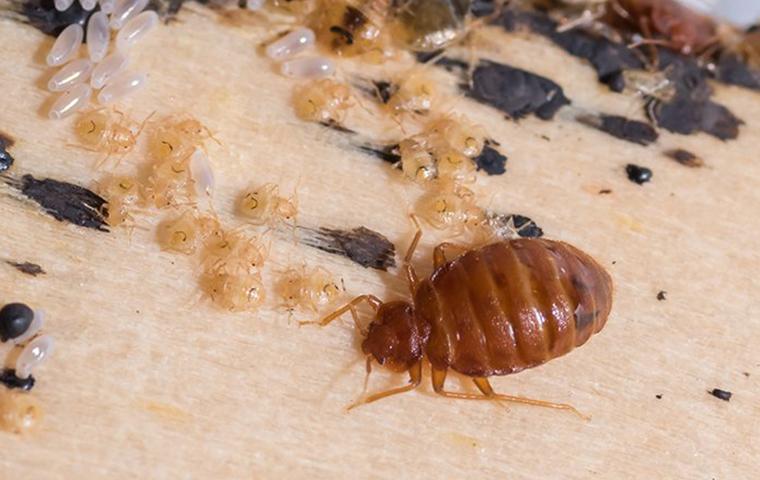 Quick Facts About Bed Bugs
They are reddish-brown with flat oval bodies

Usually small reaching only .20 inches in length

They live best in warm temperatures

They do not attach to their host for their entire lifespan

Bed bugs can live on your pets

Typically found in mattresses, couches, and vehicles


Bed Bug Bites
Bed bugs are attracted to human skin that is exposed to get the best point of contact to feed off of them. Some people barely notice when a bed bug might bite them, while others have severe allergic reactions. The bits are usually swollen red dots and could become itchy when the swelling goes down. It often becomes a rash that could develop into something worse if not treated.
Once you suspect your home is infested with bed bugs, call Go-Forth in the Columbia area to take care of the issue. Bed bugs usually feed at night which is why most people are bitten while they are asleep. Call Go-Forth Pest Control in Columbia, SC today to eliminate your bed bug problem.
How We Get Rid Of Bed Bugs
Bed bugs are tiny pests which can be present on any property whether it is a residential or commercial one. They will tirelessly infest their properties, especially when they've found the right host and environment. But here at Go-Forth, you can have peace of mind because we know how to handle those pests professionally.
Our company offers exceptional yet affordable pest control services that are guaranteed effective in eliminating bed bugs, insects, pests, and other types of bugs. We will come to your property in Columbia, SC to conduct an inspection and perform proper treatments which are useful. Rest assured that our methods are safe and will not put you and your family in any danger.
We know where bed bugs usually hide; that's why our local Columbia, SC exterminator already knows what to do. We assure you that our company can get rid of those bed bugs completely to give you a good night sleep. Here with us, your bed bugs, insects, and pest problems will be resolved, and you will have a healthier and safer home which you can enjoy all year round. Contact us now!
Bed Bug Company Near Me
Go-Forth is a local bed bug control company near you in Columbia, SC. We offer excellent pest control services at reasonable prices. We also serve our customers in local areas. Call us today!
Other Pest Control Services For Columbia, SC