Pest Control Company In Columbia, SC
Our termite exterminators in Columbia, SC offer effective termite treatments to get rid of your unwanted termites. Termites can be very destructive to homes and businesses. Our termite control solutions are guaranteed to work. We serve both commercial and residential customers near Columbia, Forest Acres, Dentsville, West Columbia, Cayce, and Lexington, SC.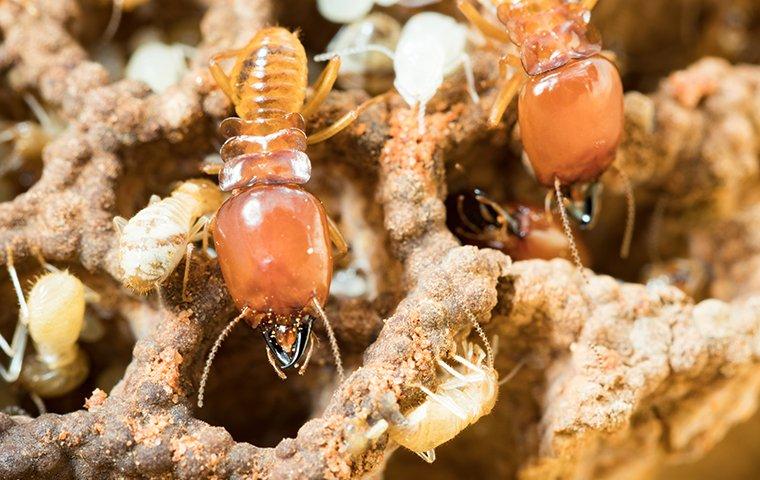 Quick Facts About Termites
Termites shed their wings once they find a good place to live and build a nest.

Termite colonies eat 24/7.

Termites help other termites raise their young since they are social insects.

Termites eat cellulose.
Dampwood Termites
Termite size is from 1/2" to 5/8".

Termite shape is narrow, long, and oval.

Termite color is brownish.

Termite's common name is Dampwood termite.

Termites love to eat moist wood.

Termites usually inhabit a home that has leaking plumbing where they can find damp wood.
Drywood Termites
Drywood termites are smaller than dampwood termites.

Drywood termites eat dry wood, and fabric made out of plants.
Formosan Termites
Formosan termites are the most destructive of all termites.

Formosan termites are 1/2" in size.

Formosan termites live in huge colonies.

Formosan termites eat a lot of wood.
Subterranean Termites
Subterranean termites can be as large as one inch.

Subterranean termites eat anything made out of wood, plastics, and fabric from plants.

Subterranean termites need to be in contact with the soil to survive.

Subterranean termites are the most destructive of termites.
To avoid termites, please remove any damaged wood in your home, make sure you don't have any leaking pipes, and remove wood scraps from the outside of your home. If you have any other pest control problem in Columbia, SC don't forget to contact us for a free quote.
Our Termite Control Solution
One effective way to get rid of termites from your home is by installing Sentricon stations. The stations have termite bait inside that will lure termites into eating it and sharing it with other termites back home. This is a very effective treatment, so effective that we will guarantee that it will work or your money back. Contact Go-Forth Pest Control of Columbia Today!
WDIR Termite Inspectors
At Go-Forth we have fully accredited Columbia termite inspectors that can help you decide what kind of termite infestation you have at your hands. We use the most environmentally safe termite extermination techniques; feel free schedule a quick termite inspection today.
Other Pest Control Services For Columbia, SC