Flea Control In Gastonia, NC
If your pet has fleas, there is a good chance they are all over your home. Go-Forth Pest Control of Charlotte can help get rid of them in your home. Fleas travel fast and can infest multiple parts of your home and even your car. It is essential to get help from a professional quickly. We have been in business since 1959, and we know how to target flea infestations in a home. We use effective products that are still pet and kid-friendly to get rid of the fleas. Call Go-Forth today or click to get a free quote on your flea extermination now.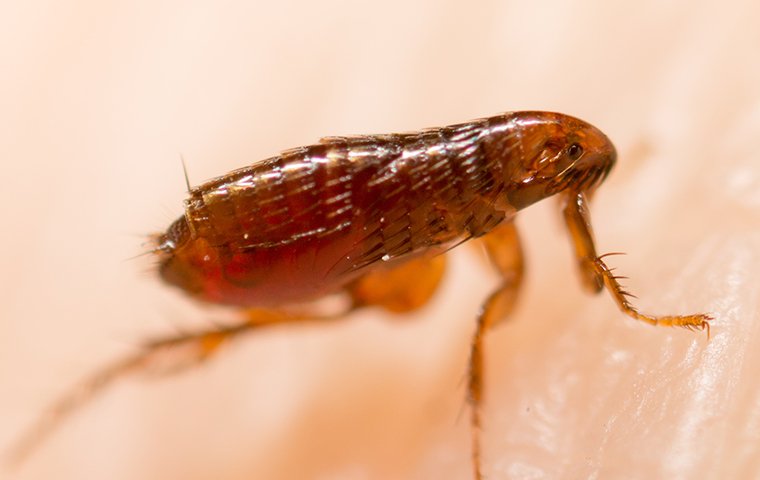 Flea Facts
Fleas can jump and crawl on different parts of animals to get the best bite. Flea bites are itchy and can transmit diseases easily. They are usually found on your pets but travel to furniture like your couch and beds. They can also be found in your car seats and the carpet.
After getting medical attention for your pet at the vet, it is important to make sure your home is treated as well because it is more than likely that they have traveled somewhere in your home.
Fleas are great jumpers as they can jump for 30,000 times without stopping. With this ability, they can quickly jump from one place to another without difficulties. As great jumpers, they can easily cling onto their hosts like pets and humans and can infest properties.
Fleas are experts at reproducing. This is a problem as they can give birth to a vast number of offspring. Every day, they can give birth to 40 to 50 eggs, and one female flea can give birth to 2,000 eggs in her whole life. Even they don't live very long, they can still maintain their population because they can lay several eggs every day.
The larvae of fleas are not usually found on pets, but are burrowed in carpets, beddings, and fabrics where humans have close contact. Some of the larvae may also be found on cats or dogs, but most are hidden inside the house. Also, some fleas will decide to stay inside their pupae even for a month if the time is not yet right. Once movement, heat, and carbon dioxide work together, that's the time they will come out of the cocoons. Fleas are not only pestering pets, but humans can also experience their wrath. Before the situation worsens, let an exterminator eliminate them.
How We Get Rid Of Fleas
Fleas are undeniably pests that give cats and dogs discomfort when they infest. Because of this, some pets are suffering from allergies and illnesses. However, fleas don't only attack animals; humans can also be a target. That's why Go-Forth is here to prevent them from infesting. Since 1959, our company has been providing quality pest control services that are effective in eliminating fleas, insects, pests, and bugs. We know the proper treatment that can drive away fleas for good.
Our exterminator will visit your property to check where those fleas are hiding. From the pest down to the pupae, we will get rid of them to prevent them from multiplying. Rest assured that all our methods and treatments are safe for you, your family, and pets. With us, you will get what you deserve - a flea-free home all year long. Don't let those fleas cause problems to you and your pets, eliminate them as quickly as possible by calling Go-Forth.
Flea Company Near Me
We are a local flea control company near you in Gastonia. We offer high-quality pest control services which you cannot experience from others. Our customers in local areas are served as well. Call us today!
Our Reviews
Our reviews show how we take care of our customers and their pest control needs. Check them out and see if Go-Forth can help with your flea extermination in Gastonia today.
Other Pest Control Services For Gastonia, NC