Flea Control Service In Hickory, NC
Having a flea issue in your home? Go-Forth Pest Control of Hickory can help get rid of your flea infestation. Fleas can travel through your home fast, so make sure you take care of the issue quickly. Our technicians will make sure they target the areas fleas are most prevalent to try and prevent them from coming back again. At Go-Forth we use a chemical combination that is strong enough to kill the fleas, but is also pet and kid-friendly. We don't want to cause more problems than you're having, and we value our customers.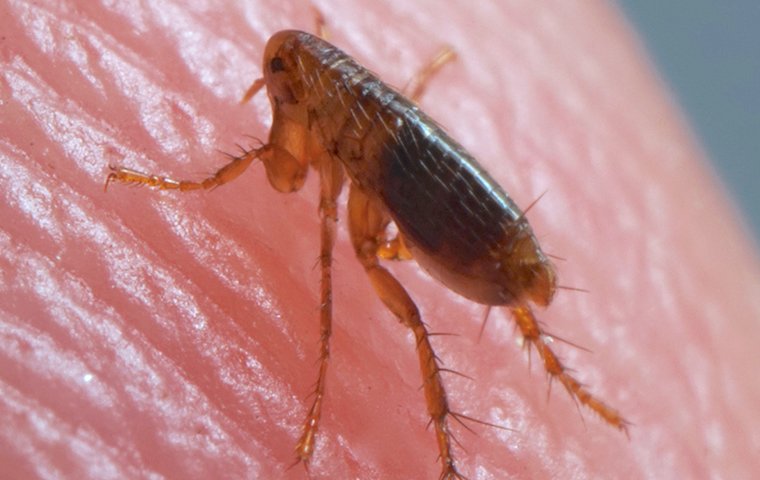 Facts About Fleas
Fleas travel on pets from the outside to infest your homes. They can live on pets, furniture, and even on the carpet. These pests can produce rapidly and cause a lot of problems if not taken care of quickly.
Fleas have also been known to spread bacteria to their hosts, like your pets. They can be harmful to them and should be exterminated from your home as quickly as possible. Go-Forth Pest Control in Hickory can help your flea problem.
Fleas can jump without stopping for 30,000 times. This is their way of traveling from one place to another. Bringing your pets near flea infested areas like parks and path walks will give them a high chance of getting infected, and worse, those pests might cling into you also. Because of jumping skills, it is easy for them to hold onto their hosts.
Fleas' larvae will never be seen in the light, as they don't like it. They will be found on areas which are dark like carpets, corners, and cracked floorings. Also, the pupae of the fleas can live for a year on a property. But, if you think that they're mostly found on pets, you might be wrong because their larvae, eggs, and pupae are found on rugs, sofas, and beds.
Fleas will not only infest your pets, they can also cause inconveniences to humans. Before they get you, better eliminate them by calling Go-Forth, your trusted exterminator in Hickory. Our company will ensure that all insects, bugs, and pests like fleas will be gone for good by using our effective and safe treatments. Rest assured that our methods follow the right protocols and will never put you, your family, and pets in danger.
Flea Company Near Me
Go-Forth is a local flea control company near you in Hickory. We offer exceptional services which you cannot experience from others. We have valued customers, and you can be one too! Our company also serves our customers in local areas. Call us today!
Other Pest Control Services For Hickory, NC