Termite Extermination In Hickory, NC
Termites cause a lot of problems and create immense damage in a short amount of time. If you have termites, call Go-Forth Pest Control of Hickory, NC today to help. Our trained professionals can exterminate these pests quickly so they do not damage your property beyond repair. Go-Forth ensures to rid your home or business of termites with the most successful and effective treatment. Call us today to receive your free quote and get started on your pest control services. After we eliminate your termite problem, we can perform an inspection every year to make sure the pests have not and will not return to your home or business.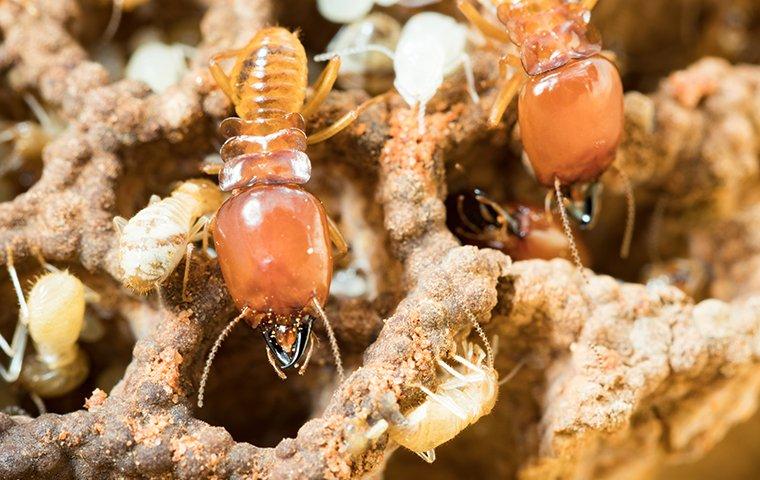 Termite Facts
Termites chew through wood on properties that can result in costly damage to homes and businesses. Because they travel in packs and spread rapidly, it is important to perform a termite inspection immediately if you suspect there are termites on your property.
Termites don't sleep and never get tired of building their colonies. Even though they chew on wood gradually, because they don't rest, they can still make the damages severe as time passes by. They will continue to work until they die.
Termites create their mounds using mud, digested wood, soil, feces, and saliva. That's why their homes are stable and strong. In those mounds, colonies are made, and they can accommodate millions of termites. Some hills are made bigger and taller which sometimes reach 30 feet high or more.
Queen termites are responsible for laying eggs, and they are also the reason why termites don't decrease in population. The queen can give birth to an egg every 15 seconds, and in a day they produce 30,000 eggs! Also, the queen has a longer lifespan which can reach up to 25 years! Termites are pests which can cost millions of dollars because of the damages they bring. Before they make things worse, get them first by calling an exterminator near you like Go-Forth.
How We Get Rid Of Termites
Termites are small, yet can infest ruthlessly which is heavy on the pocket. Once you see signs of their infestation, better call Go-Forth instantly! Our company uses modern and state-of-the-art technologies which are capable of eliminating termites. We put a bait which can lure termites out of your property for good. We make sure always to check the baits we put out to see whether they are useful. Rest assured that we will never stop working until we give you the results you want - a cleaner, healthier, and termite-free property.
Choosing Go-Forth, you will never go wrong because we always put enormous efforts whenever we are performing our craft. Whenever you need help in eliminating termites, Go-Forth is the one to call.
Termite Company Near Me
Go-Forth is a local termite control company near you in Hickory. We offer excellent services which can also be enjoyed by our customers in local areas. Call us today!
Other Pest Control Services For Hickory, NC