Professional Pest Control For Lenoir, NC Properties
Lenoir is the county seat of Caldwell County, located in the scenic foothills of the Blue Ridge Mountains. Although there are many reasons why people enjoy living in our area, it's important to remember that Lenoir is home to a wide range of pests that have no problem invading your home or business. Protect your Lenoir property from all kinds of pests by partnering with the skilled technicians here at Go-Forth Pest Control for immediate assistance with your pest problems. With more than 50 years of experience in the pest control industry and a commitment to protecting people and properties from pests, we are the right choice for all of your residential and commercial pest control needs. Take your Lenoir property back from pests with a little help from the professionals at Go-Forth Pest Control. Reach out to us today to get started!
Go-Forth Pest Control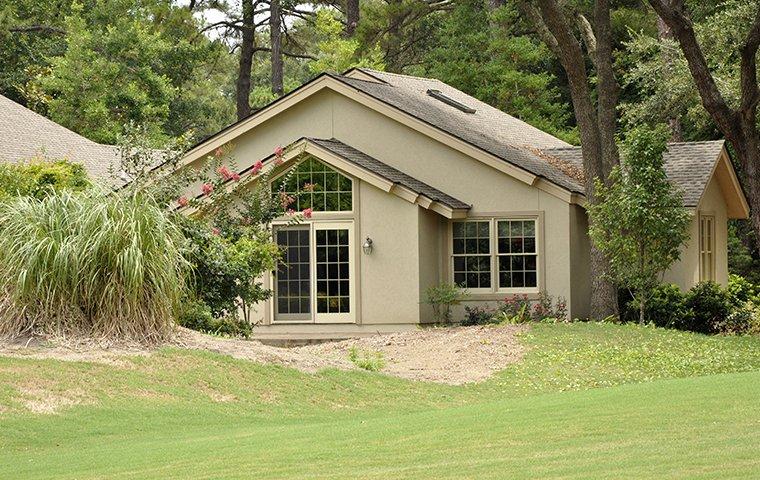 Go-Forth Pest Control of Hickory is now in Lenoir, NC. Pest control is our specialty and now we serve the city of Lenoir and all towns near it like Granite Falls, Hudson, Cajah's Mountain, and Gamewell. With all of our pest control services, we can help you get rid of termites, ants, roaches, rodents, mosquitoes, spiders, wasps, fleas, and many other stinging and crawling insects. Call our local Lenoir exterminators today!
Experienced Pest Control Company
Go-Forth has been doing pest control since 1959. We're a family-owned company and we have always focused on customer satisfaction and exterminating pests the fastest way possible using green products whenever possible, so feel at ease, your family and pets are safe with us.
Well-Reviewed Exterminators
Our technicians, staff, and exterminators are some of the best reviewed in the state. We have been given several awards for best technicians of the year. Feel free to Google us and check our customer reviews.
Several Plans To Choose From
We offer several pest control plans to better fit your budget and target pests. Ask to talk with one of our knowledgeable customer service reps, or even with our experienced technicians if you have a question about a plan or how we go about getting rid of your pest problem.
Residential & Commercial Pest Control Services
We not only offer our pest control services to residential customers but also to commercial buildings and businesses with problems with pests like rodents, roaches, bed bugs, fleas, ants, and other crawling and stinging pests near Lenoir, NC and Hickory, NC.
Our Pest Control Services
Pests change by area, these are some common pests found in Lenoir, NC:
Ant Extermination
Ants can be very damaging to soil and house foundations, costing thousands of dollars for repair. They can be very annoying also if you have ants in your back yard and you're trying to enjoy a day on the grill or in the garden. Talk to us so we can explain the ant pest control services we offer in your area.
Cockroach Control
Roaches can be extremely bad for your health. They can contaminate food and any path they travel. On top of that cockroaches can multiply extremely fast; in only one month baby roaches are having roaches of their own, in no time you can have a full-blown roach infestation in your home.
Mosquito Control
Mosquitoes are very annoying pests; they are both annoying and dangerous because they bite animals and humans, and by doing that they can transmit dangerous diseases to your family. This is why it's very important to get rid of mosquitoes from your home. Call us to explain our mosquito reduction plans we offer.
Rodent Removal & Extermination
We can get rid of all types of rodents. Do you have a rat problem? From roof rats to Norway rats, we can exterminate them all. Even if you have a small mouse problem, don't let it become worse by not taking care of it soon, because in no time you can have a rodent infestation in your home.
Termite Control
We have very effective ways to protect your property from termites. Homeowners and landlords alike know that a house free of termites is a protected future investment. Since having a termite problem can be very costly, protect your home with Sentricon stations - talk to us to learn more about them.
Home Pest Control In Lenoir, NC
Pests are a major threat for homeowners in Lenoir. Not only are pests destructive, but they also spread a wide variety of disease-causing bacteria that can threaten the health of your family. When it comes to protecting your Lenoir home and family from destructive and dangerous pests, it's important to implement a trusted residential pest control plan. At Go-Forth Pest Control, we take pride in offering superior pest protection for residents in Lenoir and throughout the surrounding communities.
Our highly-trained technicians have the skill and experience needed to eliminate existing pest threats and prevent new pests from invading your property in the future. Our residential pest control options include lawn care, bed bug control, termite control, mosquito control, ant control, flea control, and more. Get in touch with the technicians from Go-Forth Pest Control today to learn more about how we keep Lenoir homes pest-free throughout the entire year.
Commercial Pest Control In Lenoir, NC
As a business owner, your primary goal is to provide excellent products and services that your customers will enjoy. But when pests such as insects and rodents invade your commercial facility, they can drive away your customers and give your business a bad name. The best way to protect your Lenoir business from common pests is with comprehensive commercial pest control solutions from Go-Forth Pest Control. We work quickly to eliminate commercial pest problems so that you can focus on the needs of your customers.
By using high-quality pest management strategies and proven methods of control, we combat pests before they have the opportunity to invade. Protect your customers, property, employees, and reputation from nuisance and dangerous pests by working with Go-Forth Pest Control to put into place a long-lasting commercial pest control plan. Give us a call today for more details about our commercial pest control options.
Flea Control: Lenoir's Guide To Keeping Fleas At Bay
Fleas are one of the most frustrating species of pests to find in your Lenoir home. These tiny, blood-feeding pests are difficult to identify and even more difficult to get rid of. Fleas have strong hind legs that allow them to hop from one host to another, which is why flea infestations spread so quickly. To prevent fleas from taking over your Lenoir home, keep the following flea prevention tips in mind.
Always inspect your pets thoroughly after spending time outdoors.

Keep an eye out for flea dirt in your pet's fur.

Seal gaps and crevices that rodents could use to enter your home, bringing fleas with them.

Equip your pets with effective, vet-approved flea and tick preventatives.
Prevention tips are helpful, but the best way to protect your Lenoir property from fleas is by partnering with the professionals here at Go-Forth Pest Control. We're ready to find a solution that covers all of your pest control needs!
What Are Silverfish & How Do I Get Them Out Of My Lenoir Home?
Silverfish are small pests that invade Lenoir homes when outdoor conditions become unfavorable. They are occasional invaders, which means they invade properties sporadically throughout the year. Silverfish have small, tear-shaped bodies and get their name from their silvery color and fish-like movements. These common household pests don't spread diseases and pose no health risks to humans, which is why they're considered nuisance pests. The key to preventing silverfish is learning what attracts them in the first place. Silverfish are adaptable pests that can live in many environments but they prefer dark, damp areas. When they invade homes, silverfish are often found in bathrooms, basements, laundry rooms, and other areas that provide excess moisture.
To remove silverfish from your residential property, you need professional pest control services from Go-Forth Pest Control. We are committed to delivering excellent pest control solutions that will rid your Lenoir home of pests once and for all. Don't wait for silverfish and other nuisance pests to cause problems around your residential property. Instead, turn to Go-Forth Pest Control for pest management plans that will keep your property free of pests year-round.