Ant Exterminator In Lenoir, NC
Have you noticed some ants in your home in Lenoir, NC? Go-Forth Pest Control of Hickory can help you exterminate them today! Ants can get out of control fast if they are not taken care of immediately. Our technicians will make sure your ant problems get under control. They will use a unique bait technique that not only exterminates them but allows the few ants you see to take it back to their colonies. This ensures that the entire population dies with them. If you have any questions, give one of our representatives a call or fill out our form to get a free quote on your ant control now.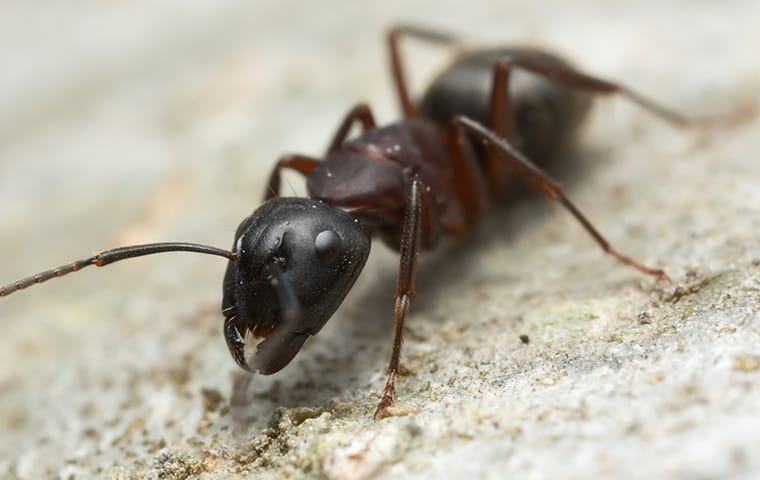 Ant Facts
There are many different species of ants in the world, but the most common ones seen in and around the household are Black, Carpenter, and Fire ants. These ants differ in color, but all have similar body structures.
The carpenter and fire ants are mostly attracted to wood or decaying items, which is why they are mostly seen outside. The black ants, however, are attracted to sugar and water, which is why they are most prevalent in kitchens and bathrooms.
If you leave food out for more than a day you are already at risk of attracting ants into your home. When ants are looking for food, they leave behind pheromones as a track for more ants to follow. This is why you see them following each other in a line and then returning to the colony with the food. They can carry up to 20 times their body weight.
Ants reproduce quickly, and their colony can be home to thousands of ants even though you may only see a few. A professional exterminator near Hickory, NC can help make sure the ant population is exterminated from your home for good.
How We Get Rid Of Ants
Ants are small, yet can be dangerous due to the infestation they bring. Before those tiny animals become troublesome, better eliminate them by calling Go-Forth - your local exterminator in Lenoir. Our company uses safe and effective treatments which can get rid of any type of ants. Also, we can eliminate insects, bugs, and pests which keep on lurking around your property. Rest assured that no pests will be left behind because our trusted exterminator in town will perform a total eradication.
We will meticulously inspect your property to find where those ants are nesting. Once we've found their home, we will apply the treatment which will not only kill one ant, but the whole colony will be affected. Here with us, you will get the peace of mind you deserve because we assure you that we will perform our job with great efforts. Our services are always incomparable. We are one of the best pest control companies you can find in Lenoir. Contact us, and we will help you achieve an ant-free home!
Ant Company Near Me
Go-Forth is a local ant control company near you in Lenoir. We also serve our customers in local areas. Call us today!
Other Pest Control Services For Lenoir, NC