Ant Exterminator In Mocksville, NC
Have you noticed ants in your kitchen? Go-Forth Pest Control of Winston-Salem can now help in the Mocksville area. Ants are not only annoying, they can contaminate your food. We have been in business since 1959 and know the proper way of getting rid of ants altogether. Instead of focusing on just one or two ants, we will make sure the entire colony is exterminated with the use of bait. Give us a call today or click to get a free quote on your ant control now.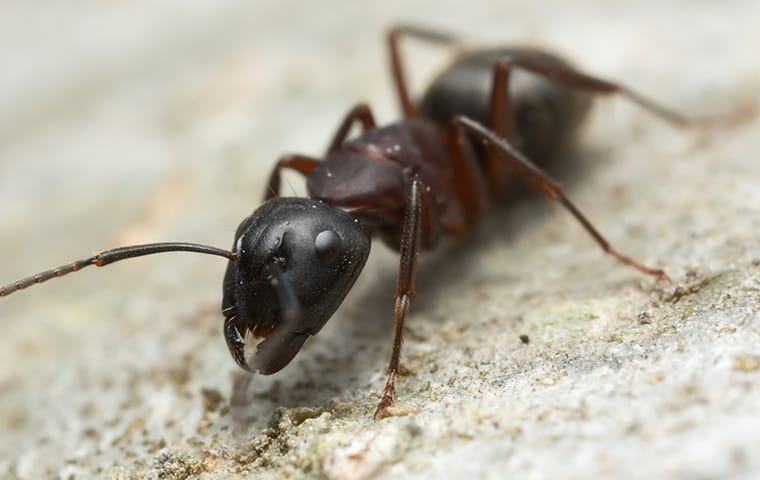 Ant Facts
Ants have many different species, but three different kinds are usually found in homes. One is the black house ant that is usually in the kitchen or bathroom. They are attracted to sugar and water which makes it easy for them to find a source of food in any home.
The next is the carpenter ant, which is attracted to any wood. They can cause damage just like termites in any home or wood-structured building. The last most commonly found ant is the fire ant. They are mostly found on playgrounds or in backyards and like to build big ant hills. If they feel threatened, they will bite which can be painful and leave rashes.
Ants can survive in water so drowning them might not kill them. Some ants know how to swim; that's why they can't get drowned easily. They can also create their lifeboat which will help them float for longer periods, especially when there are floods. Even when they are underwater, they can still survive because of the spiracles they have which allow them to breathe.
Ants are super strong. They can carry things 50 times than their body weight. Even with their small size, they are strong and can survive even they have damages on their body. Also, they don't only have great physical strength, but their appetite is strong too as they can survive for weeks even without ingesting water or food.
The queen ants are the ones who lead the colonies. They can lay thousands of eggs which can increase the population. Worker ants are the ones that take care of the queen's babies. They also work on the nest and perform other duties. The male ants are the ones who mate with the queen. After mating, they could die as it is their sole responsibility. When ants show on your property, call an exterminator quickly to eliminate them for good!
How We Get Rid Of Ants
Ants are small but can cause big infestations once they work together. That's why Go-Forth is here to prevent it from happening. Our exterminator will come to you to inspect the property to find out where those ants are living. Once we know, we will immediately apply treatments that can get rid of those ants once and for all.
Our pest control services are guaranteed effective and safe to ensure that we can get rid of ants, insects, bugs, or pests without causing any danger to you and your family. Rest assured that your ant problems will be handled and will never bother you anymore. Whenever ants are pestering your home, call Go-Forth! We will get rid of those ants for you!
Ant Company Near You
Go-Forth is a local ant company near you in Mocksville. We offer high-quality and affordable services that you can enjoy even on the same day. Our customers in local areas don't have to worry because we can also extend our services to you wherever you might be. Call us today! Our reviews show how much our customers appreciate our business. Let Go-Forth take care of your ant extermination in Mocksville today!
Other Pest Control Services For Mocksville, NC