Flea Exterminator In Mocksville, NC
Do you suspect fleas in your Mocksville home? Go-Forth Pest Control of Winston-Salem can help get rid of them. Fleas disrupt our daily routine and can have harmful consequences for our pets. It is best to let a professional handle your flea extermination. Our technicians are trained to locate the source of the fleas in your home. They will make sure they have exterminated them and then protect your home from getting fleas again. Give us a call today or click to get a free quote on your flea control now.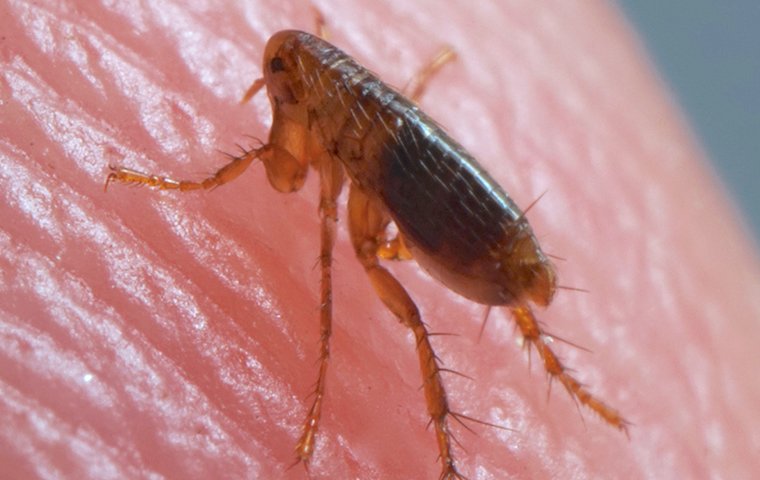 Flea Facts
Fleas are tiny pests that range from 1.5 to 3mm in length. They are mostly found on animals and brought into our homes on pets. Even though they are brought in on an animal, they have no problem relocating to you or your furniture. They are most commonly found on the furniture and carpet of your home.
Once you get your pet treated, it is best to get your home treated so it doesn't happen again. They can make your pets extremely sick by giving them heartworm. Fleas like to attach to their host and leave red, itchy spots behind that sometimes turn into rashes.
Fleas need hosts for them to lay eggs. They will come to warm-blooded animals like dogs, cats, birds, and other mammals. That's why they are seen mostly on pets - because they need blood so that they can lay eggs.
Fleas are causing skin irritations which can be inconvenient to pets and humans. They can cause flea allergy dermatitis from their saliva. The symptoms of the allergy are bumps, redness, pus, and itchiness. Also, when the allergy is severe, pets can experience hair loss.
Fleas can be found anywhere. All continents are homes for fleas including Antarctica. They can stay wherever they want as long as they find hosts they can feed on. Wherever you go, they are present.
Fleas are great jumpers. Their jump is faster than a space shuttle. Because of their great jumping skills, they can easily transfer from one place to another and can hold onto their hosts without difficulty. Fleas should not be ignored as they can infest pets and properties. When you see them, immediately call an exterminator near you.
How We Get Rid Of Fleas
Fleas are tiny pests but can create significant damages, especially to pets. When you see your dogs or cats scratching their skin, maybe fleas are around, so call Go-Forth for help. Our company offers high-quality pest control services that can eliminate fleas, insects, bugs, and other pests present on your property. We use safe treatments that will not cause any danger to pets, humans, and the environment.
Our exterminator will perform flea control in your Mocksville home by following the recommended protocols and will use safety equipment that is capable of eradicating those nuisances completely. When fleas are getting onto your pests and begin to infest your property, don't wait for the worst situation to happen. Call Go-Forth, and we will come to you right away!
Flea Company Near Me
Go-Forth is a local flea control company near you in Mocksville. We offer reliable and cost-effective services that are also available to customers in local areas. Call us today! Our reviews show we are a trusted pest control company. Let Go-Forth help with your flea control in Mocksville today!
Other Pest Control Services For Mocksville, NC