Termite Exterminator In Mocksville, NC
Termites can destroy any home. Go-Forth Pest Control of Winston-Salem can help the Mocksville area avoid these pests. Termites can cause thousands of dollars in damage to your home if not taken care of properly. Our technicians install green bait stations from Sentricon around your home to lure the termites away from it. These bait stations allow the termites to feed off of it and take some to the queen termite. This ensures that the entire colony dies. Give us a call today or click to get a free quote on your termite control now.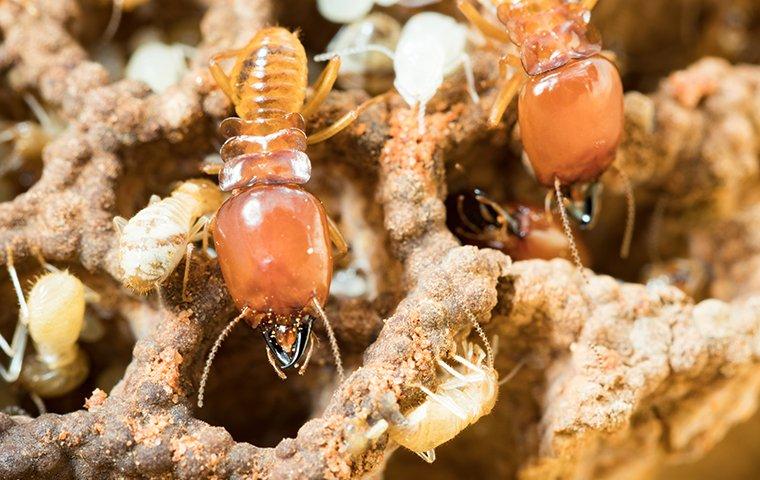 Termite Facts
Once termites find a home to destroy, they start to reproduce rapidly. They travel in colonies and build their homes in the wood of your home. Termites travel fast, so even if just your neighbor has termites you are at risk because they can travel through the ground to your home. They chew nonstop, so it is hard to control on your own or with household products.
Termites can work continuously because they don't sleep. They will work for 24/7, and they have been all their lives. That's why houses with wood are always in danger because termites will eat the structure without stopping.
Termites have a great sense of communication whenever they sense danger. Since they are busy working, for them to alert others, they will kick the walls of the mounds which create vibrations. In this way, they are warned whenever enemies are coming.
Termites can destroy any property without getting noticed by the owners. They can easily sneak inside any house and build their mounds and colonies. They will chew on the wood slowly until everything is gone, which makes the wood vulnerable. The colonies that they create are home to millions of termites which can easily make a big infestation. That's why termites are called "silent destroyers".
Termites create mounds which serve as their home. Those mounds are made of saliva, feces, digested wood, soil, and mud which makes them firm and stable. The tallest mound created was found in Africa. It was 42 feet high which is as tall as a two-story house.
King and queen termites are the founders of the colonies. They can see as they need to look for mating partners, unlike other termites who are almost blind. The king is the one that looks after the eggs laid by the queen until the babies grow and can help the colony. Having termites can cause you to lose your investments. That's why you should let an exterminator control those termites for them to be eliminated.
How We Get Rid Of Termites
Termites, insects, bugs, and other pests are no match for Go-Forth because we know how to handle them. Our services are catered to eliminate termites that keep on destroying your property. Our exterminator will check all corners and areas in your Mocksville home to find where those termites are hiding. We use advanced and modern technologies that are effective in getting rid of those pests.
Our company ensures that your safety is always our priority whenever we perform our termite control. From inspection down to the treatment process, all are done professionally and safely to give you a healthier and pest-free environment afterward. Whenever you need us, just call us, and we will come to you right away!
Termite Company Near Me
Go-Forth is a local termite control company near you in Mocksville. Our customers in local areas can also enjoy our services even on the same day! Call us today! Check out our reviews and see if Go-Forth can help with your termite control in Mocksville today.
Other Pest Control Services For Mocksville, NC