Description
Clover parasites in North Carolina are quite small and the grown-ups are even smaller than the head of a pin. The hatching of the clover parasite newly rose up out of eggs, are brilliant red. The more seasoned stages and the adult ones are darker reddish-brown. Clover mites eat plant liquids like grass and are mostly outside around structures. Bugs may creep onto building establishments in expansive numbers and store eggs inside breaks found in the building outside. In the spring, the modest red hatching incubate may slither up the establishment, through cracks around windows and small openings in the foundation and then they would be into the building.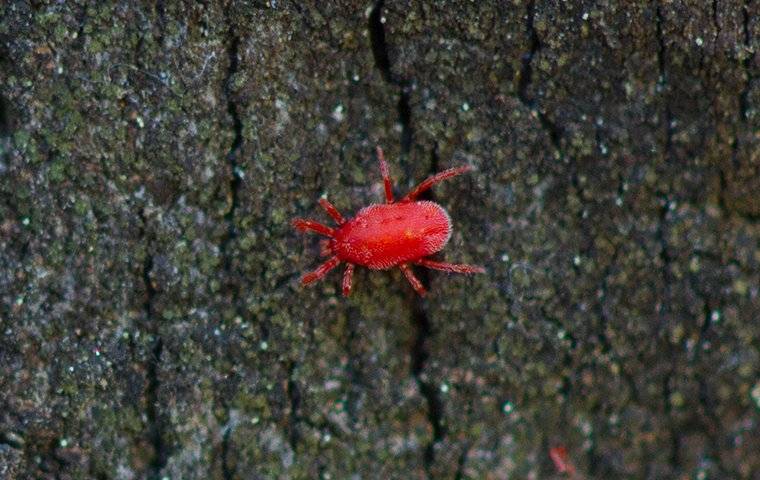 Handfuls, now and again hundreds, of these bugs then might be seen on window ledges, drapes, and on dividers. Whenever crushed, a red stain may come about that might be hard to clean off of some textures. Inside, the parasites can't discover nourishment and will soon pass on. These vermin don't nibble individuals or pets.
Amid the greater part of the year, clover mites are found outside in yards and on other finishing plants. They might be seen inside amid the spring.
How To Prevent/Control
Apparently, expelling all vegetation alongside the home will wipe out clover mites; be that as it may, this is not pragmatic.
Homes that have normal yearly clover bug invasions will profit by fixing outside breaks and openings where the grown-up bugs may store their eggs.

When clover parasites are a critical issue, treatment of the building establishment and border, together with treatment of splits and openings in which vermin may have slithered, can extraordinarily lessen the issue. Such applications are best finished by an expert.
However, control of clover parasites is best left to your bug administration proficient (PMP). Your PMP will play out a review and utilize the examination discoveries to set up an incorporated bug administration to anticipate clover parasite control. Your PMP will utilize his skill and information to prescribe the utilization of successful and proficient synthetic control measures to decrease the clover parasite issue. Be that as it may, his control program will probably incorporate some accommodating preventive measures the mortgage holder may utilize, too. Among these preventive measures are:
Utilizing a wet wipe or a hole connection of a vacuum cleaner to evacuate parasites, making a point to play it safe to abstain from pounding the vermin which will cause stains.
Expelling all grass and weeds from around the establishment edge and leaving vegetation-free strip around be two feet wide. This strategy is particularly vital on the south and southwest sides of the structure. Clover parasites are not as liable to travel through uncovered, free soil because they were through soil that is supporting plants that feel the structure's establishment. Utilization of pea rock can likewise demoralize vermin development into the structure.
Fixing gaps, breaks, and crevices on the establishments, windows, and entryways, along these lines debilitating bugs from entering the structure. Be sure to utilize window screens that are tight-fitting. Making a point not to over-treat the yard or elaborate plant regions since clover vermin populaces have a tendency to improve in gardens that are very much prepared.