Get Rid Of Cockroaches In Raleigh, NC
Do you need cockroach control in Raleigh, NC? Cockroaches are a very nasty pest to have in your Raleigh/Durham home, and they can carry all types of diseases. Roaches also multiply very fast. In no time you can have a roach infestation in your home if you don't take care of the problem soon enough. Sometimes a one-time treatment to kill roaches is not enough since they multiply so quickly. Did you know that some roaches get impregnated for life? This means they can have baby roaches all the time. Our roach exterminators can help you get rid of your pest problem today. We service all areas near Raleigh, Durham, Chapel Hill, Cary, and Wake Forest.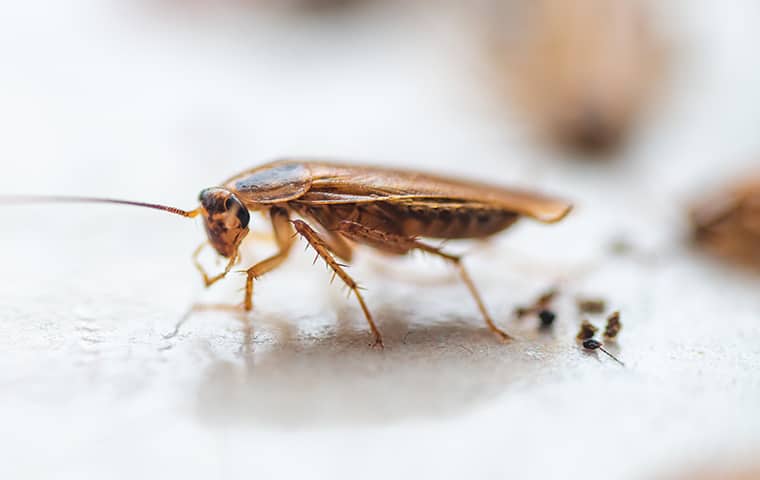 Not Sure How To Get Rid Of Cockroaches?
You are not alone on this. Cockroaches are among the most common pests in the world. On average, cockroaches measure anywhere from 1/2" to 3" and the three most common species of cockroaches in the United States are Oriental, German, and American roach.
Different cockroaches can be attracted to your property for different reasons and knowing the type of cockroach you are dealing with can help you get rid of it. For example, the most common roach found indoors, the German roach, is attracted to water. Reducing access to water sources on your property can help reduce their numbers.
There are plenty of other prevention methods as well, such as storing food properly and regular cleaning to prevent infestation. But how do you get rid of cockroaches when they have already gained entry into your home? Cockroaches enter homes in search of water, food, and shelter, and once they gain access into an area, they can multiply quickly, posing a threat to your health and comfort.
It is important to get rid of cockroaches before an infestation occurs. Cockroaches are known to carry bacteria which can result in food poisoning, allergies, diarrhea, and skin rashes. In large numbers, they even produce a foul odor. To effectively kill cockroaches it's best you develop a plan, and the most effective plans often require more than one treatment method.
Get Rid Of Roaches Today!
Don't live with nasty roaches any longer, call us to give you a FREE Estimate at 1-800-841-6113.
Roach Control & Treatment
The best roach control treatment is to have an experienced Raleigh cockroach exterminator look for the cockroach nest. Then with our specialized methods and solutions we will fumigate all areas that we think are the key places to eliminate those nasty bugs for good. We don't recommend one-time treatment only, we recommend a series of fumigation sessions to really make sure we kill them all.
Roaches can crawl fast which makes it hard for them to be eliminated quickly. They can find new a hiding place which may take a while before you discover it. But, with Go-Forth, our company will see to it that those roaches, bugs, insects, and other pests are eliminated and will never leave any trace. Here at Go-Forth, your pest control needs are resolved immediately by our trusted local exterminator near you. We have high-quality services which are incomparable and are beyond standards which makes us a trusted company. Call Go-Forth, and we will solve your cockroach issues instantly!
Cockroach Company Near Me
We are a local cockroach control company near you in Raleigh which you can call anytime and anywhere. As your local exterminator, customers in local areas can also enjoy our pest control services. Call us today!
Other Pest Control Services For Raleigh, NC