Get Rid Of Termites In Raleigh, NC
Do you need termite control in Raleigh, NC? Hire our Raleigh termite exterminators. We have decades of experience dealing with termite infestations. Termites can be very costly to both old homes and new homes, so it's imperative to have your home inspected for a termite infestation. Thankfully we offer free termite inspections for homeowners in the Triangle area. A termite inspection will make sure your home is protected. A home is a huge lifetime investment, so protect that investment with a termite treatment plan to keep away these nasty bugs before they enter your home. We service all areas near Durham, Cary, Chapel Hill, and Raleigh, NC.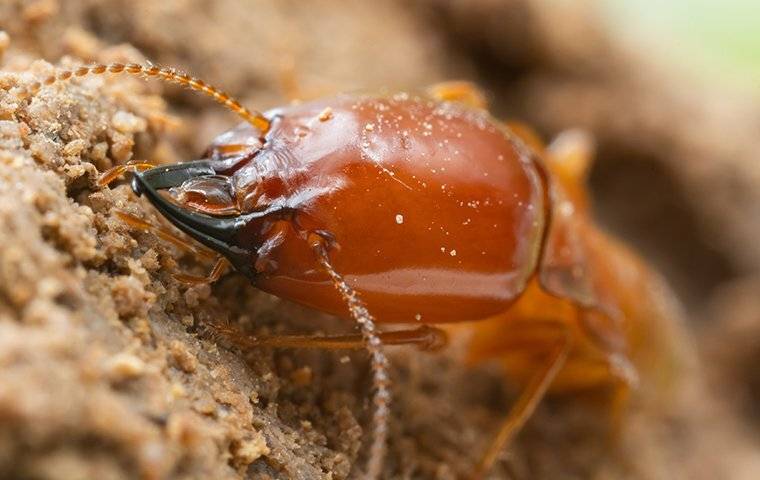 Free Termite Inspections
Yes. We offer free termite inspections. Call today to schedule yours and protect your home from a termite infestation.
Termite Control Experts
Termites are notorious, and it's no surprise that entomology departments receive more calls about termites than any other household insect. Termites are serious pests whose control is best left to the professionals, and the first step in termite control is to be on the alert for termites. Some of the ways to determine if you have termites are listed below.
Examine by probing exposed wood for hollow spots

Identify termite swarms

Stay alert for termite droppings which look like small, ridged, wood-colored pellets

Watch out for wings of the same size shredded near entry points of your home
Termite infestation should have you worried, especially since they constitute totaling $5 billion upwards per year, making them a major threat to investments. In addition, insurance plans don't cover termite attacks. To control the spread of termites after infestation, there are two major procedures:
1. Termite Baits
2. Termite Liquid Insecticides (Termiticides)
Liquid Termiticides
Barrier termite treatments are designed to prevent the entry of termites into the structure, and these treatments are aimed at preventing termites inside the structure from getting to the soil to reach the moisture they need to survive. If you choose a liquid termite method, it gives you faster results, and you can apply the finished solution close to the termite infestation. If there is an existing termite infestation, applying a liquid termiticide may mean drilling is involved. Drilling past concrete or a slab and pumping the volume of finished solution needed to setup a termite barrier may be too difficult for the homeowner, thus the services of an expert would be needed.
On the other hand, if there is a crawlspace clearance you only need drench around your home. Doing this would make the termite work much easier. With repellant termiticides, any of the smallest gaps in the treated soil can be detected and used by the termites to gain entry into the building, and this is why non-repellent, which are an advancement over repellant termiticides, are popular. Non-repellent termiticides are undetectable by termites - they can't see, smell, taste, or avoid them.
Since the chemical barrier pesticides which are currently available are short-lived, in some cases no more than 5-8 years, the idea behind using chemical barrier treatment as a sole means of termite removal has been challenged by baits designed for termites.
Termite Baits
Instead of injecting chemicals into the soil, you can utilize one of several baits which are found on the market. You can get a termite bait and place it directly into the ground around the outside of the structure where the termites would find them, feed, and die. The technology behind baiting systems for termites is constantly changing and improving. Baiting colonies of termites is easy and can also be used as a monitoring tool to detect termites where they are not yet a problem.
Termite baits eliminate and control in situations where the structure is untreatable with soil termiticides, or there is a concern about pest use, and even in structures where termite removal has proven unsuccessful.
Termite control also utilizes specialized equipment such as masonry drills, pumps, large-capacity tanks, and soil treatment rods. A typical pest control treatment may involve hundreds of gallons of a liquid pesticide injected into the ground alongside the foundation, beneath concrete slabs, and within foundation walls. Other ways to treat termites is by Sentricon stations, which is our preferred method of choice.
The Sentricon Termite Treatment
The Sentricon® System works 24/7, while liquid termite treatments get less effective over time. Sentricon is in tune with what termites like, and research shows that termites actually prefer the bait over wood! As long as there's a termite queen, there's a termite colony. And if there's a colony, there's a threat to your property. Kill the queen. Kill her subjects. Crumble her colony.
Other Pest Control Services For Raleigh, NC