Effective, Year-Round Pest Control Services In Reidsville, NC
Reidsville is a calm city surrounded by beautiful wooded areas and small bodies of water. Unfortunately, our warm, humid summers and cold, wet winters provide the perfect conditions for pests to thrive in and around our properties. Defend your Reidsville home or business against all kinds of pests by working with the professionals here at Go-Forth Pest Control to put into place an ongoing pest management plan. With over 50 years of experience in the pest control industry, we have what it takes to keep your property pest-free throughout every season. Don't wait for pests to take over your Reidsville home or business. Instead, stop pests before they have the opportunity to invade by partnering with Go-Forth Pest Control today.
Home Pest Control In Reidsville, NC
As a homeowner, the protection of your home and family is your top priority. However, when pests such as cockroaches, ants, rodents, and spiders invade, they put both at risk. Keep your Reidsville home and family protected from unwanted pests by implementing an effective residential pest control plan from Go-Forth Pest Control. We are a trusted pest control provider with more than 50 years of experience protecting people and properties from pests. Whether you're looking for general pest management or services to target a specific pest problem, we have you covered. Contact Go-Forth Pest Control today for more details about our residential pest control plans.
Is DIY Ant Control Effective In Reidsville, NC?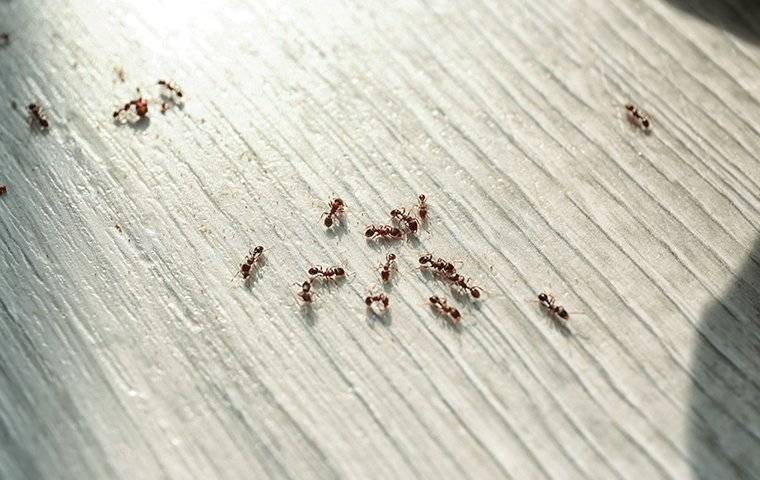 Ants are the most common household pest found throughout the United States. These small, social insects are responsible for breaking down decaying organisms, which makes them an important part of the ecosystem.
Ants live together in large, underground nests with colonies that can contain hundreds of thousands of individual ants. The most common species of ants to infest Reidsville properties are cornfield ants, little black ants, and larger yellow ants.
Although ants are beneficial to the environment when they remain out in nature, you don't want to find these tiny pests in or around your home or business. Ants typically build their nests outdoors, but won't hesitate to invade your property while foraging for a source of food to bring back to their colonies. Unfortunately, once a scout ant finds a source of food and communicates the location of that food source to its colony, there's not much you can do to get rid of ants without professional help.
When ants invade, many property owners turn to DIY ant control methods. However, ants are tricky pests to control and eliminate. Most forms of DIY ant control are nothing but a waste of time, money, and effort. And, if done incorrectly, can result in your ant infestation worsening.
The best way to protect your Reidsville property from ants is with professional ant control services from Go-Forth Pest Control. We're ready to provide high-quality treatments to eliminate your ant infestation at its source. Reach out to us today to get started on your first treatment.
How Reidsville Residents Can Identify & Eliminate Silverfish
Silverfish are small, wingless insects that get their name from their silvery appearance and fish-like wriggling movements. They have three-pronged appendages on the end of their abdomens and long, teardrop-shaped bodies that are covered in tiny, silver-colored scales.
Silverfish are attracted to cool, damp locations, which is why they are often found in laundry rooms, bathrooms, and basements. Although silverfish aren't a threat to your health, they multiply quickly and can cause significant damage to your belongings.
When it comes to controlling silverfish, it's important to follow these prevention tips: install a dehumidifier in damp areas of your home, turn on your bathroom vent while showering, and keep wet towels and laundry off your floors.
To eliminate silverfish from your Reidsville home, turn to the professionals here at Go-Forth Pest Control. We're ready to provide services to handle all kinds of pests, including silverfish.
Get in touch with Go-Forth Pest Control today to learn more about all of our effective pest control options.
Commercial Pest Control In Reidsville, NC
When you run a successful business, the last thing you want to deal with is a pest infestation. You already have enough responsibilities as it is without the threat of pests invading your Reidsville property and threatening your reputation. The most effective way to ensure your business remains pest-free all year long is to work with the technicians at Go-Forth Pest Control to put into place a comprehensive commercial pest control plan. We are dedicated to providing high-quality, affordable pest control solutions for residents in Reidsville and throughout the Piedmont Triad area. With our licensed technicians by your side, you don't have to worry about pests damaging your property and scaring away your customers. If you're ready to say goodbye to commercial pest problems, partner with Go-Forth Pest Control today!