German cockroaches are unique. They have adapted to living with humans so much that there are no populations of wild German cockroaches left in the world. What do we mean by wild? All German cockroach populations are found near or inside man-made structures. If German cockroaches were extremely dangerous to humans, we would have driven them to extinction. We'd like to point that out first. As you read this article, you may lean toward an understanding that German roaches always present a danger in Richmond homes. The reality is that, while they are considered dangerous, the level of danger varies depending on several factors. Our goal today is to equip you with a proper understanding of these unique cockroach pests. Though it is best to quickly and effectively deal with a German cockroach infestation, you don't need to fear these or any other roaches you find in your home. Let's look at habits and behaviors that increase health risks, how you can mitigate health concerns, and the challenges you may face as you attempt to control German cockroaches. We'll end by looking at professional cockroach pest control in Richmond and discussing how a pest control service provider can help reduce your workload and give you peace of mind.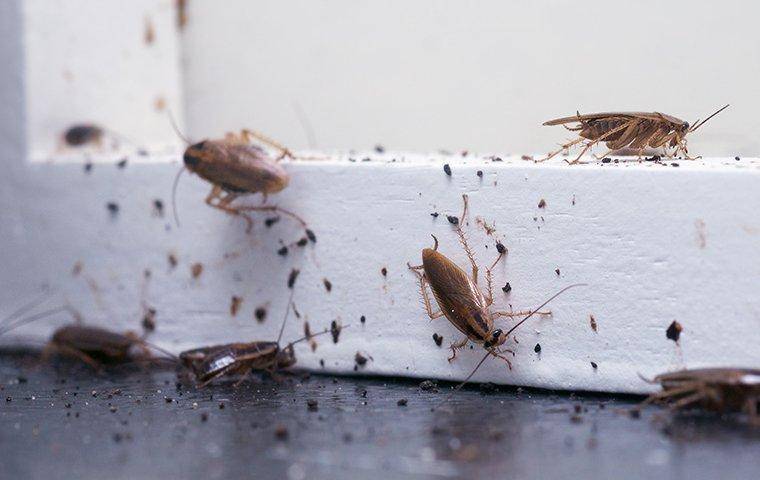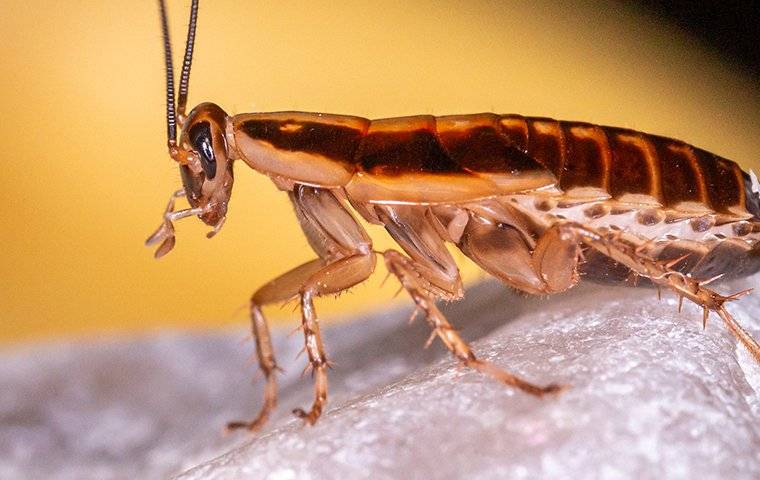 Habits And Behaviors Of German Cockroaches
German cockroaches hang out in wall and floor voids, crawl around in attic spaces, explore boiler rooms, and live in other dusty and dirty places. But dust and dirt don't make cockroaches a health threat. Dirt is just dirty. The problems begin when German roaches crawl on toilet rims and in litter boxes, trash bins, and drains. Why do they do this? Because they're looking for food and they have a preference for things that are decaying. It shouldn't surprise you to lift the garbage can lid and find German roaches skittering around on the things you throw away. You may also find them clinging to the side of your garbage disposal, crawling on your recycling items, and hiding in your mop bucket.
The habits and behaviors of German cockroaches expose them to microorganisms related to human diseases such as salmonella, E. coli, and hookworms, but most of the germs they pick up will only cause mild flu-like symptoms. You aren't likely to get severely ill from German cockroaches. Why? Because they prefer living in your home and aren't exposed to the worst habitats roaches expose themselves to in the Bay Area. You would never allow your indoor trash receptacles to stink as bad as your outdoor receptacles. Right? So when compared to other, far dirtier roaches, like Oriental roaches, German roaches aren't so bad. You can certainly find some comfort in that. But don't get too comfortable.
While German cockroaches are less of a health concern than certain other pest roaches, and you can reduce the risk of health concerns by maintaining a clean home, there are other ways these roaches are problematic.
Why German Cockroaches Are Considered Dangerous
Let's put aside their dirty habits for a moment. Though German roaches can present a serious disease concern and can spread diseases such as leprosy, cholera, typhoid fever, plague, and more, the transmission of disease organisms is not the primary issue, particularly if your German cockroaches have never been outside. Yes, it is possible that they haven't. Sometimes German cockroaches don't come in from the outside. They can hitchhike in furniture and other household items. So what makes experts consider German roaches dangerous? It has to do with allergens.
Cockroaches are a risk for those who have asthma, particularly children living in urban environments. Roaches create allergens that are a threat to sensitized individuals. Studies reveal that these allergens lead to increased hospitalizations and a higher incidence of medical complications. Researchers continue to evaluate the data collected and are not entirely sure of all the factors that lead to morbidity. All that is known is that there is a link. So, as of this writing, it is our recommendation that Richmond residents deal with all cockroach infestations with effective control if they have any family members with asthma or a sensitivity to cockroach allergens.
In most cases, the cockroaches in your home will present a nuisance and a low health risk. They may give you a stomach ache, leave a random bump on your skin, cause a rash, or give you pink eye. But they are not a cause for serious concern. You don't need to worry about applying effective control, though it is certainly nice to do so if you find a cockroach in your house.
Why It Is So Difficult To Get Rid Of German Cockroaches
What is effective control? Professionals provide general pest control services for cockroach management and control but take extra steps when performing a German cockroach treatment because of these roaches' unique affinity for living in structures. It is hard to convince cockroaches to leave and they have developed some interesting defenses for general cockroach control products.
Skins: As a cockroach grows, it sheds its skin several times. Each new skin created is stronger than the last. If a cockroach nymph is exposed to a control product and survives, it gets stronger. Some cockroaches are born with a level of resistance to control materials. German cockroach populations are the strongest of all. We've thrown everything but the kitchen sink at these common structural pests. Over the last century, we've basically turned them into super bugs. Professionals must use multiple products and methods to completely control German cockroaches.
Cooperation: German cockroaches work together to find food that isn't safe to eat. When a food source is unsafe, and a roach expires, it gives off a scent that the others can detect. Scientists call this the death stench. Control products that work too quickly will likely result in unsatisfactory results because roaches will avoid areas that are hazardous to their health.
Avoidance: German cockroaches go around treated surfaces. If they detect a control material, they avoid it. The best products are those that German cockroaches can't detect. They have a particular aversion to powdered surfaces. They aren't able to easily grip surfaces that are covered in powder so anything more than a light dusting of control materials is likely to have no impact on cockroaches.
Taste Receptors: Cockroaches don't just avoid food that is unsafe to eat; they can genetically alter their taste receptors. The result is a population of cockroaches born with bait aversion. German cockroaches are the only pest roaches known to have populations that reject sweet roach baits at birth. It is also possible to develop bait-averse roach populations in your home if you apply baits incorrectly.
Tight Spaces And Dark Voids: German cockroaches hide in extremely tight spaces and dark hiding places. They gravitate to voids that are high in humidity or near moisture points, such as in the wall around the pipe that comes in underneath your kitchen or bathroom sink. They'll also hide in the wall of your boiler room. Topical products have little impact on these pests because they don't get into the places where cockroaches hide.
German cockroaches have developed a resistance to conventional treatments. Professionals must use strategic and multipronged strategies to successfully control them. It takes training and experience to get this hard job done right.
Call The Professionals At The First Sign Of German Cockroaches
When you see cockroaches or find evidence of cockroach activity in your home, it is best to contact a licensed cockroach control professional. It is even more important if the roaches you have are German cockroaches. While they don't present the same level of threat that other "dirtier" roaches present, they are still a health concern. They can also damage your property by chewing holes in clothing, furniture, wallpaper, and more. If you live in Richmond, contact Go-Forth Pest Control for assistance. We use trusted products and field-tested strategies to achieve the best results. Once the German cockroaches in your home are addressed, we can provide you with ongoing exterior pest control to keep these pests out of your home. Cockroaches are continually encroaching. It may not be a coincidence that the word "roach" is in the word encroaching. You can prevent that encroachment with routine crack and crevice treatment, joist and wall void dusting, exclusion work, and other routine services. Connect with us today to schedule a service visit. We'll take a look at your property, evaluate your cockroach and other pest pressures, and guide you toward a solution that will work best for you. We are committed to helping you every step of the way. If you want to do it yourself, continue to check out our blogs for helpful tips and facts, but always keep in mind that help is available. You don't have to struggle with cockroaches or any other common household pest in Richmond, we have the control solutions needed to address all your pest concerns.