Bed bugs have become a massive problem in recent years, and Richmond is no exception. These small, stealthy pests feed on humans and animals and can quickly become a major problem if they are not dealt with immediately. In this blog post, we'll share some tips for staying ahead of a bed bug infestation, including prevention measures and early detection techniques. Keep reading to learn more about bed bug pest control in Richmond so you can protect your home or business from these pesky insects.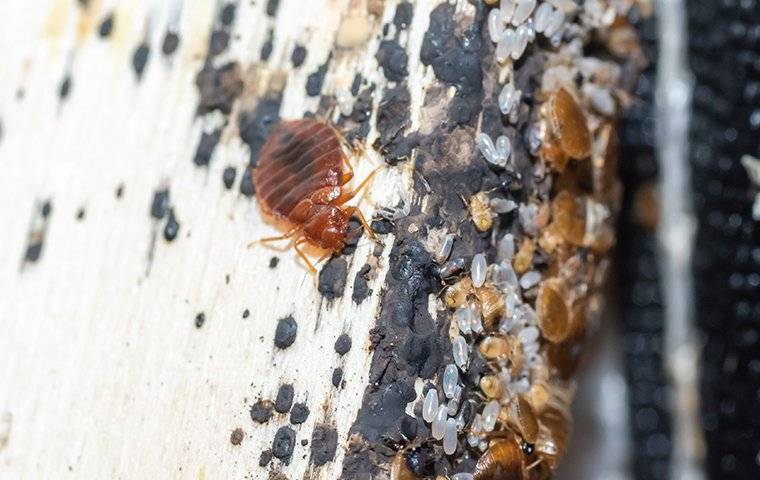 Can One Bed Bug Cause An Entire Infestation?
Unfortunately, even one bed bug can cause an infestation. If a mated female beg bug arrives in your home, she can lay eggs immediately, and they will begin hatching into nymphs within two weeks.
They reproduce by laying eggs, which are small and white in color. The female bed bug can lay up to 500 eggs during her lifetime, which are typically laid in clusters and hidden in cracks and crevices. The eggs hatch into nymphs, which are small, immature bed bugs that resemble adults, except they are smaller and lighter in color. Nymphs go through several molts as they grow, and after the final molt, they become adults. Adult bed bugs can live for several months to a year, during which time they can mate and lay more eggs. Bed bugs reproduce year-round, but the rate of reproduction tends to be higher in warm, humid environments.
Bed bugs are small and can be difficult to spot, so it is important to regularly inspect your bed and surrounding areas for evidence of an infestation. Some signs to look for include the following:
Live bed bugs. The most obvious sign of a bed bug infestation is the presence of live bed bugs. These pests are small, reddish-brown, and oval-shaped. They are most often found in the seams of mattresses and other areas close to where people sleep.
Bite marks on your skin. Bed bugs bite and feed on human blood, and their bites can leave itchy, red marks on your skin. These marks are usually found on areas of your body that are exposed while you sleep, such as your arms, legs, and face.
Small, reddish-brown fecal spots on sheets, mattresses, and other surfaces.
Tiny, white eggs, which are about the size of a pinhead and can be found in the cracks and crevices where bed bugs hide.
Shed skins, which bed bugs shed as they grow.
A musty, sweet smell. As bed bug populations grow, they may release a chemical pheromone that has a musty, sweet smell.
If you think you may have a bed bug infestation, it is important to take action as soon as possible. Bed bugs can be difficult to control, and the longer an infestation is allowed to persist, the more difficult it will be to eliminate. Local pest control for bed bugs can help to eliminate an infestation and ensure that you do not have to deal with bed bugs in your home. If you think you may have a bed bug problem, call your local pest control company today for assistance.
Are Bed Bugs Dangerous?
Bed bugs are parasites that feed on the blood of humans and animals. They are most active at night when they come out to feed on their sleeping hosts. While they are not known to transmit diseases, bed bugs can still be a nuisance and can cause a number of problems for those who have an infestation.
One of the main dangers of bed bugs is the possibility of being bitten. Bed bug bites are usually found in clusters on the skin and can be itchy and painful. In some cases, people may develop an allergic reaction to the bites, which can cause more severe symptoms such as swelling and difficulty breathing.
Another danger of bed bugs is the risk of developing stress or anxiety. Bed bugs can be a source of stress for people who are infested, especially if they have to sleep in their own homes with the pests. This can cause people to have difficulty sleeping and may lead to anxiety. The frustration can get even worse if they are having difficulties getting rid of the pests, which can cause even more stress for those who are already dealing with the problem.
Additionally, bed bugs can be difficult to eradicate once they have infested a home. They can hide in small crevices and cracks, making them difficult to spot and eliminate. This can lead to ongoing problems with infestations, even after treatment has been completed.
To protect against bed bugs, it is important to regularly inspect your home for signs of an infestation. If you suspect an infestation, it is important to contact a professional pest control service to assess and treat the problem properly.
The Many Ways Bed Bugs Can Find Their Way Into Your Home
It's important to consider how bed bugs can enter your home, as this will help you determine how to keep them out. Bed bugs are small, blood-sucking insects that can be found in almost any environment. These pests are known for their ability to hide in the tiniest of cracks and crevices, and they can be particularly difficult to detect and control. Some of the ways they can find their way into your home include:
Travel: These pests are often found in hotels, motels, and other places where people frequently stay. If you bring bed bugs back with you in your luggage, clothing, or car, it is possible for them to infest other parts of your home.
Used furniture or secondhand items: If you purchase a used piece of furniture or bring home a thrift store find, it is possible that the item could be infested with bed bugs. These pests can also be transmitted through clothing and other personal items that have been stored in infested locations.
Pets: If your pet spends time in an infested environment, it is possible for the pests to hitch a ride on their fur and make their way into your home.
Visitors: If someone who has an infestation of bed bugs visits your home, they may end up bringing some of those pests into your own household in their personal belongings and clothes.
Shared living spaces: Shared living spaces, such as apartments, dormitories, and nursing homes are at a higher risk of infestation. If someone in a shared living space is infested with bed bugs, it is possible for the pests to spread to other units or rooms.
Public transportation: These modes of transportation—buses, trains, and airplanes—can provide a great opportunity for the spread of bed bugs. That's because they are often crowded, and the close confines give the pests easy access to new hosts.
A bed bug infestation can be a very stressful and frustrating thing to deal with, especially as it is hard to spot them in the early stages of an infestation. If you believe that your home has been invaded by bed bugs, or if you have any questions about bed bug control in Richmond, call the experts at Go-Forth Pest Control for help.
Turn To The Professionals As Soon As You See A Bed Bug
If you're facing a bed bug infestation, the first thing to do is call in the professionals. A professional pest control company will have the right tools and knowledge to deal with these pests.
They can also tell you exactly what kind of bed bug treatment is needed in order to eradicate them from your home. Bed bugs can be notoriously resistant to some treatment methods, so it's important that you work with expert bed bug control services in Richmond who know how best to eliminate them.
DIY bed bug control is often not effective and can even make the problem worse. These tiny pests are extremely difficult to eradicate, and attempting to do so without the proper knowledge, experience, and tools can be futile.
One of the main challenges of pest control to kill bed bugs is that these pests are experts at hiding. They can tuck themselves into the smallest of crevices and thrive in the warmth of your bed, making them difficult to spot and treat. Even if you think you've found all the bed bugs, there may be more that you haven't seen.
Furthermore, using DIY methods to try and control bed bugs can actually make the problem worse. Using over-the-counter pesticides may kill some of the bed bugs, but it's unlikely to get rid of the entire infestation. In fact, these pesticides can cause them to scatter and spread to other areas of your home, making the problem even harder to solve.
The most effective way to control bed bugs is to hire a professional pest control company like Go-Forth Pest Control. Our team of trained professionals has the knowledge and experience to identify and treat a bed bug infestation accurately. We use advanced techniques and products that are specifically designed to target and kill bed bugs, ensuring a thorough and complete treatment.
So, if you suspect you have a bed bug problem, don't try to tackle it on your own. Trust the professionals at Go-Forth Pest Control to solve the problem quickly and effectively.